A scorpion on my hand
The scorpion species Esme and I encounter the most during our walks is Centruroides gracilis. This species is not very picky about its habitat, and very easy to find in large parts of Veracruz is my experience.
I consider Centruroides gracilis to be in general a docile species although the juveniles can be very skittish and run like the wind. In the wild I have let adult scorpions of this species walk on my hand, arm, and back (oops) without much trouble.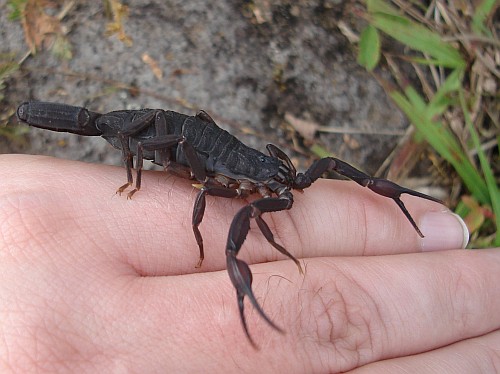 I got stung once this year however. A juvenile Centruroides gracilis I overlooked when I turned over a stone (remember: the young ones move fast), was hiding between the grass when I rested my closed hand on top of it. Ouch. The pain lasted for about 7 minutes, and then slowly faded away. The scorpion was unharmed.
The above photo was made on our hike near Alto Lucero, see A nice Sunday afternoon walk.
Also today