Aguacatal road
I woke up quite late in the morning, and was not feeling very well. I asked Esme if we could go out for a short walk to clear my mind, and to get out of the house; away from the computer and work. I already had an idea where I wanted to go; I wanted to explore the very green part south of Coatepec in the direction of San Marcos de León.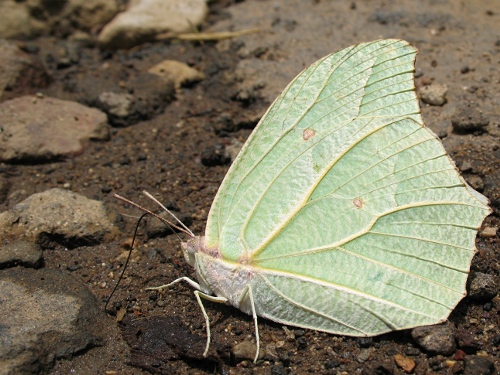 About two years ago we had walked near San Marcos and seen a lot of butterflies, so I was expecting to be able to take several photos of various butterfly species. Yet, when I noticed that I didn't have a spare empty SD memory card in my camera bag, it didn't worry me, I thought I had plenty of space left on the 2G SD card in my camera, a Canon A640 point-and-shoot.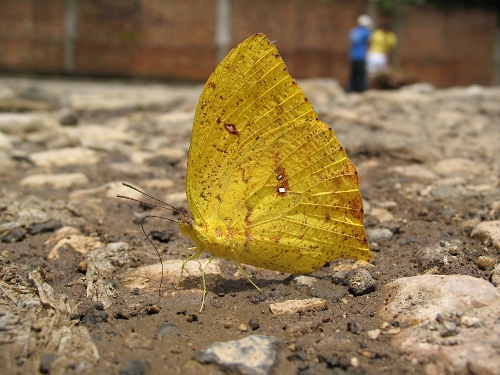 Shortly after we were on our way. However, just before we left our street, Alice fell on a muddy patch of ground, and hurt her hands. So we returned to our house, and washed her hands under the garden tap, and left again.
After we left our street, we followed Juan de Dios Peza in the direction west-southwest. We bought at a small shop two bottles of water and some cookies. We kept following Juan de Dios Peza, and noticed a stand were a lady was preparing chicken above a charcoal fire. On the way back, we said to each other, we buy a chicken.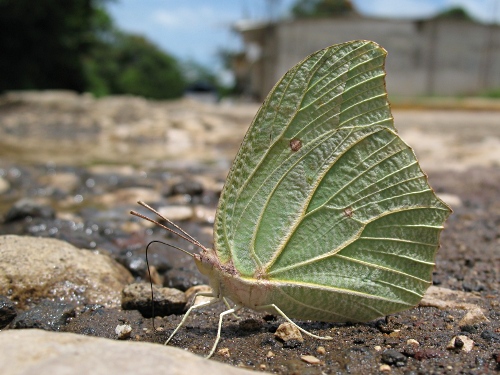 Shortly after Juan de Dios Peza had changed direction more towards south west we came upon the T-junction with Aguacatal road, which was the road we wanted to follow.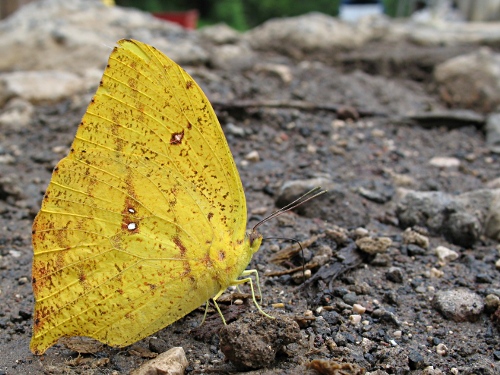 After a while we came upon what looked like a dead end. Based on the print-out of Google maps I was expecting Aguacatal road to end perpendicular on another road, so the sudden "end" was quite unexpected. There was, however, a dirt road in the direction I expected Aguacatal to continue. I was confused, because I was sure we had been walking in the right direction. Moreover, I also thought that Aguacatal road was a bus route to San Marcos and while bus services in Mexico have no problem with dirt roads, this one didn't look like a bus could use it.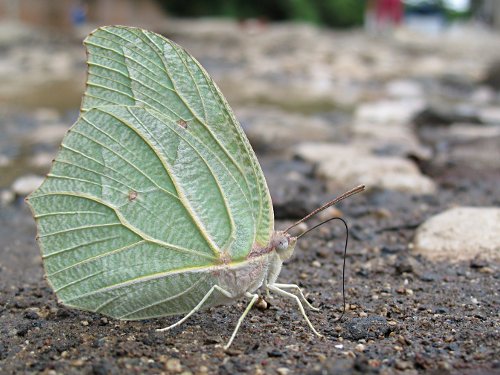 While I was looking around, still confused, I spotted a street going to the left, Espinal Bajo, with a big puddle, and a large whitish butterfly fluttering near the edge of the water. So I walked to the puddle in order to take a few photos while Esme and Alice stayed in the shadow of a large tree across the street.
Closer to the puddle I tried to move as careful as possible and to get as close as possible to the butterfly each time it had landed. Several times it flew up, and I was able to admire the two large yellow patches on the top of the front wings which I was sure would help me to identify the butterfly later on because based on the looks I guessed it to belong to the Sulphurs subfamily of butterflies. Shortly after, the white butterfly - a White Angled-Sulphur (Anteos clorinde) as I learned later back home - was joined by what I considered to be another Sulphur member, a large yellow orange butterfly - a Tailed Sulphur (Phoebis neocypris virgo) I learned later back home.
I made a lot of close-up photos of both butterflies, with only a short break to get some insect repellant - Johnson's baby anti-mosquito lotion, which works quite good in our experience - because I was eaten alive by midges. After Esme had applied some to my arms, avoiding the inside of my hands so I could pick up animals later on, I returned to make some more photos, without those pesky little flies bothering me anymore.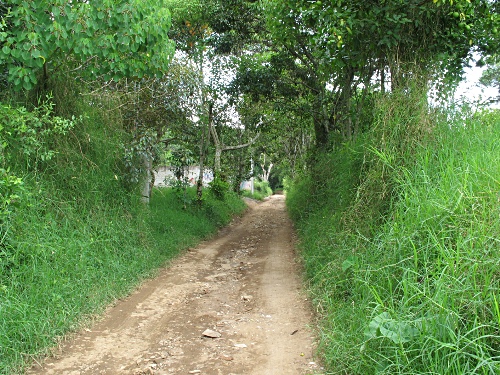 When I returned to Esme, showing her the many photos I had taken of both butterflies, we discussed which way to follow. Esme suggested to keep going in the same direction, following the dirt road, and so we did. And shortly after we were walking in the shadow of trees resulting in a much more comforable temperature than being exposed to the direct sun. On the dirt road we now and then encountered nearly dry puddles surrounded with mostly 88 butterflies, and lots of them.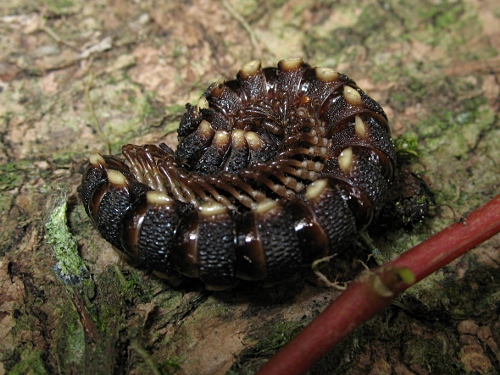 After some walking I spotted a dead tree trunk near the left side of the road. When I partially rolled away the log I saw a large flat-backed millipede (Polydesmid). I carefully lifted the animal, which was around 6 cm long, and put it on top of the dead tree trunk so I could take a few photos. The animal immediately rolled itself up into a spiral, so I had to wait a little to take photos of the animal walking away.
After the millipede photo session we continued our walk. To our left was a very large flowering Spathodea campanulata (African tulip tree, Flame-of-the-forest, Nandi Flame, or Fountain Tree) growing. Near the tree the road was muddy and hence there were several butterflies attacted to the moisture.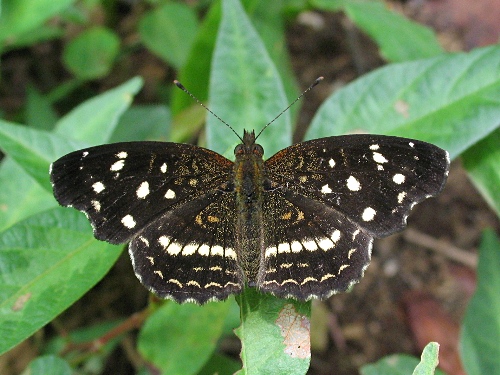 One small butterfly got my attention. I guessed that it was a Crescent, and back home the best match seemed to be the Ardys Crescent, Anthanassa a. ardys (Hewitson, 1864). But the small butterfly was quite restless and it took a lot of patience to get close.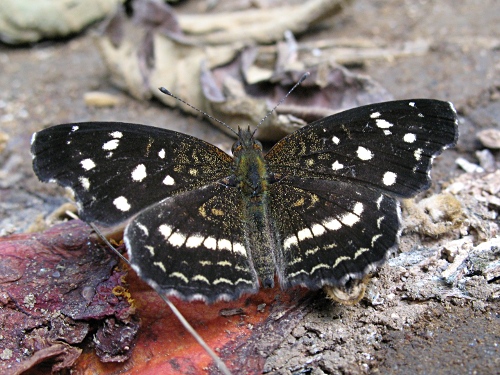 After a few attempts the Ardys Crescent finally rested on a dead Spathodea campanulata flower on the road and I could get close enough to take a photo with my Canon A640.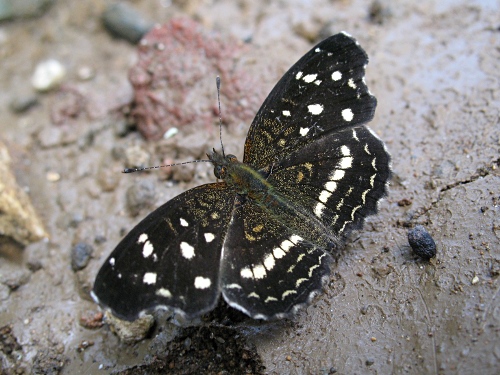 When I was looking around for another butterfly to take photos of Esme suddenly called me. She had spotted two Orange Crackers (Hamadryas fornax fornacalia) mating several meters up on the trunk of the Spathodea campanulata. They flew up a few times and landed each time lower and lower down the trunk. I carefully moved closer, hoping to be able to take a photo or two. But alas, suddenly the couple flew up and broke apart and we could clearly hear the cracking sound that the male produced, and after which this butterfly group is named.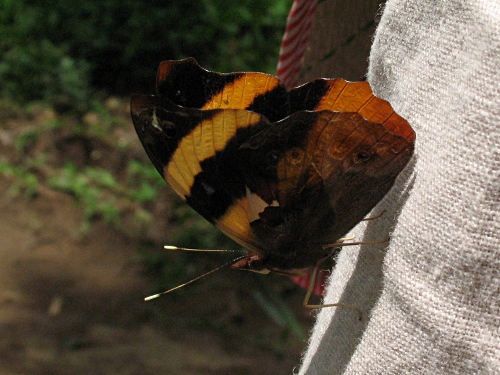 We continued our walk, all tree of us trying to spot butterflies. Alice loves butterflies, but still calls them "fower" no matter how often I slowly say "butterfly". Then Esme and I saw a Common Banner which unexpectedly landed on Esme's sleeve. I was just able to take one quick photo before it flew up again.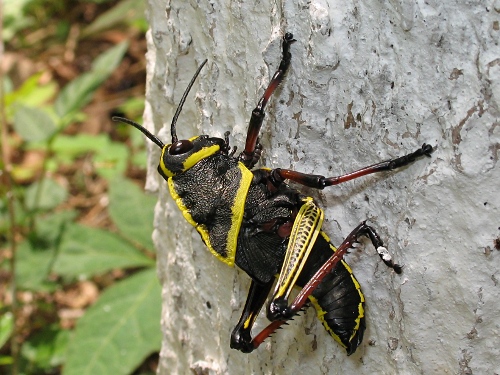 Shortly after I noticed a large lubber grasshopper resting on the white painted bottom part of a tree. While I took a few photos Alice and Esme kept following the road. When done I caught up with them, and we came upon a house to our right. When we had left the house behind us, Esme spotted a courting couple of Juno longwings.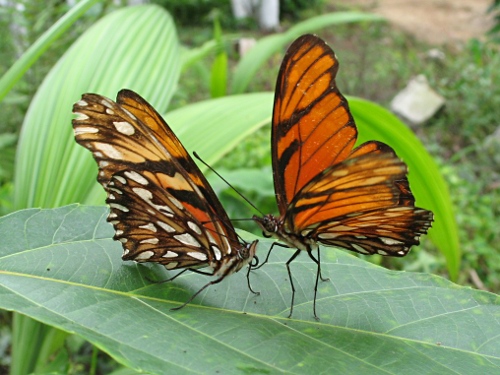 I carefully moved closer and closer to the couple, taking photos each time. I thought: better one so so photo than a good one with only the leaf and not the butterflies on it, because I scared them away. Something that has happened several times to me before. The male, or at least I suppose it was the male, kept making moves while the female rested on the leaf.
After I had taken several close-up photos we continued our walk. Then I spotted an Orange Cracker (Hamadryas fornax fornacalia) resting upside down on a fence post. I warned Esme to stay behind with Alice while I slowly moved towards the butterfly. But then it noticed me, and flew up, and landed on a large tree behind the fence, surrounded by coffee plants.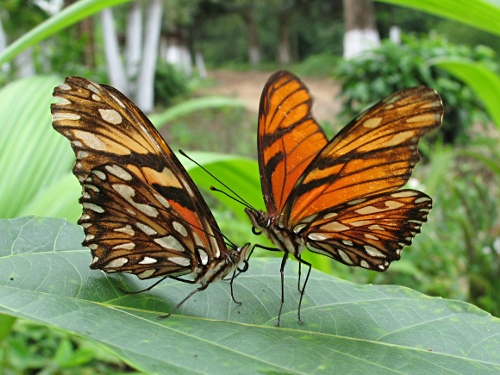 I discussed with Esme if I would get into trouble by tresspassing to take a photo, and we decided that it wouldn't be a problem. In our experience most people in Mexico don't have a problem if one does enter fenced terrain as long as one doesn't break anything.
So Esme lifted one of the barbed wires and I carefully moved through the large enough hole. But again when I got close, the butterfly flew up. After a few more attempts it landed near a coffee plant. I carefully walked towards it, and again it flew up, but landed shortly on my upper arm before landing on a fence post different from the first. And this time when I got close, it again flew up, and landed shortly on my back, and then flew back to the large tree; it was playing with me! After two more attempts I gave up, and crossed with the help of Esme the fence again, and we continued our walk.
Read the second and final part of this blog entry in The dirt road to San Marcos de León.
Related
Also today