Butterfly safari near San Marcos
Today Esme, Alice, and I went on butterfly safari close to a small town between Coatepec and Xico. Originally we wanted to do this trip last Sunday, but we got up quite late and decided to go another day. We didn't know the name of the town at the start of our trip, but learned a bit later that it's called San Marcos. We took first the city bus to "los Sauces" - which is close to a small park - to take a bus in the direction of Xico.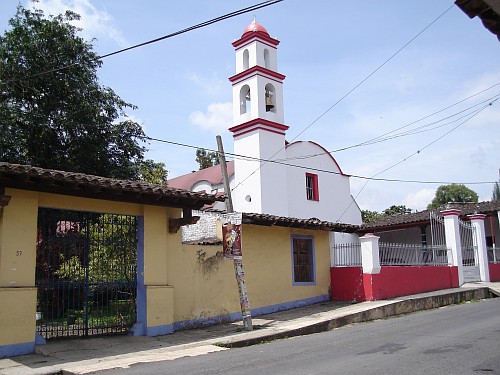 We had only to wait a few minutes before a bus arrived in the direction of Xico. Esme told the guy selling the tickets inside the bus that we wanted to visit a town between Coatepec and Xico, and because it was not clear to him where exactly we didn't want to get off he said that we could pay for the trip when we got off the bus. The trip was a nice one with live music performed by two young guys. When they asked for money, Esme gave as well because she liked the songs. Alice enjoyed the bus trip as well resting in the baby carrier strapped to Esme.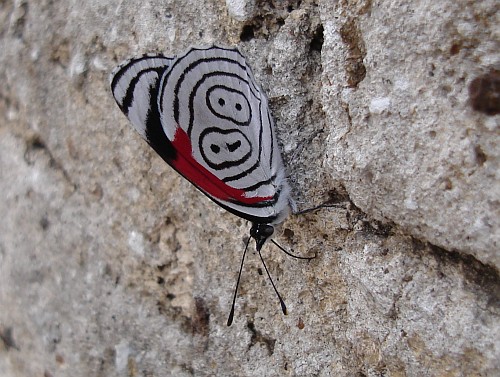 When we arrived at a town after Coatepec we decided to get off at the next stop, and so Esme paid for the tickets. After we got off the bus we followed the main road for a few meters, and then took the first side street to our left. I noticed an Anna's Eighty-eight butterfly - Diaethria a. anna - flying close to a wall, and shortly after, landing on it. So I got close very slowly and took a few photos of this beautiful insect resting on the wall. We had seen our first species on our butterfly safari.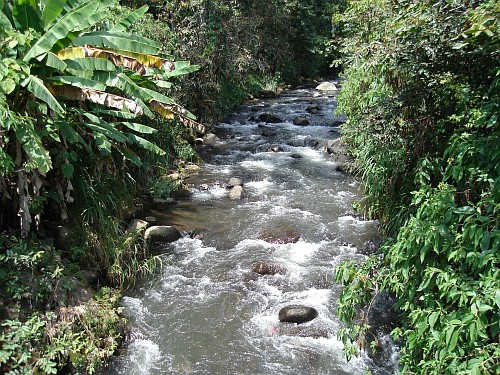 After a short walk we came up a bridge which we crossed. On the other side there were a few wet spots and several butterflies where refreshing themselves. I carefully got close and made a nice close-up of a white butterfly.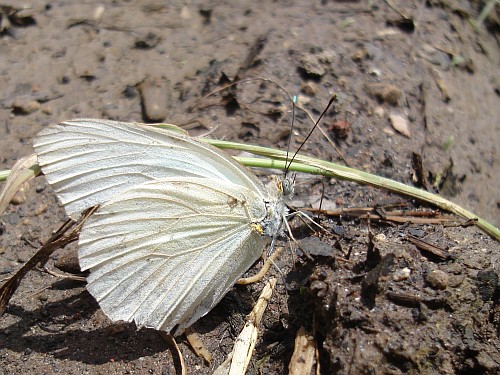 After the bridge the road went up a bit and ended on a hardened main road, which we decided to follow. To the left side of the road was a slope with grass and a lot of flowers. The latter attracted many butterflies, mostly Crimson patch butterflies, so I made few close-up photos with my Sony Cyber-shot DSC-S600.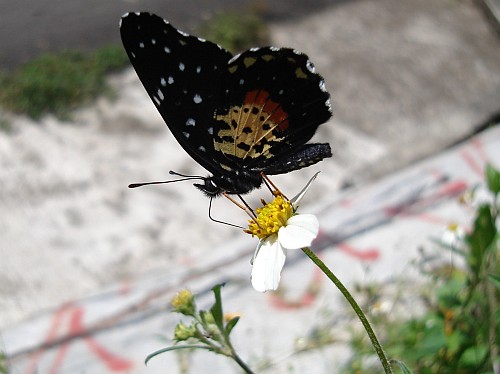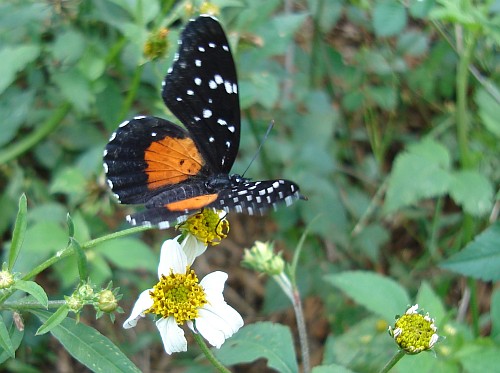 It took quite some patience to sit still between the flowers. And the fact that the slope was quite steep didn't help much either. But I managed to make some nice photos of a Longwing Crescent (Eresia phillyra phillyra) butterfly.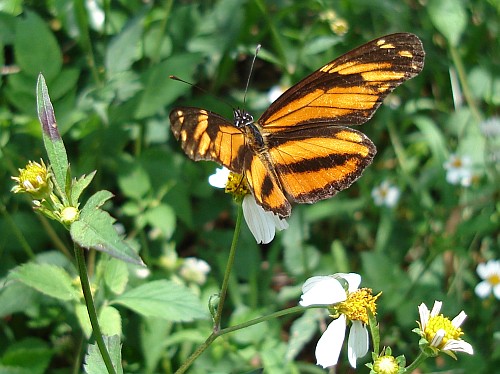 Other species where next to impossible to take a photo of. They were either to skittish or just didn't come close enough to where I was waiting ready to take a photo, so after some time I gave up and we continued our walk.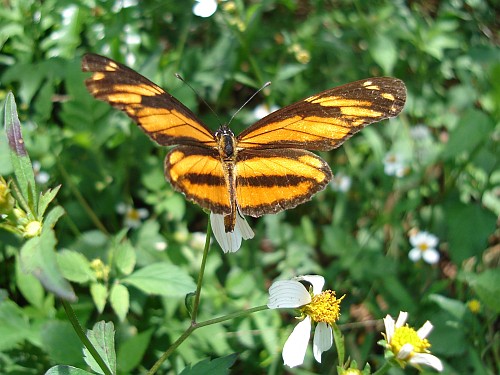 After a short walk on the hardened road we noticed a dirt road going to the left and we decided to follow it. A part of the road had been turned into a large puddle of water by the recent rains, and several butterfly species were refreshing themselves.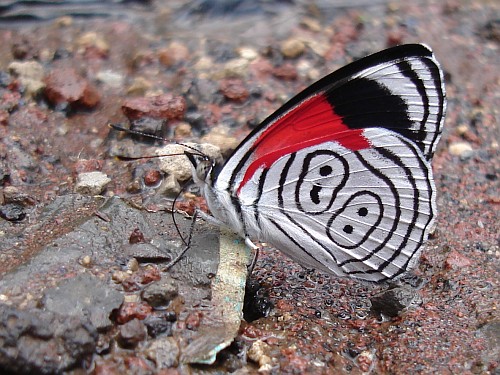 I managed to get very close to an Anna's Eighty-eight butterfly (Diaethria a. anna) and took several close-up photos. I also noticed a dragonfly using its tail to flick water from the puddle at the grass and other plants growing at the edge of the water. My best guess is that this behaviour causes small flying insects to fly up so the dragonfly can catch them.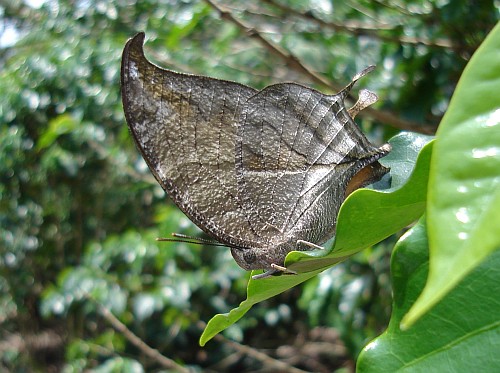 We walked past the puddle, and followed the dirt road between the coffee plants and trees. To our right we could hear and see a river. There was plenty of shadow so we could stay mostly out of the hot sun. Our daugher Alice was enjoying the trip as much as we did.
Read the second part in Part two of our butterfly safari near San Marcos.
Also today