Unpacking the Acer Aspire 4320
Today I finally unpacked the Acer Aspire 4320 I bought last Tuesday. Or better, I unpacked the computer Esme got last Friday as a replacement for the one I bought. The one I had bought originally had issues with the plastic dummy that protects the ExpressCard/54 slot: it dropped out of the computer each time the notebook was held at an angle.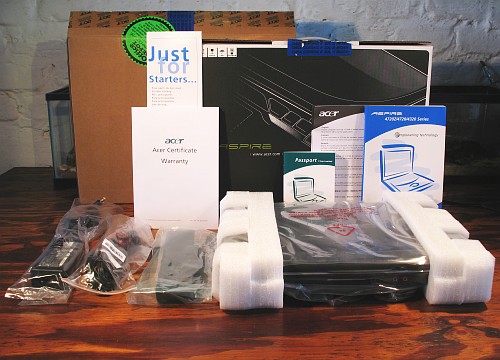 In the above photo you can see the complete contents of the carton box, which itself came in a dull brown carton box with a huge Office Depot sticker.
From left to right, first row: 3-pin 65 W (19 V, 3.42 A) AC adapter, power cord, 53.28 W 4800 mAH 6-cell Li-ion battery pack, the notebook itself. Second row: Acer Certificate Warranty, "Just for starters..." guide, Passport (1 year limited) International Travelers Warranty, five pieces of paper - three adenda, one note regarding the 512 MB memory (we suggest you upgrade), and one stating that the Acer notebook meets the ENERGY STAR guidelines - and the Aspire 4720Z74720/4320 Series User's Guide.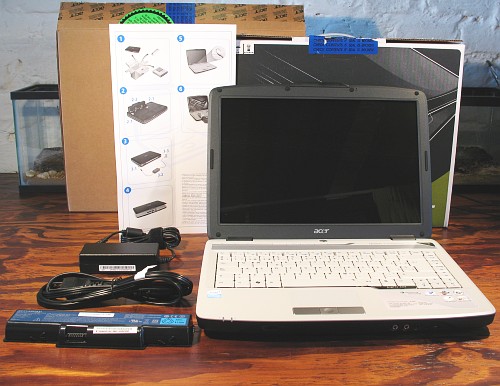 Next I unpacked the notebook itself by removing the protective material: two pieces of white foam, one to each side of the Aspire 4720-2058, a piece of sticky plastic that protects the top of the Acer notebook, thin black piece of cloth that between the keyboard and the display. Underneath this cloth I found another Addendum for Acer notebooks stating: "Please make sure your notebook is plugged into an AC power supply (wall outlet) before you turn it on for the first time". I also removed the plastic bags from the battery pack, the adapter, and the power cable, and moved some of the packing material out of the way.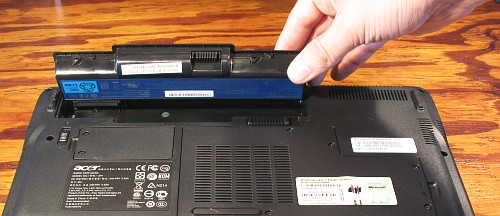 Then I put the notebook upside down, resting the top cover on the black cloth to avoid the surface of my desk scratching the top of the Aspire. The instructions for putting the battery in place in the "Just for starters", step 2, look the wrong way around (at least to me the arrows point up, instead of down), but when I looked at the battery slot didn't look that hard to get it right. Just rest the battery on its edge and rotate it down, and press until the battery lock clicks.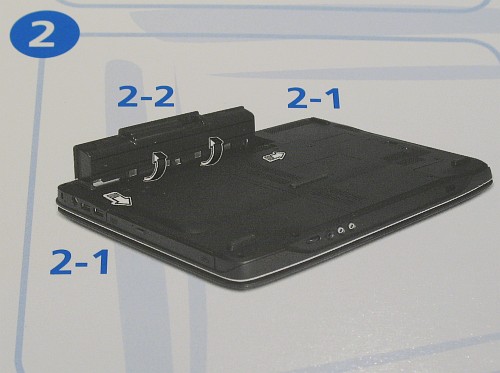 Next I removed the cable binder from the power cable, and connected it to the adapter, connected the power cable to a surge protector, and connected the AC adapter to the Acer Aspire. Then I turned on the notebook and got ready for rejecting the Microsoft EULA for Vista Starter.
Also today