Rejecting the Windows Vista Starter EULA
After I had unpacked the Acer Aspire 4320 notebook I got ready for turning the computer on for the very first time, and rejecting the Windows Vista Starter EULA, also known as the Microsoft c.q. Windows tax. Since I bought this notebook for experimenting with Ubuntu and open source software, I had no need for Vista. Moreover, this notebook has only 80 G, of which a part is already used to keep a copy of Vista on a so called rescue partition. In my not so humble opinion, if one pays for an operating system, at least a DVD should be included with the computer.
Last Monday I had skimmed through two success stories of people getting a refund after they had rejected the EULA, not knowing that the next day I would buy a notebook, and make it actual. Tuesday night I emailed Acer that I had bought an Aspire in Xalapa, Veracruz, and wanted a refund for Vista Starter. Wednesday, at the end of the day I used the support form at the Acer Latin America on-line support site to contact Acer with the same message. And last Friday I got a reply by Juan Rios to the latter from which I quote:
To complete your request you will need to go to the National Service Center located at:

Acer México (NSC) 
Av. Ejército Nacional # 579, 4º Piso, Granada
Miguel Hidalgo, D.F. 11520 
Telefono : 018001118000 , 59999400
Fax 59999401
Lunes a Viernes 9:00 a 14:00 y 15:00 a 18:00Hrs

Here your hard drive must be erased and the Windows License removed from the bottom of your laptop. The National Service Center will then send the Windows Certificate of Authenticity (COA) to be processed and a refund check sent back to you.
Since the above address is located in Mexico city, this sounds to me like a complicate way of giving me the finger. Especially since it was followed by:
I must clarify that the version of windows installed on your laptop is an OEM license and that the refund will be from $5.00 to $15.00 U.S. Dollars.
Fifteen USD is not even sufficient to buy a one-way bus ticket to travel from where I live, Xalapa, Veracruz, to Mexico City.
Anyway, I emailed Acer back to explain to them that I was going to reject the EULA, and install Ubuntu, effectively overwriting the hard disk drive, and that I would take plenty of photos of the process as proof. Hopefully I know more next week on the refund issue.
This all might sound like a lot of trouble to go through, but in Mexico city three people can have dinner for 15 USD. Talking about trouble... how does one reject a license if there is no reject option? But now I am getting ahead of the story.
Vista Rejection Time (or not)
After having connected the Acer Aspire to the adapter, I turned the notebook on, after having consulted the "Just for starters" guide, step 5, because I couldn't find the On button with just a quick glimpse (It's close to the word Acer underneath the display).
I saw shortly the word Acer on the laptop, and then a progress bar with Microsoft Corporation written underneath it. Then the mouse arrow appeared, which changed into a mouse arrow with an animated ring underneath it. Next, after a bit more waiting the first Windows Vista Starter window showed up, in which I could select my location, time and money formats, and keyboard. Since I was going to reject the license, I decided not to change anything, and pressed "Siguiente" (Next).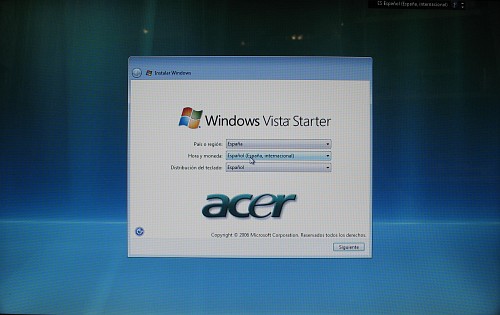 And there is was, what I had been waiting for: the EULA (End User License Agreement) for Windows Vista Starter in the top half of the dialog window. The bottom part contained an EULA for software Acer bundles with the Aspire notebook. But where was the reject option for each EULA?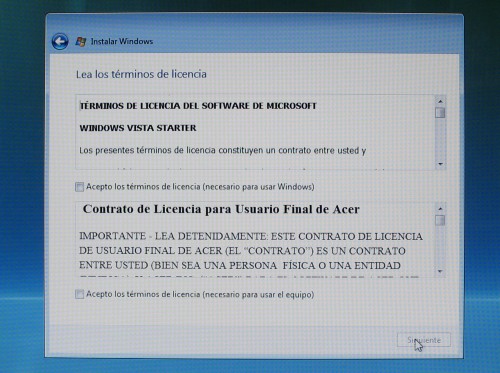 I tried scrolling both EULAs, maybe I could only reject them if I had read each in its entirety. But no such luck, no reject button would appear. Then I tried to read the Microsoft EULA, hoping to find an answer, because how can one reject an EULA without a reject option? After some time I asked Esme for help, because my Spanish is not that good.

While Esme was trying to make sense of the Vista Starter EULA, I was browsing through the Acer Aspire User's Guide to find how to get into the BIOS utility. I had already decided that if we both couldn't find a way to make a reject button appear it was not going to happen. And in that case I would boot from the Ubuntu 7.10 (Gutsy Gibbon) desktop CD I just had burned, use the entire hard disk drive for installation, and be gone with Windows Vista Starter. A few days ago I had skimmed through the User's Guide and was sure it mentioned how to get into the BIOS utility somewhere. And there it was, on page 42: "To activate the BIOS utility, press <F2> during POST".
I also tried to find the EULA text online, for easier reading. But when I entered the file name, VISTA_RM.1_STARTER_OEM_es-ES, into Google I got no results at all.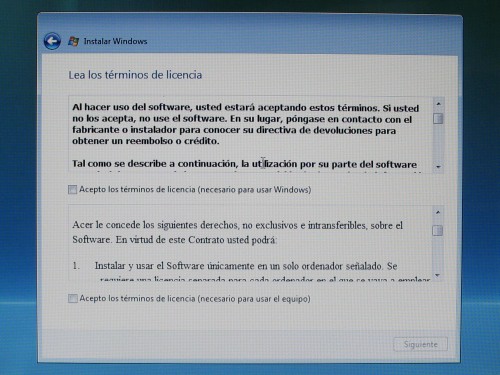 In the mean time Esme had found instructions of what to do when one doesn't want to accept the Microsoft Windows Vista Starter end user license agreement:
Si usted no los acepta, no use el software. En su lugar, póngase en contacto con el fabricante o instalador para conocer su directiva de devoluciones para obtener un reembolso o crédito.
Which roughly translates to:
If you don't accept, don't use the software. Instead, contact the manufacturer or installer to obtain directions on how to obtain a reimbursement or credit.
Since I already had contacted Acer, I decided that it was time to reboot the computer, get into the BIOS setup utility, and install Gutsy Gibbon on the Acer notebook.
Refund for Windows related
Also today