Installing VirtualBox and running Windows XP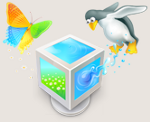 Today I finally was able to find some time to install VirtualBox Personal Use and Evaluation License (PUEL). It was a bumpy ride, but I was able to fix each issue that popped up without wasting too much time thanks to the clear error messages provided by the program.
After a successful installation of VirtualBox on my Dell Vostro running Ubuntu 8.10 I decided to create a virtual machine running Windows XP Professional.