Why I won't buy HP products in Mexico anymore
Today, after I had discovered that the heatsink of the "North Bridge" in my Compaq Presario SR1505LA was no longer in place, I decided to contact HP via their online support chat. I was already afraid that the chat would be going nowhere, since the Compaq was older than one year, and it was one of those systems HP dumps in Mexico (meaning: low quality, close to minimal requirements for running the Windows operating system, out dated). The monitor that came with the system, a MV7540, had already died on us several weeks ago.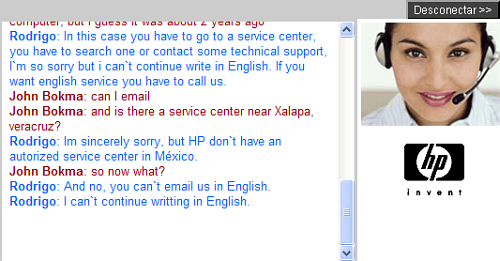 When I explained the problem in the chat, Rodrigo made clear that the system was out of warranty, and that it was in his opinion not a manufacturing error. In my opinion, a clip that was soldered in place, and required to keep a heatsink in place that just pops out after some time, is a manufacturing error. And, again in my opinion, should have been covered by the motherboards manufacturer: Asus.
Rodrigo also stated that HP has no authorized service center in Mexico (Maybe HP can invent one?), which means that I will never buy an HP product again in Mexico. Dumping badly configured computer systems on poor people via supermarket chains and "office" shops is already doubtful, to say the least. But closing the door on those people when they need support, is to me an outrage.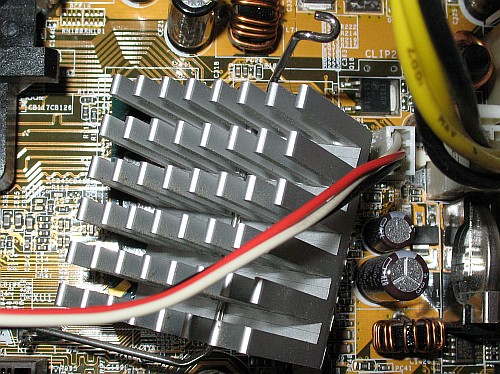 Moreover, I was also somewhat sad to discover that a brand like Asus, with as far as I know has a solid reputation of constructing motherboards, managed to produce a motherboard, K8S-LA (Salmon), that loses its clip used to hold a heatsink in place. A heatsink that could have shortened out electronics in my computer, and have caused great damage, including fire.
Anyway, since I am qualified enough, having a BSc in electronics, I decided to fix the issue myself.
Also today