Intel Core2 Duo CPU heatsink and fan
Last Thursday I made several photos of the inside of the Dell Vostro 200 Slim Tower I bought recently. Since the CPU fan is attached at an angle to the heatsink, I decided before installing Ubuntu 7.10, to open up the Vostro and take a close-up photo to show that the fan is connected safe and sound to the heatsink.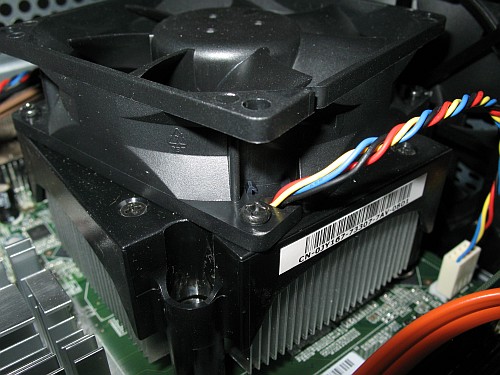 As you can see in the above photo, each visible corner of the CPU cooling fan is properly connected with a screw to the heat sink. And, at least in the Dell Vostro 200 Slim Tower I purchased, the same holds for the corner that's not visible in the aforementioned photo. Hence, the impression I got last Thursday, from a good look inside the computer, still holds: with the Vostro 200 Slim Tower, Dell has delivered a very solid desktop computer.
Also today