Arachnids near Coyolillo - part 4
Read the previous part of this blog entry in: Arachnids near Coyolillo - part 3
When we arrived into the meadow, we decided to have a break. After a few minutes I became restless again, and started to look under stones. The place looked like a Centruroides gracilis habitat, and I was sure I would find scorpions today.
After some time I found a exuvia of a scorpion, probably indeed C. gracilis. And the next stone I lifted had the animal itself hiding under it. But it was way too fast to take a picture, and before I knew it, it was well hidden somewhere in the grass.
I kept looking under small stones, and boulders, and after some more time I was lucky, an adult Centruroides gracilis. Based on the overall look I was thinking its a male, but the tail segments look more like the ones of a female: short and fat.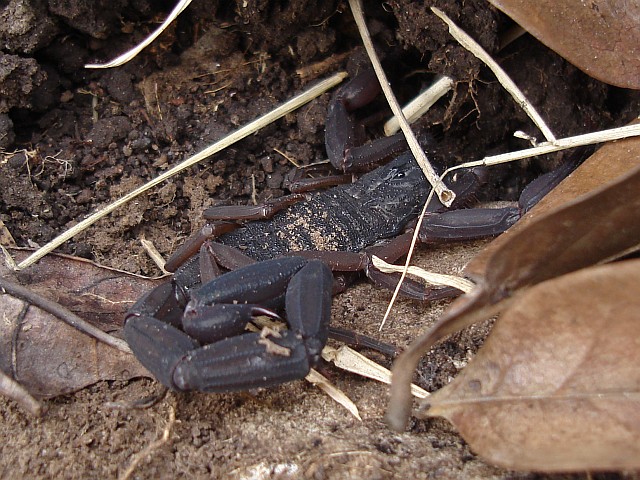 After I had taken several photos of the scorpion I also took a picture of the uncovered hiding place, and the surroundings. The stone that was covering the hiding place of the Centruroides gracilis is in the right of the picture.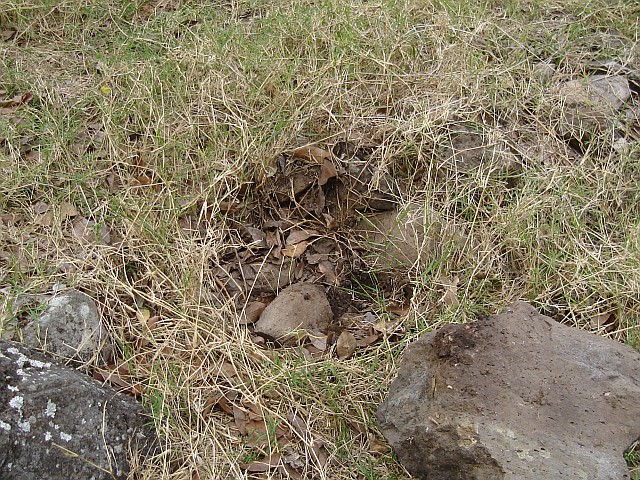 I have find this species several times in similar places: dry grass land with huge boulders. Based on how often I have found Centruroides gracilis in Veracruz I would say that it's quite a common scorpion and easy to find.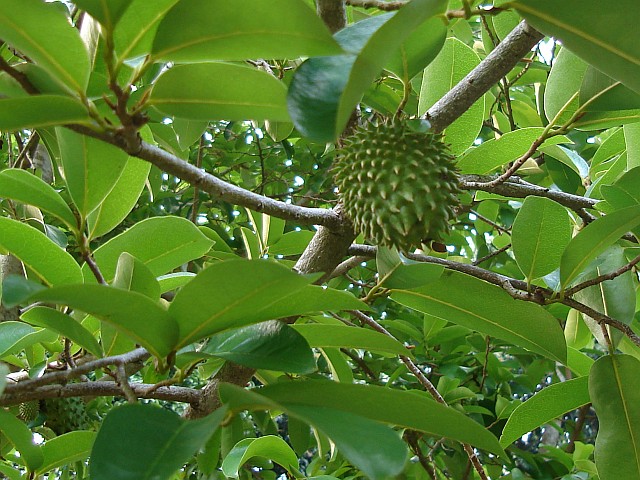 I walked back to Esme to tell her about my finds. She was still resting, and while doing so had noticed that some of the trees in the meadow where Guanábana (soursop, Annona muricata)) trees and had fruit.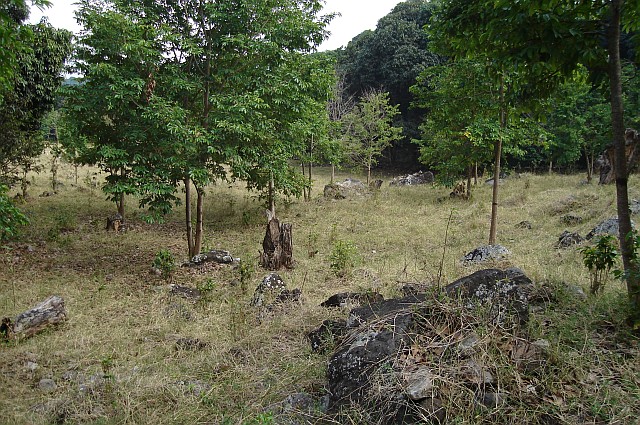 I looked back to where I came from and took an overview picture of the meadow with dry grass, and large boulders. We have found often Centruroides gracilis in such places, so I consider it a good example of the habitat of this scorpion. In the foreground you can see several soursop trees and more in the back a dense mango grove.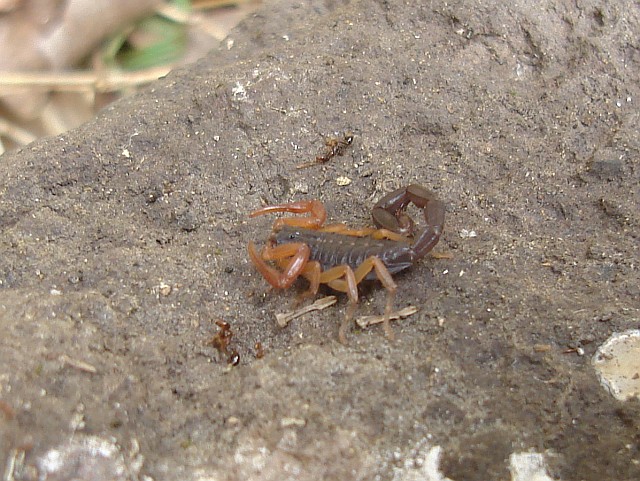 We walked towards the "end" of the meadow, where the mango grove we had left earlier on continued. Before we entered the grove I looked under a stone, and noticed something run away very fast. I had looked under the very same stone earlier on, but hadn't seen the small scorpion, since that was what I had seen run away, back then. I moved the stone a bit more, and noticed it hiding on the underside, and took a few photos. I might have missed it earlier on, or maybe it had come out of hiding (a crack in the soil) because the light was slowly going.
We entered the mango grove, and started to walk back the way we came. I knew globally into what direction to go, and after quite some walk things started to look familiar, and soon we had found a track we had taken earlier, so we followed into the opposite direction.
After some walking we arrived back into Coyolillo. We bought each a refreshing drink, and started to walk in the direction of the main road, hoping to find a bus or a taxi. Esme went into another shop to buy some potato chips, and just when she returned I noticed a taxi, with "Xalapa" written on it. We signaled the driver, who didn't see us. But we were lucky, he had to pick up someone a bit down the road, and we managed to make clear that we wanted to take the taxi as well. And after some time we arrived back in Xalapa.
Also today