A new browser, made by Google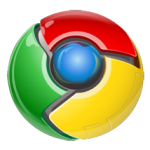 Today, like probably a lot of people, I downloaded the latest Google product: Google Chrome, a browser. Yesterday I already had printed and studied the comic book that introduced this browser and explained a lot of its features. And based on what I had read, I already liked this browser. So as soon as my online friend Andreja told me it was available for download (an hour sooner than I expected), I downloaded the browser and had it up and running on my computer running Windows XP Professional in no time, even with a limited user rights account; there was no need to switch to an account with Administrator rights, or use runas.
Also today I finished "Fatal Revenant", the second book in the last chronicles of Thomas Covenant series, written by Stephen R. Donaldson. Like I already wrote, I was not really impressed by "Runes of the Earth", the first book in the series. But "Fatal Revenant" makes up for this, big time. I give "Fatal Revenant" a 10/10, because it's really that good. "Runes of the Earth", however, I give a 5/10. Maybe I was not in the right mood when I was reading the book, but "Fatal Revenant" is just, in my opinion, in a very different league.