From Xalapa to Puebla city by bus
In the morning we got up early and started packing - at the last possible moment, as my mom would comment - for our short vacation in Puebla. I printed some maps by making a screen shot of the map displayed in Google Earth, and copy pasting the screen shot in IrfanView. Somehow printing via Google Earth is still (!) not working right; I get now and then a mix of the actual map mixed with uniform colored grey rectangles, which makes such a print out quite useless.
I checked my scorpion collection gear: the small Xeonic Popit! storage boxes, black marker, index cards for notes, a flash light, and my portable UV. Of the latter I checked the two 9V batteries; they hadn't been depleted yet, nor exploded. The latter hopefully because - for saftey reasons - I had switched away from 9V Duracell alkaline to 9V Energizer alkaline.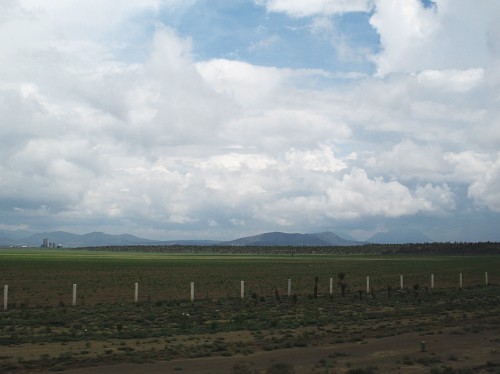 Esme had said to me that one o'clock there was a bus going to Puebla city. Somewhat unexpectedly to me - we hadn't bought the bus tickets in advance, so I didn't consider the time as set in stone - around 12:30 Esme was telling me to hurry up, and walked down the stairs with Alice, to the street level. So I turned off the computer after a quick bye via MSN to Paul, when I heard Esme yelling that the taxi was already here. Taxi? What taxi? I couldn't recall her having called for a taxi. So I grabbed our bags, and went down after a quick goodbye to our apartment.
When we arrived at CAXA; the central bus station of Xalapa, it turned out that we were on time to get the bus of one o'clock to Puebla. Moreover, there was even time to buy some refreshments and something to eat on the bus. After a quick goodbye to Esme's mother, who had come with us, we walked to the bus.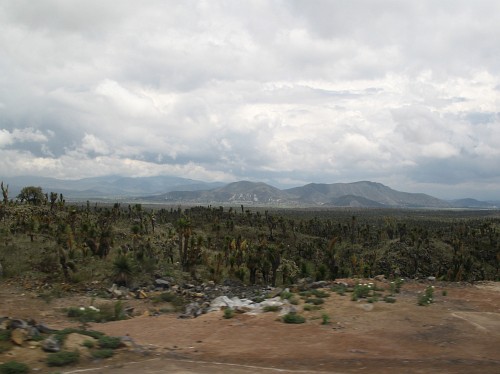 We had decided to travel via Puebla city to Tehuacán, instead via Orizaba. That way; by climbing up fast to the Mexican Plateau, we hoped to avoid some of the heavy rains typical for the season. Esme was afraid that we would get quite some rain in Tehuacán as well. I had checked online the weather for the next days, and indeed rain had been predicted. But I was somewhat hoping that the rain would fall mostly at the end of the day, like it often does in Xalapa, giving us plenty of time for hiking. Moreover, I couldn't imagine that some of the places we had on our list would get a lot of rain, especially San José Buenavista. Of the latter we had seen an online video which explained that water was very scarce in the area.
On the other hand, I considered some rain a good thing. I was hoping to see cactuses and other plants flowering because of the wet season. And hopefully it would be easier to spot animals, including scorpions, because there would be less need to hide deed inside a burrow to preserve water.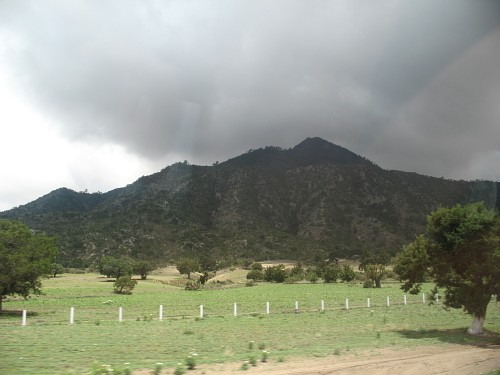 The way up to the Perote, located on the Mexican Plateau, was a slow one. Something was holding up the traffic. Moreover a slow drizzle was falling, greatly reducing the sight. Once on the plateau the weather became somewhat better: cloudy, but no rain. After Perote it became clear that the bus was going to follow the new highway cut straight through the lava field "behind" El Limón Totalco. A few months ago I had discovered this road in Google Earth because the satellite photos of the region had been updated. I had heard about the plans for such a road, but wasn't aware that it already was in use. Moreover, we probably had already been on it without realizing it last Februari, when we went to Mexico city (and back).
But this time we travelled the highway during the day, and I was looking out of the window. So when we neared the lava field, I took a photo through the bus window. And when we had the actual lava field to our left and right, I took several more photos. After about 6 minutes we passed Cerro Pizarro, an isolated rhyolitic dome we often use to orient ourself when we are hiking near El Limón Totalco.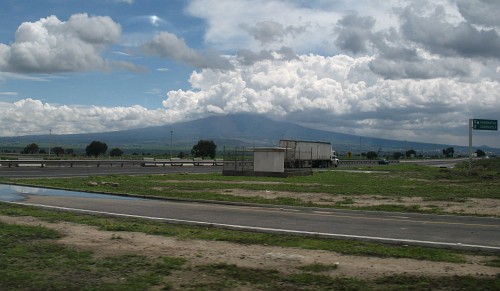 We kept enjoying the view after we had passed the small volcano, and made plans to visit this part of Puebla sometime in the near future. Around 3 o'clock the bus passed through Oriental, and 30 minutes later we could see Matlalcueitl in the distance, the large dormant volcano close to Puebla city. The Spanish named this volcano La Malinche in honor of the indigenous woman who accompanied Hernán Cortés, acting as interpreter, intermediary, and advisor.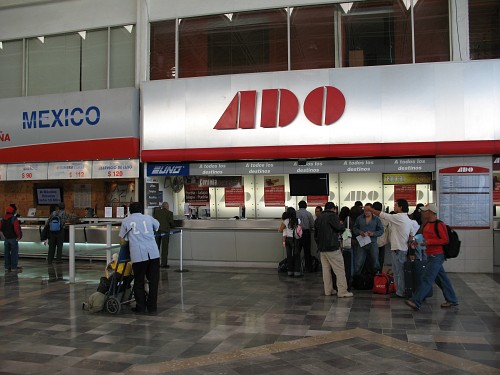 Around a quarter past four we arrived at the main bus station of Puebla city (CAPU). Esme went to the ticket booth to purchase tickets to Tehuacán and managed to get us on the bus leaving 5 o'clock. Since we had about 5 minutes left she bought a small pizza to share at Domino's while I was looking after Alice. We went to the ADO waiting section, and after we had finished our meal the bus to Tehuacán arrived. Five minutes later we were on our way again.
Read the next part of this blog entry in From Puebla city to Tehuacán by bus
Related
Also today