Low light photos of Xalapa
After an excellent dinner at "La Salsa Brava", a restaurant co-owned by a classmate of Esme, we decided to walk to the house of Esme's mother to pay her a visit. I had taken my digital photo camera with me, A Canon A640, and since it was getting quite dark, I decided to take some low light photos.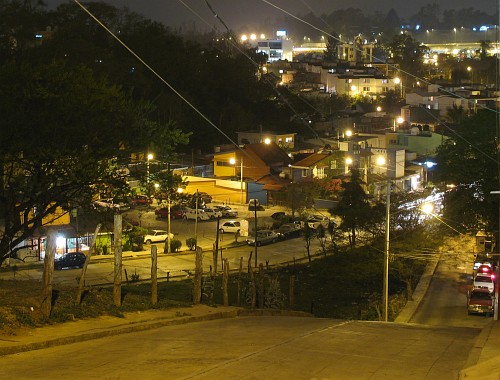 Because I didn't bring a tripod with me I had to improvise a bit. For example, I took the above photo by resting the camera on a low wall. Of course I used the self timer, set to 2 seconds, to avoid any vibrations the pressing of the shutter button might cause.
The photo was taken from Rio Pánuco (del Charro), quite a steep road going from Rafael Murillo Vidal to Angel Carbajal. The latter can be seen in the above photo, with a parking lot next to it.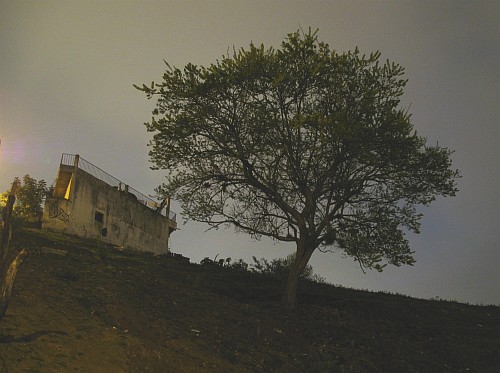 The Rio Pánuco goes down a hill to reach Angel Carbajal. To the left I noticed a lonely tree with a house in the background. I decided to use a fence post to stabilize the digital camera. But the fence post was not entirely flat on top, so I used Alice's vest to provide additional support for the camera. Again the self timer was used to prevent vibrations from pressing the shutter button.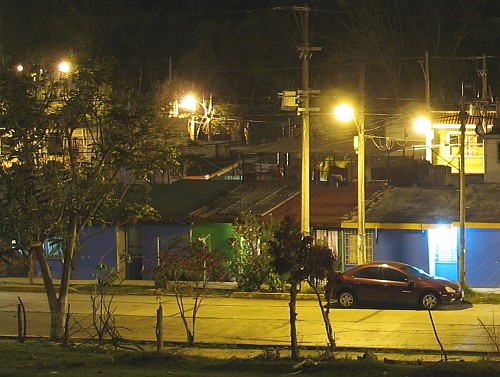 After a final photo, this time of Angel Carbajal, the road Esme's mother lives on, we continued our walk to the house of Esme's mother.
Related
Also today