Dell Vostro 200 Windows Tax Free in Mexico
Today, about an hour after what could only have been considered another fruitless chat with Dell sales in which I was told that my order was impossible, Esme's mobile phone rung. I was reading "Serpent Mage", the fourth novel in the The Death Gate Cycle series by Margaret Weis and Tracy Hickman, in our bedroom, and trying to get all the anger with Dell out of my system when Esme said: it's for you, someone from Dell.
I picked up and had a very nice chat with Eliecer Melendez. He explained to me that the system I wanted was after all possible. Moreover, I just had to agree with the order which had already been compiled, pay for it using my master card, and the order would be put into production. After some struggling with email addresses to get the order in one of my email boxes, I finally had the order in front of me. On it where the specific changes I requested a week ago, including the Free DVD burner upgrade I missed out because Dell's order system was down the 31st of January:
Free DOS, No Microsoft OS
No Modem requested
16x DVD+/-RW drive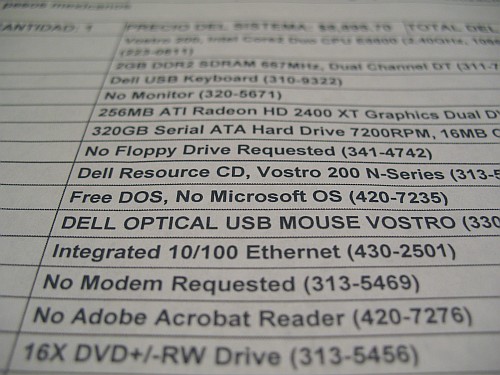 I was extremely happy that finally this all had been settled after a week of too many emails and too many online chats with Dell, and I paid for the Vostro using my card over the phone. I thanked Eliecer again, and he apologised again for all my trouble. I hung up and told Esme, with a big smile on my face, that my Dell Vostro 200 was now in production; without a Microsoft operating system, and without the fax-modem card since I had no use for either.
While I am sure that there are readers who are interested in the full story, to me the most important one is that my Dell Vostro 200 is in production. If you order the same, or similar system, though, do me the favor and ask for the Dell Vostro Bokma. I mean, those extra gray hairs have nothing to do with my upcoming 41st birthday, the 15th of February.
Specifications of the Dell Vostro 200 I ordered
Below follows an overview of the Dell Vostro 200 I ordered:
Dell Vostro 200 Slim Tower
Intel Core2 Duo CPU E6600 (2.40 GHz, 1066FSB, 4MB L2 cache)
2GB DDR2 SDRAM 667MHz, Dual Channel (2 DIMMs)
Dell USB keyboard
No monitor
256MB ATI Radeon HD 2400 XT Graphics, dual DVI or VGA
320 GB Serial ATA hard drive 7200 RPM, 16 MB cache
no floppy drive
Free DOS, no Microsoft OS
Dell optical USB mouse Vostro
Integrated 10/100 Ethernet
No 56K PCI data fax modem
No Adobe Acrobat Reader
16X DVD+/- RW drive
Integrated 7.1 channel audio
Dell A225 2.0 speakers
No pre-installed productivity software
No pre-installed security software
4 year limited warranty plus 4 year NBD on-site service
Note: I've rephrased some items for clarity and completeness, based on the information I obtained from a screendump I made of the original, unmodified order.
The system doesn't include a monitor, because when I ordered the unmodified system, the order included an UltraSharp 2407WFP-HC to be used with the Vostro, and a UltraSharp 2208WFP, to be used with my current workhorse, a Compaq Presario SR1505LA. Both monitors arrived today.
In the near future, the Compaq Presario will be used for administrative tasks (amongst others) by Esme. And of course the Vostro 200 will be mainly used to develop software, mostly written in Perl, and will be running an open source operating system, most likely Ubuntu, or a Ubuntu edition like Kubuntu or Xubuntu.
Also today