Splinter Cell: Checkmate
Today I finished reading Tom Clancy's Splinter Cell: Checkmate written by David Michaels. Last Sunday I bought 3 books at Sanborns, Centro Comercial Las Americas, and had decided to start with Checkmate written by David Michaels.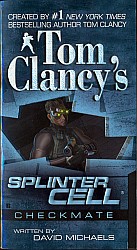 I liked the book even though the writing style suggests a much younger audience (14 years), especially in the way each acronym was followed by a - in my opinion - pedantic explanation of its meaning. More annoying was the huge number of spelling mistakes giving the book a very cheap feeling.
Even more annoying was the clear lack of understanding of computer technology by the author. For example, if one wants to recover data on a laptop harddisk one doesn't connect to it via one of the laptop ports. And a virus "buried in one of the hard drive's sectors" doesn't come alive and infect the mainframe connected to the laptop's port unless the laptop is running an operating system which is plain silly if one wants to examine the data on the harddisk.
Sadly, several other books in the "Tom Clancy's" series I have read (Net Force) suffer from this same lack of understanding, which made me wonder if the rest of the technical descriptions, for example weapons related, suffer from the same lack of knowledge.
And don't try to give a book a realistic feeling by in the story stating how it's different from Hollywood movies when you use a movie cliche like "Blocks of green-on-black computer code streamed across the monitor".
Finally, not a bad book, but too much action packed for my taste, which made it quite unrealistic. And like I already wrote, to me the book had the feeling it was aimed at a young audience due to the writing style
Related
Also today