The manic book buying experience
"The manic book buying experience" was the title I picked for a blog entry I wanted to write (but never did) the last day of November, when I bought 20 second hand books in one go at our favorite second hand book store. When Esme saw me picking up all books in order to pay them she asked "John, are you manic?". Anyway, I was able to get a nice discount and for about 600 pesos (approximately 53 USD or approximately 40 euros) the following books became ours: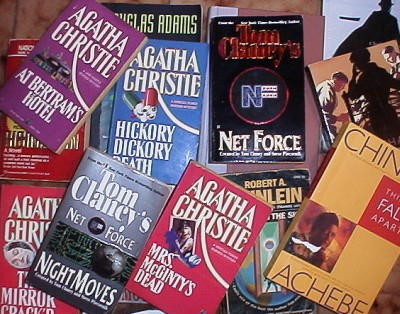 Note: "different version" means that I was not able to find the ISBN on Amazon or the book has no ISBN. The ISBN of "Crooked House" matched a different book so it's probably wrong (inside the book is written: "Standard Book Number: 671-77613-4". Also, the cover(s) shown at Amazon can be different from the book(s) I bought.
In case you wonder about all those Agatha Christie books, some time ago I bought 3 books written by her and I really liked them:
All the three above books are about the Belgian detective Hercule Poirot. I didn't like "The murder on the links" not as much as "Poirot investigates". The latter contains several short stories that I enjoyed a lot. Besides I learned a new expression "red herrings". I also liked "Appointment with Death" a lot.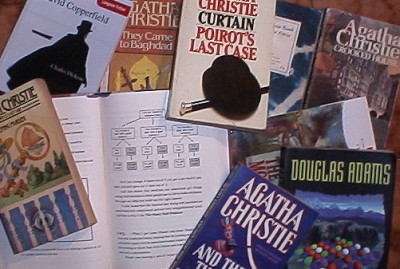 From the first list I have already read several books. "Tunnel in the Sky", a science fiction story that reminded me a lot of "Starship Troopers". It's also about young people in a strange environment. "Net Force" was quite ok. It had some weird things in it like for example the expression "binary encoded hexadecimal data", and the use of the GIF file format for photos (which is limited to 256 colors). Also how the Net works sounds not realistic. Like how the virtual reality people experience adjusts to their choice of environment. Meaning if one person uses a boat to move around in virtual reality, and someone else a car, when they meet, the first person sees another boat. It made me wonder what happens when the second person gets out of the car. Moreover imagine several people meeting at the same spot. Also the idea of driving a car to some place in order to obtain the information isn't very realistic. Imagine jumping in your car and driving for some time to a (virtual) book shop and getting stuck in a virtual traffic jam.
"The curious incident" I really loved. It is very well written in my opinion. It's a story about an autistic boy who tries to find out who killed the neigbour's dog. The story is written as if the boy is the author. He loves mathematics and in order to reflect this the chapter numbers are prime numbers. Besides a nice read, it also elaborates on some topics I like, for example the "Monty Hall Problem".
"Hickory Dickory Death" turned out to be an excellent book. I enjoyed that book a lot. Then I read "The mysterious affair at Styles". A part of this story reminded me of "The case of the missing will" from "Poirot investigates". And just yesterday, I finished to read "Mrs. McGinty's dead". At first, based on the cover, I thought this book wouldn't be one I like. But on the contrary, this was almost a "don't put down until finished" book.
Related
Also today