Scented gel candles made by Esme
Tomorrow Esme and I are having a baby shower. Esme has been busy planning the whole event for some time now, looking up games to do, what kind of presents to give, inviting people et cetera.
As a small gift to our guests she wanted to make decorative scented gel candles. She had already made a few last Thursday and today she finished the rest.
Note: the candles Esme made are for decorative purposes only due to the (possible) inflammable materials she used. If you want to make scented gel candles, and actually light the candle, make sure you use only materials that can not cause any risk when getting hot or in contact with a flame (Thanks "Concerned Reader" and "Mima").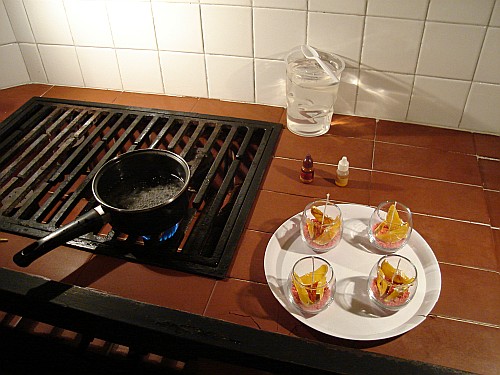 Esme boiled water in a small pan to use in the bain-marie method of melting the candle gel. A thick tea glass was used to hold the gel and put inside the pan with boiling water. When the gel got liquid she added a liquid dye and several drops of candle scent to the melted candle gel. In the above photo you can see a large plastic container with gel, a bottle with colorant (red cap), a bottle with candle scent (white cap), and four glass containers to become decorative candles.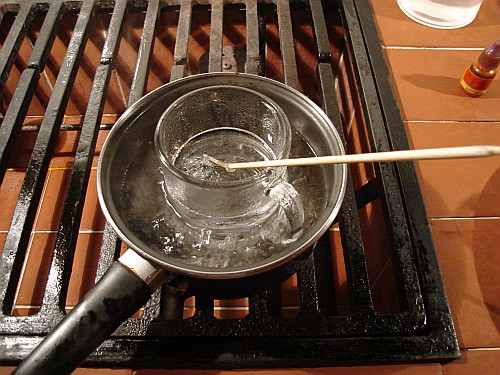 She had already put the zinc core wick - glued in place with a glue gun, some small colored stones, and pieces of dried orange inside the four containers and just had to pour carefully the melted gel into each container. We tried to use a wooden stick to guide the flow of gel, a method that works good with water but not with gel in this case. Probably due to the much higher viscosity of the candle gel.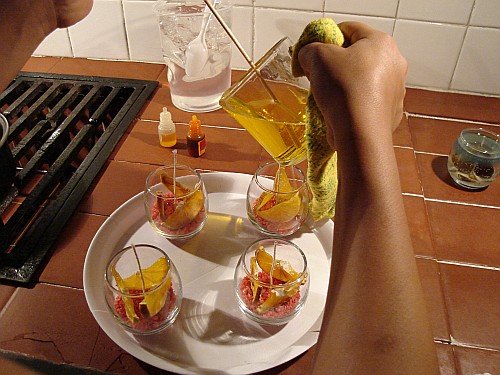 After cleaning the outside of the glass candle containers from spilled gel she set the candles aside and let the gel harden. When the gel was hardened out sufficient she trimmed the wicks to half a centimeter (about a quarter of an inch).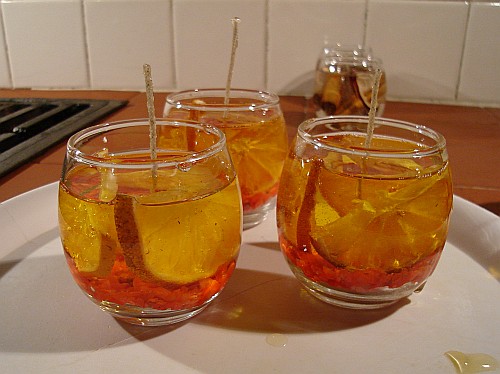 Last Thursday Esme made sented gel candles using dried apple slices and cinnamon. Several days earlier she had cut the slices and treated both sides of each apple slice with lemon juice to prevent the slices from turning brown.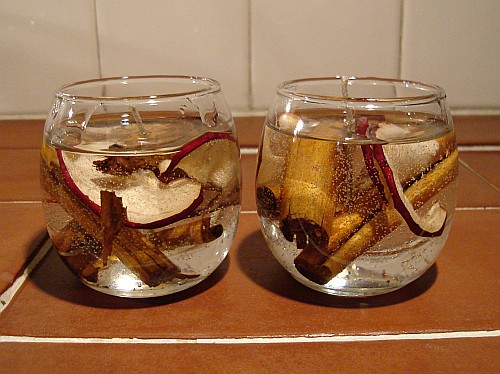 On Thursday she also had made scented gel candles with sand and shells. She used two layers of gel, the first layer colorless and the second layer, added when the first one was hardened out a bit, using a blue colorant. The shells she used were collected on our walks in the state of Veracruz, Mexico.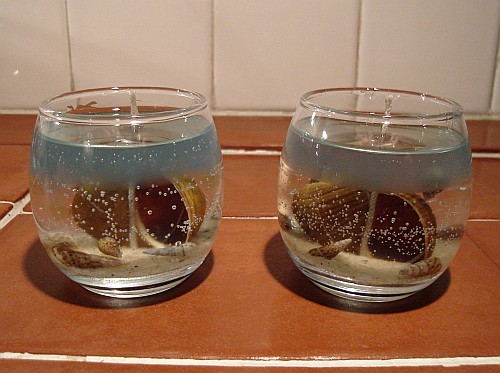 Scented gel candles related
Also today