From Xalapa to Puebla City to Tehuacán
In the morning I checked for the last time my gear: portable version of the UV scorpion detector, 6 boxes to contain and transport scorpions safely, Dell Axim X51v (PDA), Pandora's Star (book), and of course my digital camera, a Sony Cyber-Shot DSC S600. All was packed in a safe way inside my, or better Esme's backpack, because it was the lighter one. I took her backpack which contained mostly our clothes and we left the house and took the first bus to the central bus station of Xalapa (CAXA).

At CAXA Esme bought our tickets to the city of Puebla in the state of Puebla (104 pesos per person). The bus was leaving around 11:40 and the trip would take over three and a half hours. The first, well known, part of the trip I had a cat nap. When I woke up we where on the road between Alchichica and San Luis Atexcac. Esme spotted the Pico de Orizaba (Citlaltépetl) in the distance, the highest mountain in Mexico, and it's lesser known companion the Sierra Negra (also known as Cerro La Negra), one of Mexico's highest peaks.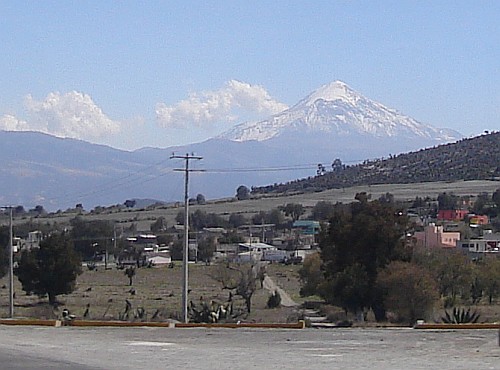 Shortly after I took the first photo the bus slowed down near San Luis Atexcac and I was able to zoom in and take a better photo of the Pico de Orizaba. After San Luis Atexcac we passed Las Derrumbadas, (the collapsed ones), twin rhyolitic domes. We hope to climb one day the slope of one of those volcanos.

Just before Zacatepec the bus took the road to the right, roughly in north-west direction. Shortly after we saw to our left a huge barren field. It looked like a big desert but after a closer look we saw that there was actually water standing on the field. Later we learned that the wetland we crossed is visible in Google Earth as a large white area and is called Laguna Totolcingo. It's color, or maybe the reflected clouds, in the satellite image making it look like a huge ice field.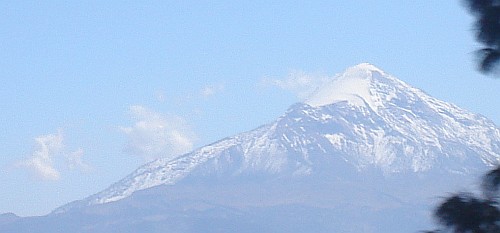 When we had crossed the wetland we arrived at a large town in the hills, El Carmen Tequexquitla according to information I found online at the time of writing this blog entry. It's place we certainly want to visit one day: close to the laguna and the hills look very promising to look for wildlife. We could also see many large cactuses growing near the houses and on the hills.
When we entered Tequexquitla we had crossed from Puebla into another state: Tlaxcala. After some time we passed the town of Cuapiaxtla. The view didn't change much, so I listened to some music on Esme's Creative Zen Nano. In the distance we could see Matlalcueitl (also called La Malinche after Hernán Cortés' interpreter and mistress), the volcano that is quite close to the city of Puebla and the sixth highest mountain in Mexico. Then we crossed the state border again and were back into Puebla. After quite some time the landscape finally changed: more green and plenty of trees, and after some time it became clear that we got closer and closer to the city. In the distance we could see two other well known volcanos: the Popocatépetl ("smoking mountain", second highest mountain in Mexico) and a little more to the North the Iztaccíhuatl ("white woman", third highest mountain in Mexico).
Puebla de los Ángeles
A bit after 3 o'clock in the afternoon we arrived at CAPU, the central bus station of Puebla, which is quite a bit larger compared to the central bus station in Xalapa (CAXA). We walked to an information booth and they had maps. We looked at a map of the city, and when it turned out it was free we took it with us.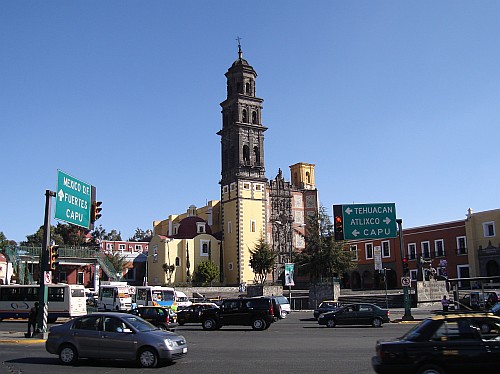 We left CAPU and we took a bus to the Iglesia de San Francisco, which according to the map was somewhat in the center of Puebla. When we arrived I took my first photo in Puebla, of the San Francisco church. We had another look at the map and decided to walk to the nearby Barrio del Artista (The artist neighborhood). On the way I spotted a very nice building covered in tiles: Edificio Coatepec.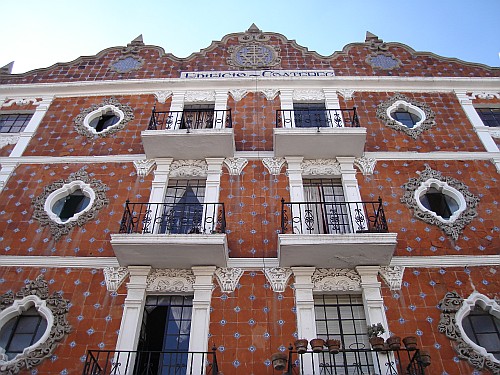 To the left and the right we saw shops selling very colorful ceramics called Talavera Poblana, a type of majolica earthenware, which reminded me somewhat of Delft pottery, blue and white pottery traditionally made in and around Delft, a city in the Netherlands close to where I was born. However, the Talavera Poblana is much more colorful and nicer looking to me.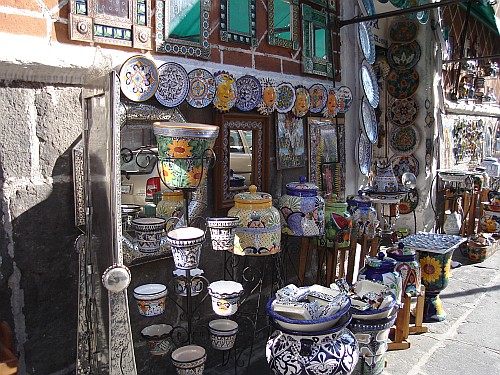 We crossed the 4 Oriente and arrived at the Parian. According to an English sign the word Parian means market and was in 1930 destined to a group of painters. Ten years later the area turned into the Barrio del Artista (The artist neighborhood), a large handcrafts market.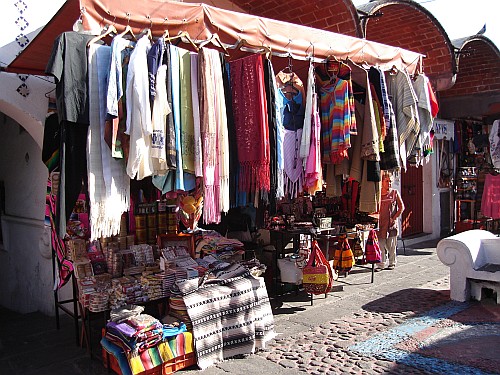 The handcrafts market looked like the place for people looking for a nice souvenir that reminds them of Puebla. Esme was already looking around for a nice present for her mother, but couldn't find something to her liking. She asked if we would come back later to Puebla, but I even didn't have an idea where we were going tomorrow, or even today.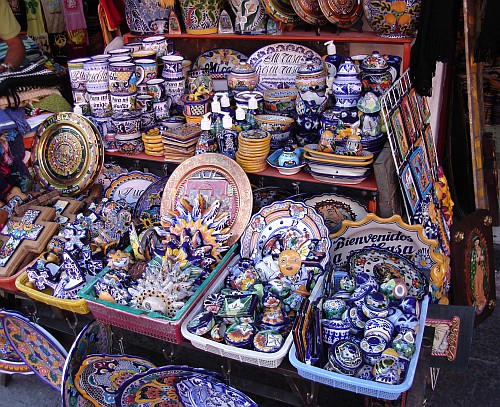 But first the important thing first: we both were starving. After we left the Parian I noticed a small restaurant called La Poblana. We entered the restaurant and I decided to give the famous Mole Poblano a try. To drink I wanted orange juice, which was made on the spot from ripe oranges. Esme ordered Enchiladas. The mole was very nice, different from the ones I had eaten so far ( Xico, Naolinco, both places close to Xalapa where we live). It reminded me much more of satay sauce, and even the color looked very similar.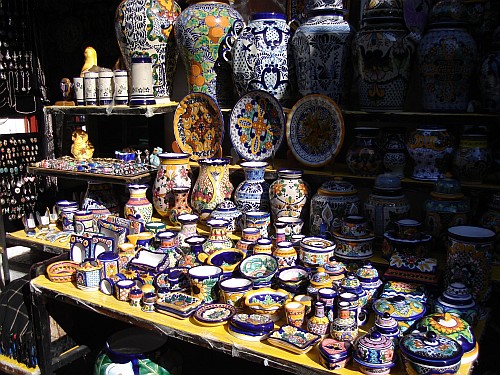 After an excellent meal we decided to walk around a bit more. We still had no clear idea what to do next. Should we start looking around for a hotel and stay in Puebla, or should we take a bus to a smaller town nearby so we could start walking early tomorrow, on my birthday. I was afraid that getting out of the city tomorrow to a nice place for walking would take us at least 2 hours, but where to go?
We passed the Iglesia (or Parroquia according to the map) de la Compañía. I had taken a few photos of the church before we passed it, and made a few again after. Shortly after we turned to the right and entered the Calle 5 de Mayo, a street with a lot of shops to the left and the right. Esme and I entered a book shop, and looked around.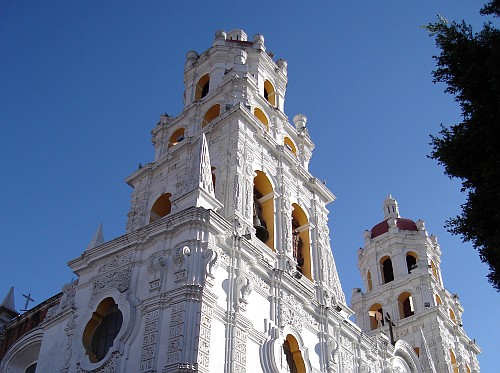 We have been looking for an English edition of "The Hobbit" by J.R.R. Tolkien for quite some time now, and we were hoping that this bookshop might have a copy, especially because it had quite a large section with books for children. But alas, no "The Hobbit". I browsed through a book on the state of Puebla with breathtaking photos. Suddenly I saw a photo with huge cactuses and according to the Spanish writing underneath the photo it was taken near Tehuacán, a place that was on our list. From the text I understood that the photo was taken in a botanic garden. However, based on the location of Tehuacán: in the rain shadow of de Sierra Madre de Oaxaca, I was expecting cactuses growing outside the botanic garden as well. And I wanted to look for scorpions in a desert like landscape, hence Tehuacán got a firmer position in my mind.
When we left the bookshop I got more and more the feeling that I didn't want to stay in Puebla city and visit a nearby town the next day to look for scorpions so Esme and I went back to the central bus station (CAPU). At a counter we asked how we could get to Molcaxac, a place that was also on my mental list, and which based on the print outs of satellite images via Google Earth looked like an excellent place for a walk. The girl told us that we had to go to a different counter. Before we left, Esme also asked how long it would take us to get to Tehuacán. The answer was 2 hours, which was much shorter then I had expected based on the distance.
We managed to find the counter that sold bus tickets to Molcaxac. The girl told us that it would take 2 hours to get there, but also that there was no hotel. So back to the first counter since Tehuacán it was. The bus was leaving 7:30 PM so we had to wait a little.
When we got on the bus the driver told us that we would have two short stops on our way to Tehuacán. And indeed, 8:40 PM we had a stop at Tecamachalco, and around 9:10 PM another at Tlacotepec. Because it was already dark when the bus left CAPU we sadly didn't see much of the landscape other then hills here and there covered with towns based on the tiny lights we saw sparkle in the distance. Around 10 PM we arrived in Tehuacán.
Tehuacán
When we left the bus station we were surrounded by a gloomy and cold Tehuacán. The lack of light gave us a very uncomfortable feeling. We looked around for a hotel. Esme spotted one but it fitted the dreary picture too well, so we decided to walk down the street, hoping to find a better place. After we walked around a bit we started to see people walking or talking with each other, and here and there a bit of artificial light. We looked for a taxi but the ones we saw were all occupied, so Esme asked directions for a hotel. The lady she asked recommended "Monroy" which was just 5 blocks walking straight. After 2 blocks we managed to stop a taxi which took us to "Monroy" which turned out not to be 5 blocks down. At first I was afraid that the taxi was taking a detour on purpose, but when we arrived at the hotel it was very clear that the lady had sent us in the wrong direction.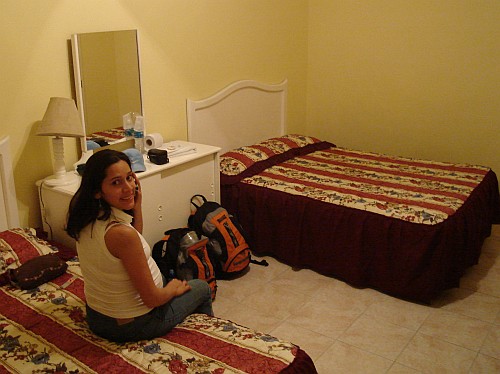 Esme paid for the room, which turned out to be quite large, having a small section with a single bed and a larger section with two double beds. Esme called her mother to tell that we had arrived safely in Tehuacán. Shortly after we went out again to have a small evening meal (cenar). After a short walk in the cold night we arrived at the center of Tehaucán. Close to the park we found several small places to eat, and we decided to give La Lonja a try. While waiting for our cenar to arrive I noticed several brochures. One had a map of the city, and also a small map showing several nearby towns. Esme asked for the bill and when the waiter returned she asked where we could go to watch cactuses if we didn't want to go to the Jardin Botanico "Las Cactaceas", which was mentioned in the brochure as well. Both the waiter and a customer told us much to our satisfaction that cactuses were growing everywhere around Tehuacán. I already had somewhat decided on the nearby town of Aljapan, but first we had to go back to the hotel and catch some sleep.
Related
Hotel Monroy, Reforma Norte 217, phone +52 (238) 382 02 91, Tehuacán, Puebla
Also today