Creative Zen Nano Plus and Licorice
Sometime ago I wrote a Perl program for someone in exchange for a Creative Zen Nano Plus. Esme's birthday was getting closer and closer, and I considered it a great present. However, the Zen Nano Plus was hard to get in the Netherlands. Esme wanted either the orange Zen Nano, or the purple Zen Nano, but both color options seemed to be sold out. After some more surfing around I finally found an online shop that was able to deliver the Purple Zen Nano Plus however 512 MB instead of 256MB. Luckily for Esme, the additional cost was not a problem for my customer and he ordered the device and after a few days he told me he had sent it to Mexico together with 4 bags of licorice, a well-known Dutch candy which Esme also likes.
Today Esme found a writing from the post office that something could be picked up before 4 PM. So after lunch Esme and I went to the post office, which has moved to a building at the edge of the city. And even though we arrived after 4 PM due to a lot of traffic, we still could get the package, and indeed, it was from the Netherlands. We also heard that the post office will be back in its old place, which is about 5 minutes walking from our house, on the 15th of December.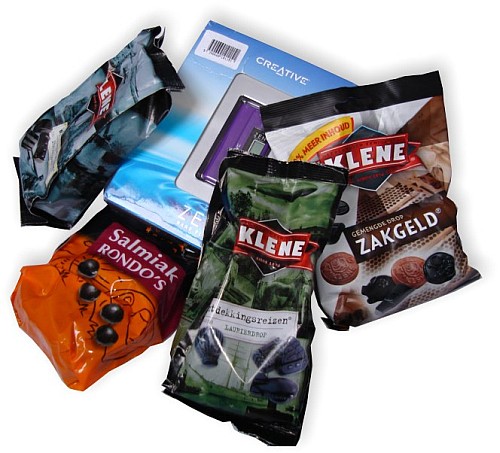 While waiting for the mini-bus to take us back home, I checked the package, and as promised, 4 bags of Klene "drop" (licorice) and the Creative Zen Nano Plus.
Creative Zen Nano Plus, first impressions
Back at home we had a better look at the Creative Zen Nano Plus. The package included a single AAA Duracel battery, which is all that's needed for this MP3 player. Did I write MP3 player? That doesn't cover all, it has also a built in radio, microphone, and can be used as a general purpose USB memory stick. I recommended Esme to check the device first without installing the software. So she did, and Windows XP did recognize it as a removable drive without any problems. The USB cable has a mini connector, same as the one my digital camera uses. I tested the Zen Nano on my computer by connecting it to the USB cable I normally use to download pictures from the Sony Cyber-Shot, and it worked without problems.
On the downside, the Creative Zen Nano Plus looks like a scratch magnet. It already had some minor scratches when we got it out of the box, and I am sure that after a month of use it will look 10 years old. Talking about looks, the Zen looks too much like a cheap toy for children. I don't complain to much about this though, because it was bought for its functionality.
Other things that could have been done better: the rubber protection of the USB connector doesn't close good and it took quite some effort to get the neck strap connected to the Zen.
Also today