A surprise in a towel
Today, in the afternoon, Esme took a shower. And when done, she took her towel, and somehow noticed that there was a surprise in her towel...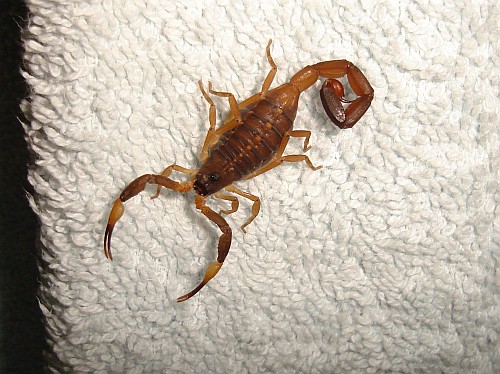 She called me to come, and handed me the towel and told me it contained a scorpion. This is not the first time we have a scorpion in our house, they live on our roof and now and then enter the house. Moreover, that's how I started my hobby, keeping scorpions, in the first place. No need to go to the pet shop for scorpions when they walk around in the house. Also, I wanted to learn more about those animals, especially since they seemed to live close to the house, and able to enter.
Capturing a scorpion
So I took the towel with me to the living room and picked up one of the many plastic cups on my desk on the way, and my Sony Cyber-Shot DSC-S600 to take some photos. I carefully put the towel on the couch, and opened it to locate the scorpion. After I had taken a few pictures, I used a small plastic cup to capture the scorpion, a Centruroides flavopictus. Note that the cup is probably too small for beginners, but I have done this before.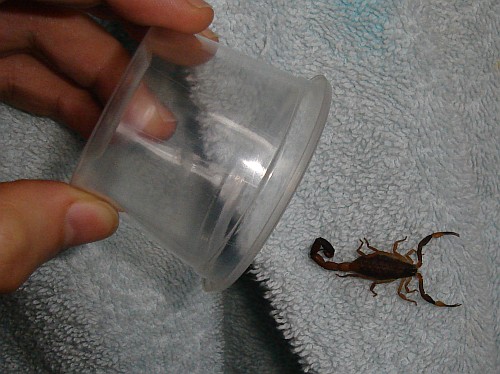 When the animal was covered by the plastic cup, I carefully moved a piece of strong paper partially underneath the cup and waited until the scorpion stepped on top of it, and then I carefully moved more of the paper underneath the cup, until the scorpion was entirely on the piece of paper, and the cup was entirely resting on the piece of paper. Of course this method works best on flat surfaces.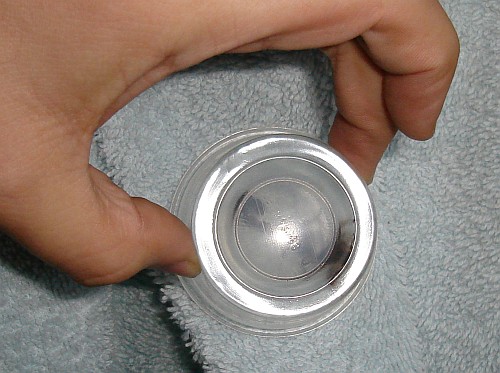 For non-flat surfaces I recommend to use a much bigger transparent (very important), plastic cup, and a brush. Put the cup in front of the scorpion, and carefully use the brush to push it inside the cup. The cup has to be somewhat transparent so you can see where the scorpion exactly is in the cup, and are able to put on the lid without hurting it, or getting stung. It's very important to understand that a curled up tail looks short, but it can stretch out an impressive amount, and scorpions almost always win at the game of tag.
One method I strongly suggest not to use is grabbing the scorpion with a pair of tweezers by the tail, or worse, with your fingers. This gives the animal a lot of unneeded stress, and the latter might get yourself stung and you might end up hurting the animal, possible bystanders, and yourself again, by throwing the scorpion away.
What you shouldn't do: handling the scorpion
After one has captured a scorpion (or recaptured an escaped "pet" scorpion), it might be tempting to handle the animal. First note that this should only be done with species that are not of medical importance and only if you know the individual animal sufficient enough. Scorpions are like people, no two are the same, even if they belong to the same species. So always be aware that a species that is considered docile can have members that like to sting you on sight and/or rip the flesh of your fingers.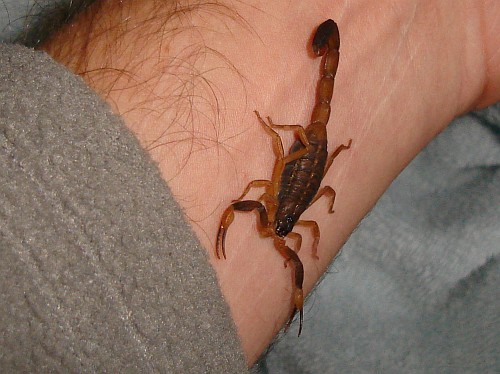 The method I use the most to handle a scorpion is putting my hand in front of it, and letting it walk on my hand. In my experience scorpions prefer to avoid hands, so I often push them carefully with a brush (or if I feel lucky, with my fingers), on my hand. I rarely do this with the scorpions I keep, because putting your hand in a terrarium containing a scorpion is often not a smart idea since it might stress the animal much more and faster compared to out in the open.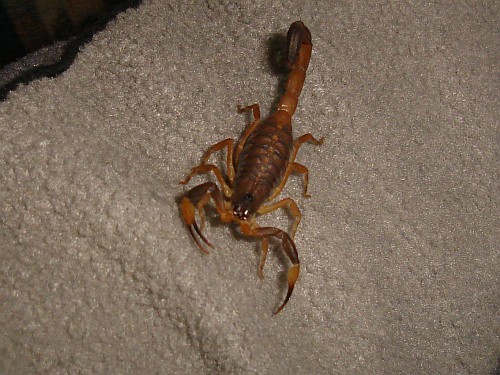 When the scorpion is on your hand, be prepared (actually you should already be prepared before you even get started on this). I got stung twice, by different species belonging to the Diplocentrus genus, because the scorpion climbed my curled fingers, dropped off, and used its tail to anchor itself literally in my hand palm. It hurt a little, even though on one occasion I could feel the stinger clearly enter my skin, also because the scorpion uses a so called "dry" sting in situations like this.
The other thing that is very likely to happen is that the scorpion suddenly decides to take a run, and ends up under your arm pit, on your back, or might get inside your clothes. In short: be prepared otherwise you ask yourself sooner then later: "Where the bleep did it go?". So be prepared includes: make sure that someone is around to help you when the scorpion is suddenly out of reach.
In the photo above you can see the scorpion walking up my sleeve, and shortly after it was out of sight. I carefully and slowly removed my sweater and managed not getting stung, and recapture the scorpion.
Finally, I do handle scorpions now and then, mostly in nature where both the scorpion and I have more space. I never handle scorpions I keep in front of visitors, not only because I don't want them to have fun at me when I am getting stung, but also because I don't want to give them the impression that scorpions are pets. Another good reason is that not only the scorpion can act in unexpected ways, but so can the visitors. It's important to understand that scorpions are not pets. I don't hug my scorpions, nor do I take them out for walks in the evening (they do complain on this, though).
Scorpion related
Also today