Snakes, scorpions, and tarantulas
Yesterday Esme and I decided to go to El Limón Totalco, for a second time. Last weekend we traveled further down the road, into the state of Puebla, but it took a lot of time, so we had decided to stay closer to the town of Perote this time. El Limón is at the border of a landscape consisting of (pieces of) volcanic rock, covered with yuccas and cactuses.
Around eleven o'clock we took from the central bus station in Xalapa (Caxa) the bus to Perote. After a trip of over an hour we arrived in quite a cold Perote. Before we left, Esme had asked me if she should took my sweater with her, but forget to take one for herself. So we went to a shop to buy a jacket for her, since it was quite cold and I wanted my sweater back. Next we took a bus to El Limón.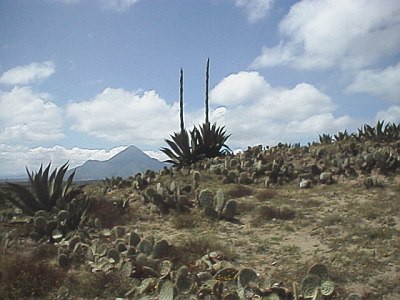 Instead of walking into the town, and hiking behind it like last time, we decided to walk in the direction of the Cerro Pizarro, a rhyolitic dome. Note that the Los Humeros volcanic complex is responsible for the volcanic rock landscape near El Limón, not the Cerro Pizarro.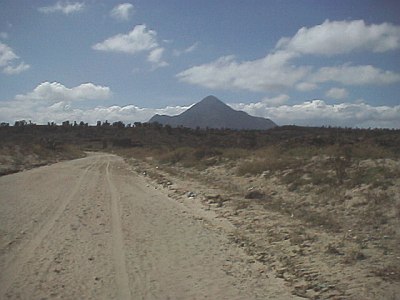 We followed a wide sand road, which looked like it recently had received some rain. To the right of the road we could see various crops growing. We kept walking, since in the distance we could see the volcanic rocks, with cactuses and yuccas in between getting closer to the road. After quite a walk, we reached some ruins behind which the landscape we wanted to explore started.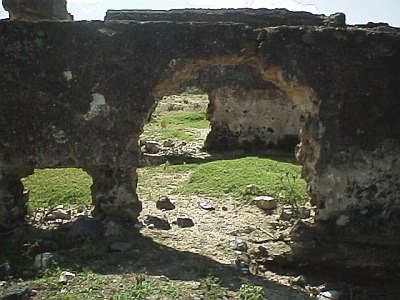 We held a short break. It was not really cold, at least not to me, but Esme kept her jacket on. I looked under several stones near the ruins, but didn't find any scorpion. I saw a big centipede though, similar to the ones we saw last week.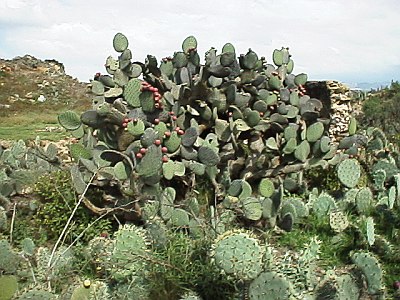 There was a kind of track in the direction I had decided to go, roughly west. The landscape, although it had quite a dry look, seemed less dry compared to the landscape we visited earlier, closer to El Limón Totalco, and El Frijol Colorado. Maybe the heavy rains in other parts of Mexico had some influence here.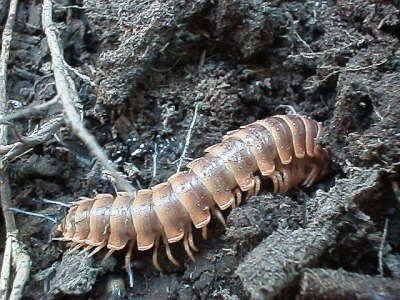 I looked under many rocks, but no scorpions. Under one I found a very nice orange colored Polydesmid millipede and I took a picture.
We saw quite some lizards, and they didn't seem that scared of two humans walking around. The landscape was wonderful to look at. Huge piles of volcanic rock, cactuses, yuccas, and other plants. Now and then we found places that were quite flat, with only a few pieces of stone, and more green. In one such a place, I lifted a stone, and saw a snake slide away under another, bigger stone. When I lifted the bigger stone, we had a good look at the snake. It was the same kind we had seen before, small and harmless. I carefully took the snake to have a better look at it. It was quite fat, and about 30 cm long.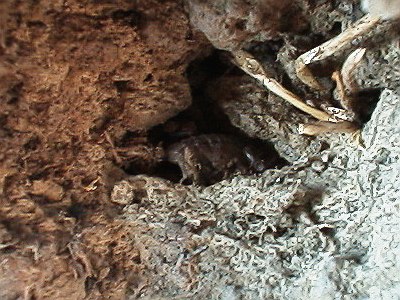 I kept looking for scorpions, and at one point I said to Esme, while holding a big rock: "Maybe I just don't look right, maybe they are hiding in the many holes those rocks have". And as if by magic, I suddenly saw a small scorpion walking on the part of the rock that was touching the ground before I lifted it.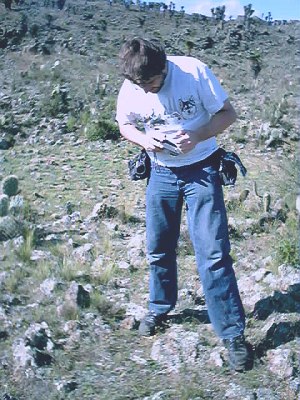 We walked a bit more, and Esme was getting quite tired. So we had another break. I decided to try if the yellow cactus figs could be eaten. I cut one lose and tried it carefully. It tasted quite similar to the tuna we buy often in the supermarket. Only this piece of fruit had much more needles, and even though I was very careful I ended up with one in my upper lip, two in my lower lip, and one inside my mouth. And yes, we forgot to take a tweezer with us, again.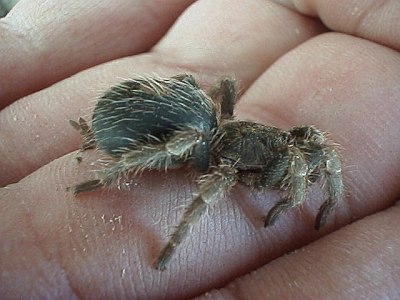 Shortly after the break I found a small tarantula. It looked very similar to the one we found near El Frijol Colorado, except this one was missing two legs.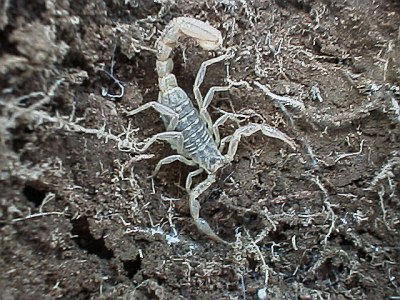 And just a bit later I found another scorpion. In the above picture one can see that the ground under the rock it was hiding under is quite moist.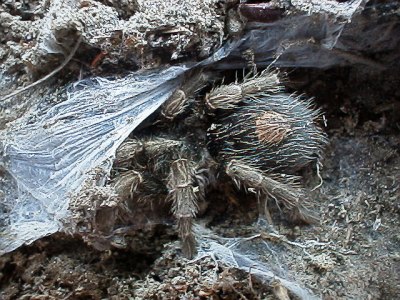 We walked more up and up, and when I moved quite a large stone I saw a small tarantula. It was similar to the one I found earlier, except a bit larger.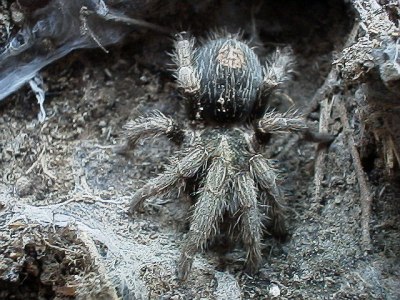 It was trying to hide in a piece of webbing, so I carefully made it move a bit away from it so I could take better pictures.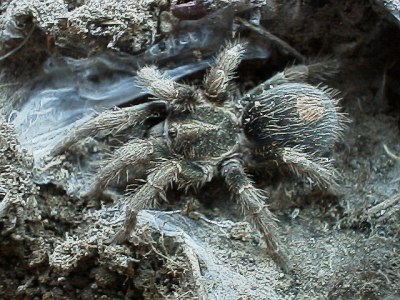 The spider had made a nice burrow under the stone. In the picture below you can see the animal in the center, and the burrow. The entry is near the bottom of the picture.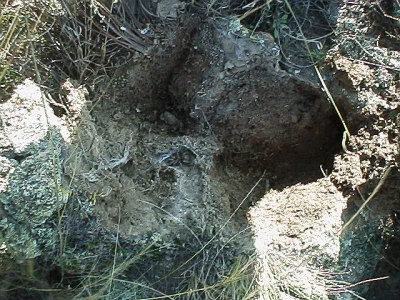 The tarantula was over one inch in size and quite docile. It was no problem at all to make it walk on my hand. I did so in order to put the stone back without squashing the spider accidentally. When the stone was back in place, I moved the spider close to the entry of its burrow, but it decided to take a different route to get back under the stone.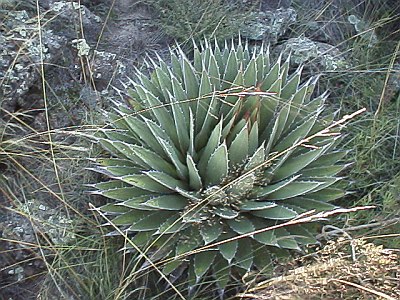 After some time we decided that it was getting late, and we started to walk back in the direction of the ruins. I started to recognize parts, and shortly after that we found the track back. I kept looking under stones, and when I lifted a relatively small stone, close to the track, in quite a wet area, I saw a quite a large snake...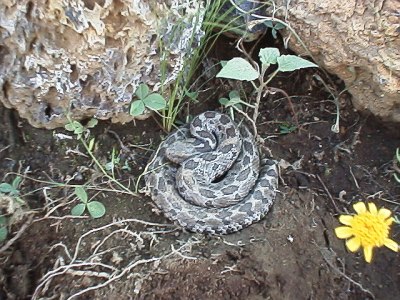 I always lift stones in such a way that the stone is between me and the animal hiding underneath it, but in this case, the stone was almost the same size as the resting snake, about three times the size of my hand. So I carefully and slowly moved back from the snake, and the stone, and asked Esme to come and have a look at this beautiful discovery.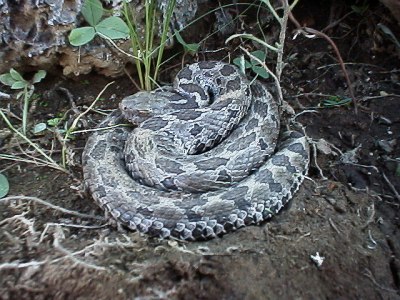 I asked Esme to look for a big stick, so I could carefully move away some of the plants growing in front of the snake, and take better pictures. She returned with quite a large piece of, I guess, a death flower stalk, which was about 1.5m long.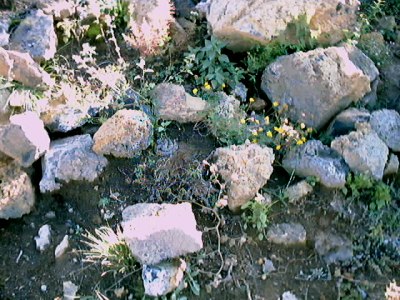 In the above picture you can see the rattlesnake (in the center), the stone it was hiding under ("down" in the picture), and its habitat.
It just kept resting when I took pictures, and when I decided I had enough, I asked Esme if she wanted to see it move. She said yes, and I carefully poked the snake with the stick. It moved away from us, up on a slope consisting of moist sand, and into a big hole. When it moved we could hear faintly the sound of its rattle.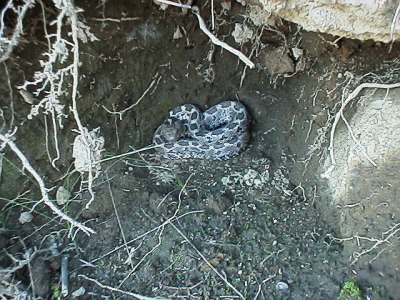 I decided to look around under several other stones. Suddenly, when I lifted a stone, I saw a scorpion disappearing in a small hole in the ground. I looked a bit better, and saw that the small hole was under a stone buried in the moist ground. I carefully lifted the stone, and was able to capture the scorpion in a small plastic cup. I had not seen this kind of scorpion before, and decided to take it with me.
All the while Esme kept an eye on the snake, and I looked at it now and then. After I captured the scorpion, we both admired the rattlesnake for some time, and kept talking about the nice creature. I carefully put the stone I found it under back into its place, and we decided to leave the animal in peace.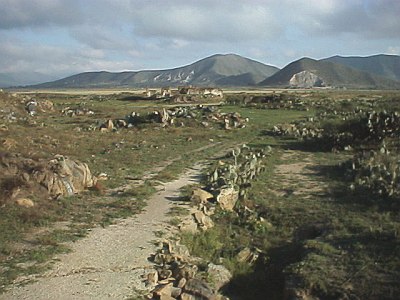 We saw the ruins in the distance, and I took a picture. I kept looking under stones, and found another scorpion. I took a few pictures, and one close up turned out to be quite good.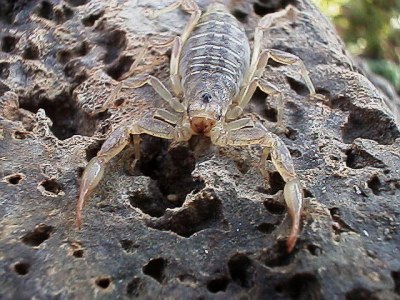 When we reached the ruins, we both looked around a bit. I was able to spot Los Derrumbadas (twin rhyolitic domes) in the far distance.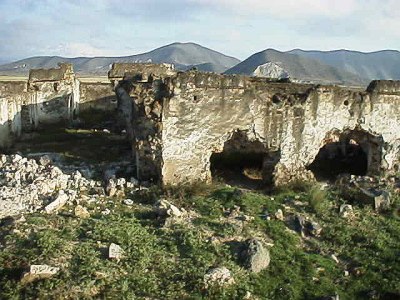 We walked back to El Limón Totalco, and it slowly got darker, and colder. We just had to wait for a short while for the bus back to Perote.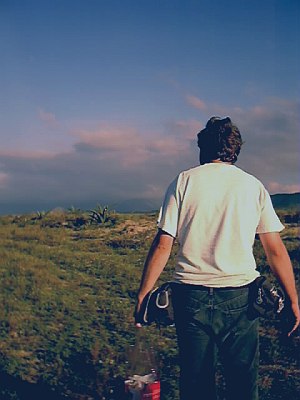 When we arrived in Perote we saw the bus to Xalapa leaving. We had to wait for an hour for the next bus. We both wanted to buy a Mokachino, but the vending machine didn't work. Esme said we could have a coffee "next door", which turned out to be a small restaurant called "Los Candiles". I ordered "Mojarra en chipotle", and Esme "Enchiladas rojas".
In the evening I tried to find out what kind of rattlesnake we had seen. I also received an email about the gray snake I have seen several times, including today. It might belong to the Conopsis genus. Using Google I ended up on a site with pictures of Mexican reptiles. I found a picture of the "lined Tolucan ground snake" (Conopsis lineatus), which resembles very close the gray snakes I have seen so far and the one I keep as a pet.
On the same site I found a picture of a snake resembling very close the rattlesnake we saw today: the Mexican pygmy rattlesnake.
Related