New version of Messenger available
A new version of MSN Messenger has been released that fixes several problems including:
MSN Messenger hanging at sign in with certain NATs
MSN Messenger won't allow the transfer of certain file types such as JPG, PNG, MP3, etc. in some cases
Error R6025
The Main Window displays the incorrect status for "Always Sign in As" in some cases
Crash when starting PhotoSwap
Crash at shutdown after blocking a contact
"What I'm Listening To" is now more reliable
A certain infamous wink has been removed
Fixes for Audio invites not working in some cases
... and several others that are not mentioned.
I recommend downloading this Quick Fix Engineering release (QFE) as soon as possible. I clicked on the "Download and install later" link at the bottom of the Download MSN Messenger page, and double clicked the executable installation file, after it was finished downloading.
Be careful in step 3 after you run the downloaded file, since Microsoft uses defaults that you might not like. I prefer the settings as given in the image below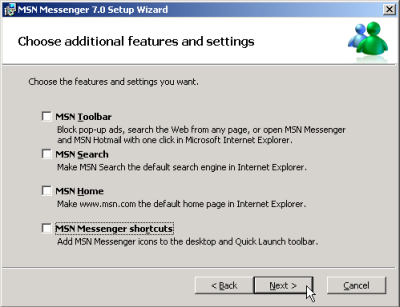 My article on how to add the handwriting feature has several more tips on setting up MSN, a recommended read.
MSN Messenger Related
Also today