A custom made wooden desk
In the evening I was greeted by the carpenter who made my wooden computer desk. It is really nice when you live in a new place and people start to greet you.
He delivered the custom made desk about a month ago. Because it is quite big, about 190 cm x 90 cm, it was impossible to get the desk upstairs using the winding stairs of the little tower that leads up to our apartment.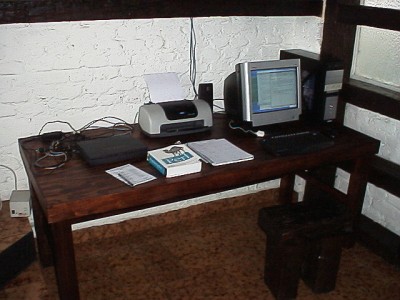 And yes, that is Programming Perl, 3rd edition on my desk. A bit to the left is my Acer Extensa 367T laptop, hardly visible due to the color of the wooden desk. Sadly, the hard disk of "Thamber" the laptop is in a very bad condition. When the computer gets hot the disk makes more and more noise because of the re-reads required.
Having the desk custom made to fit exactly was cheaper than buying a computer desk that was smaller. The dark color matches very nice with the rest of the woodwork in the house.
Also today