Mexican sonogram
Just after 10 in the morning Esme, Alice and I went out for our appointment with Naolí Vinaver Lopez, our midwife, who lives just outside of Xalapa. Since I wanted to take my digital photo camera with me, and the rechargeable batteries have become very unreliable - especially the Energizer AA 2500 mAh ones, which can become depleted in a day or two even without use - I decided to take a photo of Alice in our garden as a test.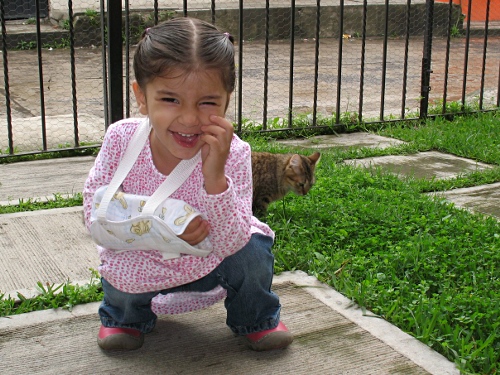 As you can see in the above photo, Alice is a very happy girl despite her arm, which she broke the 30th of December, last year. Behind her you can see our cat, and Esme's favorite playmate. The feeling is not always mutual, but many times Alice and the cat seem to have a lot of fun together; the cat even tries to engage Alice in new games when Alice is distracted.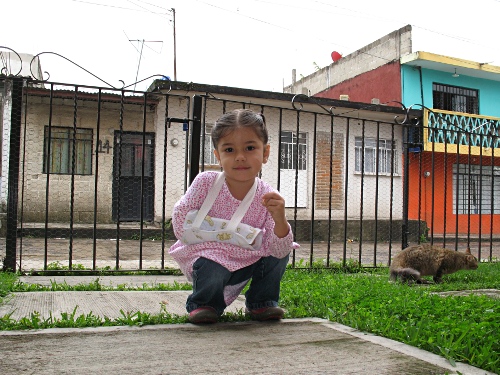 For the second photo I took I couldn't make Alice laugh, so it looks a bit more posed and less spontaneous. Also because after the first photo Alice wanted to see herself back on the camera's LCD display, and was even less patient when I tried to take the second one.
After the second photo we walked to the bus stop to take the bus to another bus stop in Coatepec where we could take a bus to Xalapa. After some time we got off the bus and got in a taxi for the last part of the trip to Naolí's house, which is located near the community of Rancho Viejo, west of Xalapa and south of the road to Coapexpan.
After a short detour - people were working on a part of the road which had been turned into a horrible mud track - we arrived at Naolí's house. Esme, and her mother had visited Naolí before, the 5th of January this year to be exact, it was my first visit. But Esme, Alice and I had been hiking nearby on two occasions, so we were familiar with the very green hilly surroundings.
When we got out of the car we were greeted by a German Shepherd that somewhat dwarfed Alice. But our girl was not afraid of the big dog, and she even giggled when the big nose of the dog touched her ear. After I had patted the dog on the head a little, it walked away and I had time to take in the view of the huge garden - larger than a soccer field or (maybe) two, and a big house.
Esme asked if I could ring the bell by pulling a handle connected to what looked like thick fishing wire which went all the way to the house. We couldn't hear the bell actual clinging because two man were cutting the huge, think hilly soccer field, lawn, each using a loud lawnmower. So after Esme had rung the bell as well, she decided that we just walked down the garden path to the house, and ring the bell again.
I used my hand to make the bell, attached to the house, clang. But since one of the men was near the house, we were not sure if anyone could have heard it. The man turned off the lawnmower, and Esme tried again, and this time the door was opened by an older lady. She let us in and told us that Naolí was not at home, and asked us to wait in the living room. Inside the house, near the door, we removed our shoes. Something that's, in my experience, uncommon in Mexico, but something I prefer, and so does Naolí and her family.
After some waiting, we had arrived early, the lady asked Esme if she wanted to call Naolí. After a few attempts she was talking to her on phone and it turned out that there had been a small misunderstanding: Naolí was waiting in her office in Xalapa for us. But she told Esme that she was coming down to her house.
In the mean time, Alice had discovered a small foosball (table football) set, and was playing with the ball. I joined her and showed her how to make the little men kick the ball. And shortly after we were playing a game of table football. Now and then none of the little players could reach the ball, in which case Alice picked up the ball, and moved it to somewhere else on the soccer field. And if the ball ended up in either goal she yelled "Goal!" The game was somewhat interrupted by the lady who asked if we wanted to see the rooms.
Naolí is very pro natural birth, so much that she has a large part of the house dedicated to giving birth: there are two rooms, and the bath room has a large bath tub for giving water birth. One rents a room on a daily basis, much like a hotel. While we were looking at the rooms Naolí, and we got introduced. Next we went inside one room, and Esme and Naolí sat down on the bed, while I sat down with Alice on the floor.
The first time Esme visited Naolí she had been somewhat surprised that I didn't come along with my wife. The reason I didn't go with Esme during that first visit was that I was still quite upset with how extremely fixed on turning birth into a medical circus the Mexican medical professionals we saw during Esme's first pregnancy were (and probably still are). While I somehow was convinced that Naolí was the opposite I somewhat was still afraid to be wrong. So I let Esme check out the waters first. And when I heard what she had to tell, I was convinced that we finally had found someone who stood solidly behind natural birth.
Naolí, who speaks perfectly English as well, let me tell a little about our past experience with the medical circus, so I told her that the first (female) doctor, instead of congratulating us, or at least some small talk relating pregnancy started out making a list of vitamins and other pills Esme had to pop. The second doctor we saw, in a very nice luxurious office, was more focused on showing off his 4D sonogram equipment, which he used to make monthly videos on DVD. After two DVDs we both had the feeling that this wasn't the right person. The next doctor we saw had to be reminded by us that a Coombs test should be taken because Esme is Rhesus negative. How he could forget that was beyond us, but anyway, we stayed with him, until he shoved our birth plan off the desk, stating that he like to do things his own way. We decided to stick with the fourth one, who looked like a nice guy. However, during the actual delivery he was more interested in getting back home; he was sitting in the hospital room watching television, checking out his watch each 15 minutes or so, and then with a deep sigh returned to watching the television again. And after a few hours like this, he announced that Esme needed a Cesarean. Maybe he was right, but his attitude was totally unacceptable.
I had read about Naolí and her work on the Internet sometime after Alice was born. When we found out that a second baby was on its way I was able to find Naolí back online, and Esme and I read about her views on natural birth. And within a very short time we both were convinced that she was going to be the right person to help us with delivering our second child. But even without the "background check", talking with Naolí, and watching her examine Esme, would have convinced me within minutes. Something that none of the doctors we had seen before had managed.
At first she carefully determined the position of the baby. After a short time she told us that the baby was head down, and showed me how to touch Esme's belly in order to feel the baby's head. I am not sure if I actually felt it, also because after I had removed my hands, somewhat also afraid that I might break something, she told us that the baby had slightly moved to the right.
Then she listened to the babies heartbeat, explaining that she didn't use the "Doppler" (Doppler fetal monitor) because babies don't like it much. Instead she used a fetal stethoscope also called pinard after the French obstetrician Adolphe Pinard. However, the one Naolí used was different from the more simple "trumpets" I had seen in the Netherlands. The stethoscope was attached to her head with a headband and the "trumpet" was attached to a flat piece of material that touched her forehead. I wondered if this was to assist in amplifying the sound, but didn't ask.
Naolí took quite some time to listen to the baby's heartbeat, maybe also because she got interrupted by Alice now and then talked about bones, breaking them, and jumping while looking into a book for children on the human body, with drawings of internal body parts, cartoon style. One of the characters was a little skeleton, which amused Alice a lot.
After she was done with the stethoscope she started to draw on Esme's belly an outline of the baby, to show us its size how it was positioned. She used various colors, to show the liquid, and the location of the placenta. The first time Esme showed the drawing on her belly to me, I joked and called it a Mexican sonogram. However, I don't mean any disrespect with this; I think it's even better than a sonogram on showing how the baby is positioned, its size and its environment.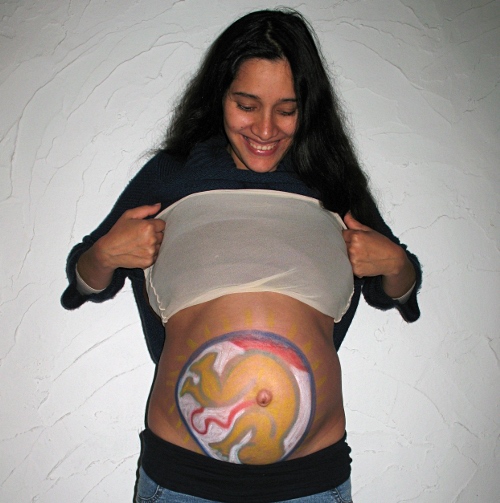 While Naolí was drawing on Esme's belly I remembered that I had brought the camera with me in order to take photos. But everything was so peaceful and right that I didn't want to disturb the moment with going down to get my camera and taking photos on return.
When Naolí was done we talked a little, and then went down. We made an appointment for the next check-up, and she offered to drop us off in Xalapa. We put our shoes back on, walked down the garden path to the car. And after a short drive we were back in Xalapa, where we took the bus back to Coatepec.
In the evening I finally announced Esme's pregnancy on Toxic Ice, a message board I am the administrator of. Googling for more information on Naolí and her work I came upon "Birth Day", a video documenting Naolí giving birth to her third child, Tamaya. On previous searches I had seen photos of the cover of "Birth Day", but thought it was a book back then. But now knowing that it's a video, and having actually read about it I want to see it. When I told Esme it was a video, she also had assumed it was a book, she wanted it to see as well. So on our next appointment we'll ask her if she can sell us the video. If not, I try to order it online.
Natural Birth Related