Introducing... baby Alice
Yesterday Esme got stronger and more painful contractions. So she went to our doctor with her mother and cousin. When she returned she told me that we had to get ready and go to the hospital because our baby girl was on her way. The hospital was just a short walk from our house and Esme wanted to walk. When we arrived we got a room and the long wait started.
After many hours of painful contractions the doctor told us that the baby was still in the same position. Esme told me that with every contraction she had the feeling that the baby was moving "up" instead of "down" and the baby pushed strongly against her ribs. So the doctor told us that he strongly recommended a Cesarean section...
All the time Esme and I had planned to have a natural birth. In Mexico it's very common to have a Cesarean, well over 50% in private clinics. We even had switched from one doctor to another when the first one already started to suggest a Cesarean in week 25 because the baby was in the wrong position!
We both were very upset, tired, and stressed but we had no idea what to do. The doctor told us that going on like might result in a natural birth in 5 or 6 hours but that he couldn't be blamed for any risks. So there wasn't much of a choice. I told Esme that I was going back to the house for some rest, the stress of the past days had completely drained me, and I couldn't handle watching the surgical procedure, we didn't even ask if I could. She agreed with me, also because her mother was staying in the waiting room with a mobile phone so I could be back with her in less then 10 minutes.
After a short rest I woke up because a cousin of Esme was ringing the doorbell. I went down to open the door. She told me that we had to bring something but my mind was still not clear and I had no idea what she asked. We both went back up and she grabbed a blanket. We left the house and she walked very fast to the hospital. Since she didn't look worried I was sure everything was OK but she was in a hurry. When we arrived at the hospital we joined Esme's mother and had to wait quite a while. Then our little baby girl and her mother came out of the elevator.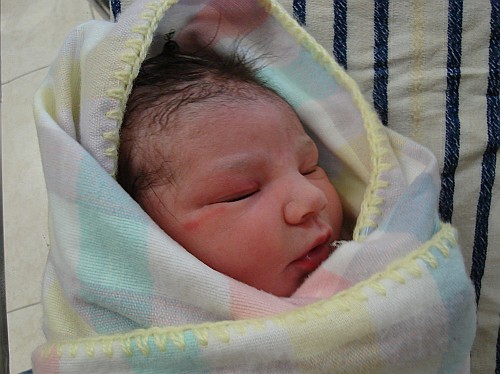 We all went to the room we had been assigned on the third floor. Esme told me that the baby was about 4 kilogram, and 53 cm tall. We talked about the name I had picked quite some time ago: Alice. Back then, Esme at first didn't like it much because she doesn't like the Spanish version of Alice: Alicia. But now she was as happy with the name as I and we both decided that our daughter would be named Alice.
Shortly after Esme had updated me, a nurse helped her with latching on Alice for her very first breastfeeding, which just happened as if Esme and Alice had done this many times before, very natural.
After a few more photos and some talking I went back to the house to call my mother and tell her the happy news. After a very long phone call I chatted with Els on Live Messenger and told her the good news as well. We talked also about the name Alice and references to it in songs and online. Of course, as a true geek having written my own chat bots, I already knew about the chat bot A.L.I.C.E. (Artificial Linguistic Internet Computer Entity). And some time ago I had read on the 3D Authoring system called Alice specially designed to teach children the fun of programming the easy way. Out of curiosity I again entered our baby's name in Google and had a very good laugh when I found on the second result page the ALICE Website (America Latina Interconectada Con Europa). What a better name for a girl with a Latin American mother and an European father.
The name Alice, by the way, was picked from "Alice in Wonderland" written by the Reverend Charles Lutwidge Dodgson, under the pseudonym Lewis Carroll. It was one of the very few English books available at the University library of Xalapa. I read the story and its sequel "Through the Looking-Glass, and What Alice Found There" for the first time in Mexico. And in my experience Mexico certainly deserves the name Wonderland and hence my preference for the name Alice.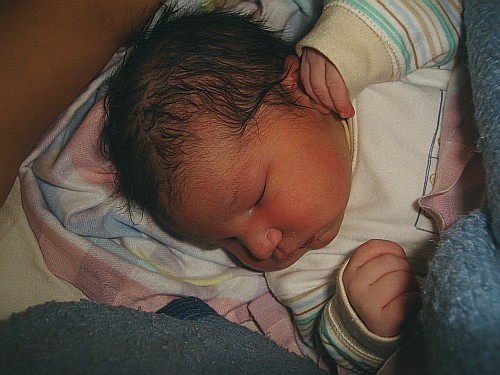 Shortly after 4 PM I returned back to the hospital. I found Esme resting, Alice sleeping and a very tired "mother in law" (between quotes because Esme and I are not married yet). Esme asked if I could take a few photos of the view from her room.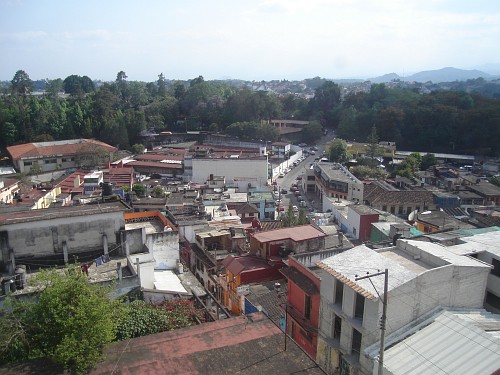 Since her room was on the 3rd floor there was quite a view of a part of Xalapa. As you can see Xalapa is a very green city with mostly low buildings. It's hard to imagine that this is the view from the center of a city with over 400,000 people living in it.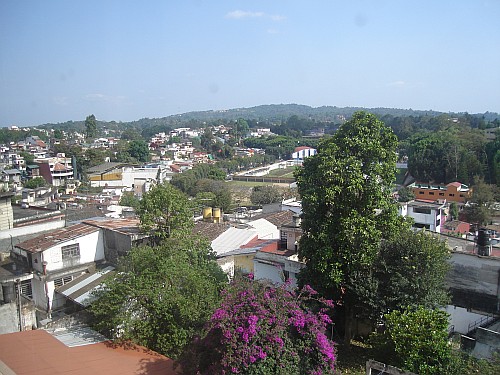 In the above photo one of my favorite trees, the one with the purple flowers, is visible in the foreground. I can't recall it's name though. As soon as we have a house with a garden I want at least one of those trees in it.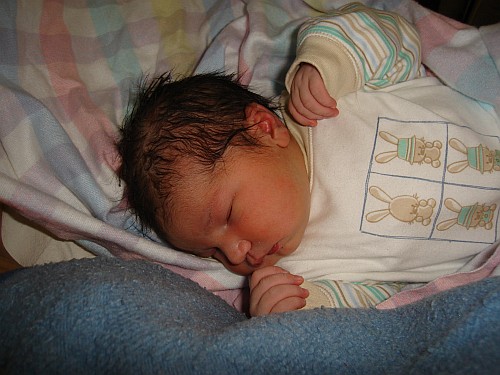 The cousin that had picked me up in the morning had bought a huge bouquet of flowers and a lot of chocolate coins. I took a few photos and liked the close-up one below the most.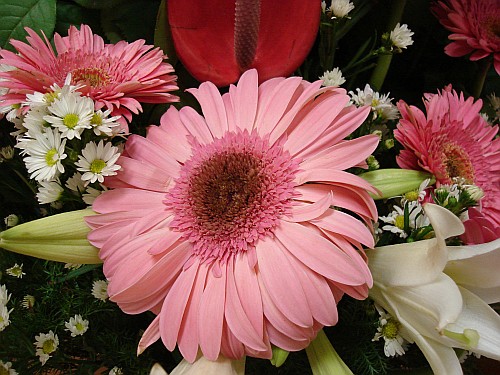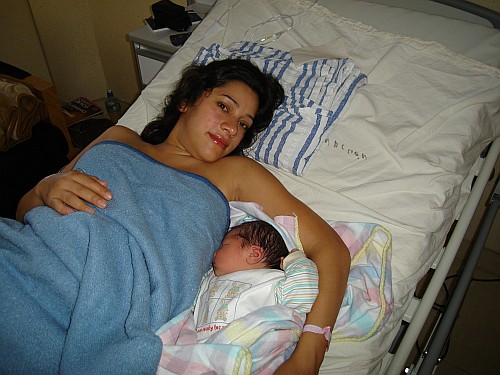 About 8 PM I held our baby daughter for the very first time. Esme took a few photos from her bed and I like the one below a lot, especially because I really don't look like an extremely tired forty year old dad in it.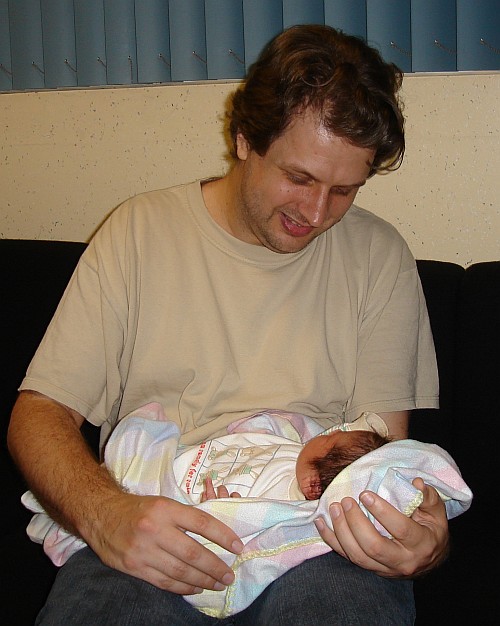 Shortly after the photo session I said goodbye to Esme, her mother, and Alice and went back to the house for a good night sleep so I could be well-rested and prepared for the next day when Esme and Alice would come home.
Also today