Second instar Centruroides gracilis feeding
In the early evening I decided to feed the second instar Centruroides gracilis scorpions, about 20, still sharing the enclosure with their mother a pre-killed superworm; a larva of the darkling beetle (Zophobas morio). Viewers of Fear Factor might recognize this "worm" since it has been used several times in the second round.
Mind, I don't like pre-killing animals, but I am convinced that with superworms it's a requirement. Not only to prevent them from hiding in the substrate or pieces of wood, but also because I am convinced that superworms are able to eat scorpions, most likely when the scorpions are molting.
In the past I have fed small larvae to small scorpions (juvenile, or a small species). And on several occassions I couldn't find the small scorpion back. Not a single piece. Since several of the enclosures I use have no top cover, at first I suspected a house gecko; we often have at least one living in our house. But when I found a much larger beetle larva in the substrate on each occassion I started to suspect those. Especially since they seem to each almost everything, including other larva, and probably beetles if they get the chance as well.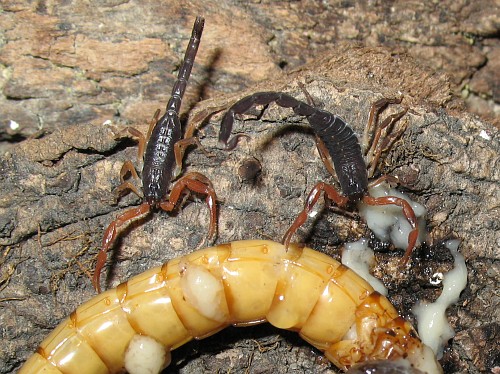 For killing the superworm I use a small pair of scissors to cut off the head part. In this case I also made a few cuts in the chitin so the small scorpions could easier access their meal. Shortly after I had introduced the larva in the enclosure it was surrounded by several tiny scorpions. Now and then a fight broke out, scorpions pushing each other away with their tiny tails.
Later I decided to add another superworm, this time cut in small pieces. I spread the pieces on the substrate for the other small scorpions, since the first superworm had already attracted a small group, and small fights broke out often. I also sprayed a little water on a piece of wood, which attracted some juveniles as well. Soon little ones were eating and drinking.
Next week I want to move the small ones out of the enclosure as well; each in its own container, otherwise I might start losing scorpions, they have no problem eating a sibling now and then, after all.
Related
Also today