Scorpion and snake hunting near Buenavista
Today we went to Buenavista, a small village close to Cardel (Veracruz). It is the home town of Joselin, a classmate of Esme, and he had told us that scorpions are abundant there. He also warned us to be careful, because according to him, snakes live under the mango trees.
We had plans for this trip for quite some time. Last week it rained too much, but today the weather looked fine, just a bit cloudy. I also assumed that Buenavista would have a different climate compared to Xalapa, since it's closer to sea level, and nearby places we visited so far appeared to have an overall warmer climate compared to Xalapa.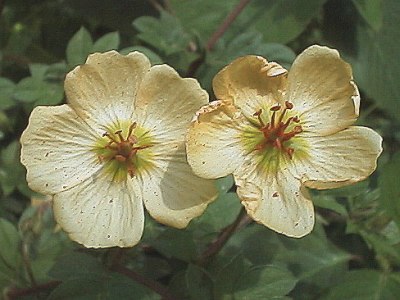 Since we got up quite late, and Esme's mother paid us a visit we left quite late, after one o'clock. The bus trip was close to 50 minutes. When we arrived, Esme told me we had to follow the road to get to the village. After a small walk it was clear that it was hot, and dusty. After a short walk I wondered why we hadn't seen lizards yet, and after a few more minutes we spotted the first one, and a few minutes later we saw quite a large one, fat, moving at a leisurely pace. But when I wanted to take a picture, it was well hidden.
We walked a bit more, and wondered how long the walk to the village was going to take. Suddenly Esme heard a bus coming, and when she signaled it, it stopped. And indeed, the next stop was Buenavista. We asked for directions to the river, since according to Esme her class mate that was where we should look.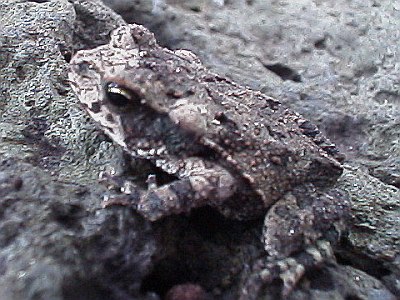 We followed the road, and saw left and right often huge mango trees, providing us with a nice shadow (and mosquitos), alternated with more open parts. Now and then the strong acid smell of mango fruit rotting made us walk a bit faster. We looked very careful under pieces of wood, stones, and debris under the mango trees. But no snakes, nor scorpions. We saw many lizards though, and I even found a very small toad (approximately one inch in length). I made a few pictures of it, and one turned out to be quite ok.
After we had walked a bit more, I suddenly spotted a very nice lizard. It was gray colored, but it had very nice metallic blue green markings on the sides. It walked quite slow, but behind a fence with barbed wire. Moreover, the barbed wire was overgrown with several weeds, hiding the lizard from view most of the time. I tried to take a picture, but too difficult, and when I climbed over the fence, the lizard was already hidden in the dense undergrowth, and even harder to see, let alone to take a picture of it. I really need a digital camera with a good zoom.
When I saw a guy walking towards us, I asked Esme if she could ask where we could find alacranes (scorpions). He said we had to follow the road, and at the next crossing turn to the left. We followed his directions. The road to the left was in the direction of a hill, and Esme expected that there we would find scorpions. Since we no longer walked under the mango trees, it got really hot and the land looked more dry. We saw many banana plants, and cactuses everywhere. After a short while we noticed that the road got more and more overgrown by weeds, and to go on we either needed a machete, or grow bigger legs. We decided to walk back, and continue following the road we were originally following.
When we got back on the road, I noticed a farmer on a cycle behind us, heading in the same direction. I asked Esme if she could ask him about the scorpions. When he passed us, Esme asked him. He stopped, and told us that they are hard to find, and when found it is often in the houses after rain. But he told us we could have a look between some pieces of sheet metal on his land.
So we followed the farmer, who was riding leisurely ahead of us. After a short walk we arrived to a meadow, and we saw the farmer busy with the cows. He asked us to open the gate and come in. We saw the pieces of sheet metal, and a row of roof tiles. The farmer demonstrated how to browse the sheet metal. After he had moved a few pieces he let me take it over. I flipped each piece, and let it rest against my leg. After a few more pieces... scorpion! Moreover, there was also an exuvium (cast off exoskeleton), a bit smaller compared in size.
We tried to capture the scorpion, but it walked towards the ground, and was gone. I carefully collected the exuvium with a wooden skewer. And continued to flip, and after a few sheets we noticed two exuviae which I also collected. Based on the sizes they appeared to be 3 different stages belonging to the same animal. When I had removed all the pieces of metal, we saw the small branches on the ground, and suddenly Esme spotted the scorpion on one of those branches. I carefully took the branch, and tried to flip the scorpion into a plastic container with a wooden skewer. At first I failed and the scorpion ran like crazy on the branch, and I had to move my hand to a different location. A second attempt, after we found the scorpion back on the branch, succeeded.
Next, I started with the roof tiles. After I had moved a few we suddenly saw quite a big, dark scorpion. It looked like a female to me, maybe a gravid one. It walked down quite fast, and disappeared between the underside of the roof tiles and the ground. I was not worried, since this happened with the first one as well. I moved more of the roof tiles, since we both wanted to get the big scorpion. We found it, on the ground when I moved a few more tiles. Esme tried to restrict the escape options, and I tried to capture it, but alas, it was able to get away. It moved between pieces of wood, heavily overgrown with weeds, on the other side of the barbed wire fence. I decided to first check the rest of the tiles, and then to try to find the scorpion, which to me looked like an impossible task.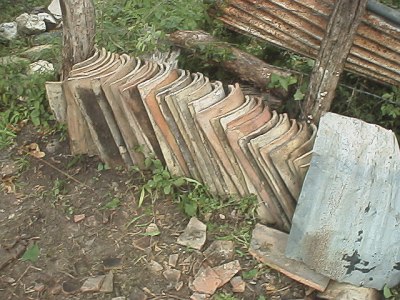 So I continued to move a few more tiles, and then I saw a small tarantula. The fovea was pink colored, and the abdomen had pink stripes, a bit like a wasp. I carefully caught the tarantula, using a skewer to make it move inside a plastic container and using pieces of paper to restrict the escape options. The tarantula just walked in the container. In the meantime, the farmer had finished milking his cow, and went away. He had no problems with us looking around when he was gone, but asked to close the gate good, with the rope. We thanked him several times and said good bye.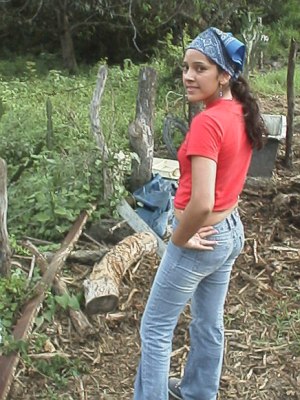 After I had moved all tiles, I went to the other meadow, but didn't use the gate, since the farmer had used quite a complicated knot which I was very likely not able to reproduce. I was able to move myself between the barbed wire without getting hurt. In the other meadow I started to look under the pieces of wood, after removing some of the weeds. Esme helped from the other side. But we couldn't find the scorpion. I decided to stop looking for it, and went back to Esme's side. I started to put the tiles back, and then Esme called. A big lizard had gotten curious and came quite close to us. I had many times wondered aloud why lizards made such a lot of noise when moving through leaves and other stuff on the ground, because that's often a clue to us that there is a lizard at all.
I started again with putting the tiles back, when I spotted a small lizard on one. We had seen it before, but this time I was able to let it walk on my hand. It then walked over my shirt, down my pants, and was gone. The sun was burning, and I was dripping by the time I was finished.
Besides the animals mentioned, also between the tiles I found a tailless whip scorpion (which is not a scorpion), which I didn't capture since I understand that those animals are quite fragile.
We decided to call it a day, and return back to the village to take the bus to Xalapa. We both kept talking about how we couldn't capture the big scorpion, and I said that next time we should first unpack our gear and then start looking. We just got a bit to enthusiast.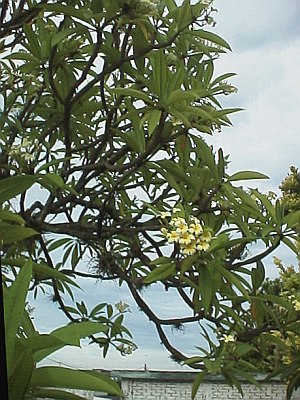 When we returned to the village, Esme asked which bus we could take and it turned out that in about 45 minutes a direct connection to Xalapa would arrive. So we sat down to wait. Across the street I saw a very nice tree with big flowers. I was convinced I had seen that kind of tree before, in Sri Lanka, but I couldn't come up with the name.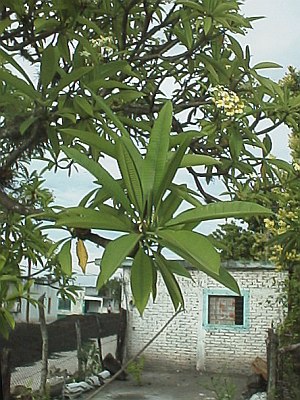 Finally the bus arrived. We got in, and shivered, it was cold. Air conditioning is not nice when your body is adjusted to hot weather. We decided to take an extra shirt with us the next time. After over an hour we returned at the central bus station in Xalapa (CAXA) and took a taxi back home. We had asked Esme's mother to have a BBQ with us in the night, so when we arrived at home, Esme called her mother to tell that we were back.
I decided to put the tarantula in "Tina's house", a terrarium occupied by Pavel, a male Centruroides flavopictus. So I moved the scorpion out, and into a plastic container. The terrarium has a substrate consisting of dark mulch with small black stones on top. I has one big piece of wood and several small twigs. I decided to break a piece of bark in little pieces, and make several layers against the big piece of wood, providing hiding places for the tarantula. When I put the tarantula in, I took a few pictures when it was still on sitting on the lid.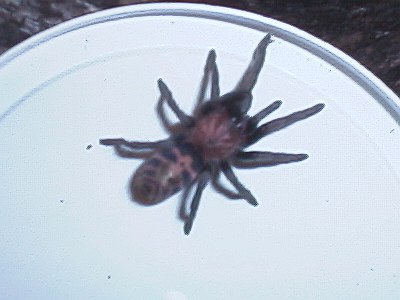 I already had noticed that the tarantula was an excellent climber, and was convinced it is able to walk up against glass walls of the terrarium. When I bought the terrarium over a year ago, I also bought a glass lid with a hole of 5 mm (diameter) in the middle, so this came in very handy right now. I also added a cricket to the terrarium, and after some time, when I looked again, I saw the tarantula walking around, holding the cricket. Probably looking for a place to hide. So I made a mental note to first let an animal settle, and then feed it.
I asked on the Arachnoboards forum to ID the tarantula, and based on my description someone said to me that it looked like a Costa Rican tiger rump. And indeed, the spider looks a lot like this tarantula, except that the Costa Rican tiger rump (Davus fasciatus, old name Cyclosternum fasciatum) doesn't live in Mexico.
Between reading and preparing a new terrarium for Pavel the scorpion - a small rectangular plastic container - I started the BBQ. Because outside it was relatively cold, we decided to have the BBQ inside the house, in the fireplace. I wrapped pre-marinated chicken parts, with garlic and powder made of avocado leaves in aluminum foil and put it on the very hot coals. After about 30 minutes Esme, her mother and I enjoyed our chicken, and talked about our adventures of that day (well actually, Esme translated my English to Spanish).
Related
Also today