Velvet mites and cactuses
After a nice breakfast at Sabores we walked to Chedraui. Since it was clear that we would get rain that day, even a lot, Esme wanted to buy an umbrella. We had left both of our umbrellas at our apartment in Xalapa when we left for Tehuacán yesterday, somewhat in a hurry.
But Chedraui didn't sell the folding umbrellas we were looking for, so we just bought 3 bottles of water, 600 ml each, some energy bars, and baby food and a drink for Alice. Next we walked to the bus stop, which is close to Chedraui. After a short wait the bus to Ajalpan arrived, and we were on our way. Esme explained to the guy selling us the tickets that we wanted to get off the bus close to the bridge just before Ajalpan (west). Shortly after it started to rain.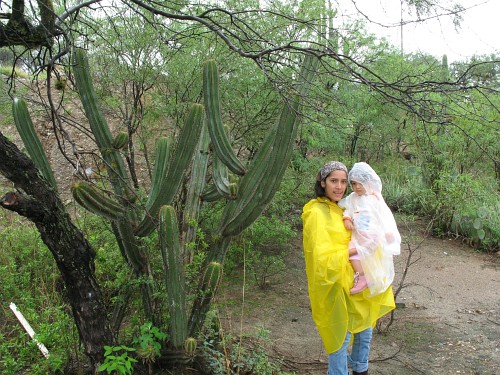 As soon as we passed through Altepexi we kept an eye on the surroundings to our right in order not to miss our stop. Near the bridge the bus stopped and we were asked if this was really where we wanted to get off. It was raining quite strong now, and we got in our rain coats as soon as possible.
At first we tried to walk to the right of the bridge in southern direction, close to the river. There were heaps of stones, and some garbage, all very wet. To the side was a lot of mud, and it was clear that going would be difficult, and we would risk sliding down hill. So Esme suggested to see if we could walk on the other side of the river. So we crossed the bridge, and carefully walked down a slope.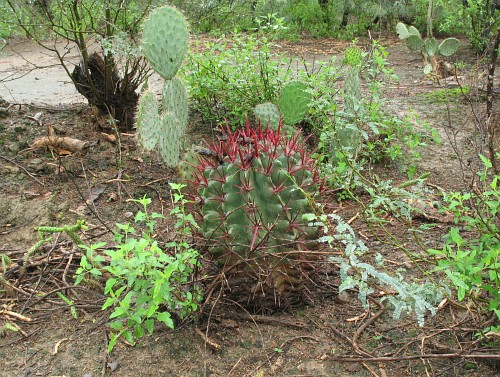 I had the feeling that we somehow had ended up in someone's backyard. And a nice backyard it was, with huge cactuses, large oval shaped cactuses with dark red spines, and prickly pears growing inbetween shrubs and small trees. We walked down to the small river, but there was no way to cross the muddy rapid flowing water in a safe way. So we decided to go back, cross the bridge again, and walk a bit further in western direction to see if we could find a better track a bit further away from the river bank.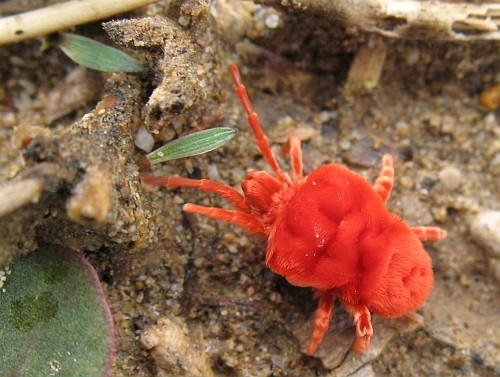 Esme decided to just follow the road next to the piles of stones and rubbish. And so we did for a short while. Then we started to follow a dirt track and were walking where I had planned to hike: sandy hills covered with shrubs and cactuses. Esme spotted small bright red animals walking around, and I remarked that those probably were velvet mites (family Trombidiidae), drawn out in the open because it had stopped raining. I took a few photos, which was not easy because the little red ones kept wandering around.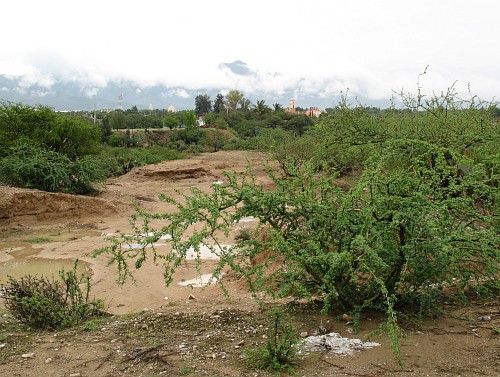 We removed our raincoats because it had stopped raining, and also it was slowly getting warmer. The shrubs and other vegetation looked all very green and healthy thanks to today's shower, and most likely it had been raining often the past days or even weeks. Looking to the east we could see the town of Ajalpan. And beyond, hardly visible due to the low hanging clouds, the foothills of the Sierra Madre Oriental.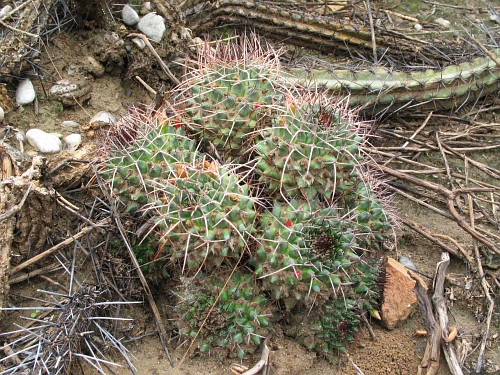 I looked here and there under small stones, hoping to find scorpions belonging to the Centruroides genus. During our first trip to Ajalpan - on my birthday in 2007 to be exact - I had found 2 scorpions belonging to this genus, while on a later trip, when my mother was visiting us, I had found only scorpions belonging to the Vaejovis genus. We did find many beautiful cactuses though.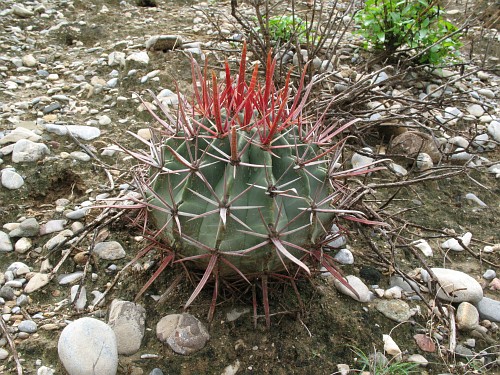 We had left the dirt track behind us sometime ago, and were now walking randomly around; climbing sandy slopes, walking slowly down slopes, crossing gullies. And all the while trying to avoid to get scratched by the thorny shurbs, or bumping into a cactus. This was true hiking.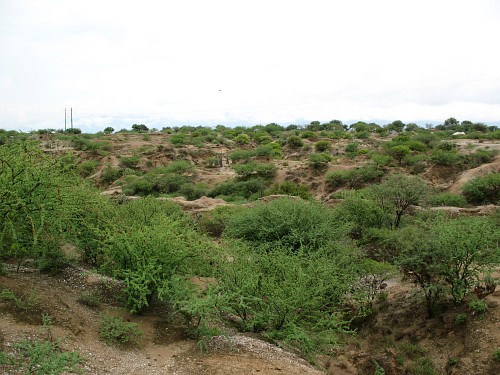 On a few occassions we scared a rabbit; only recognizable because we saw the white fluffy tail bouncing up and down, just visible in the distance, after we heard the noises of it's sudden departure. We also started to see more and more lizards; running away so fast that it almost looked like they were flying.
After some time I decided that we would slowly walk towards the west. The landscape looked a bit different in that direction, and often the best place to find a great variety of wildlife is in transition zones (ecotones). And hopefully I would find more and larger stones to roll over in order to find scorpions or other arachnids.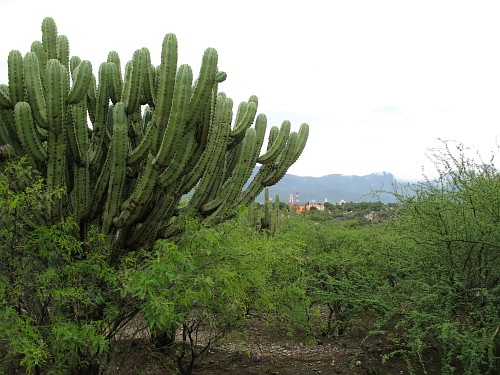 Read the final part of this blog entry in Police encounters.
Ajalpan related
Forty - describes our first hike near Ajalpan.
Also today