Rafael Delgado and beyond
In the morning, after a very nice breakfast at the "Trueba" hotel - located next to hotel "Mediterráneo" where we were staying - we took the bus to Rafael Delgado. At first I had considered to go to Tequila, which is on the same road, but further away from Orizaba. But because we wanted to be back early in order to take an early bus back to Xalapa, we had decided to stay closer to Orizaba.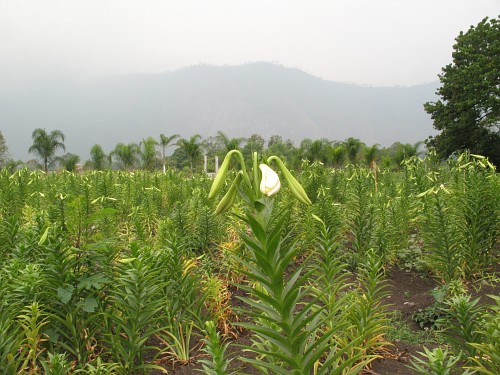 After a short bus trip we arrived in a town which we thought was Rafael Delgado. Since we had no idea what stop was the best to get off the bus to start our walk, we stayed on the bus. Soon we left the town and we saw fields to the left and the right, and since we had the feeling we had left Rafael Delgao behind us, we got off the bus, and started to follow the road in the same direction as the bus.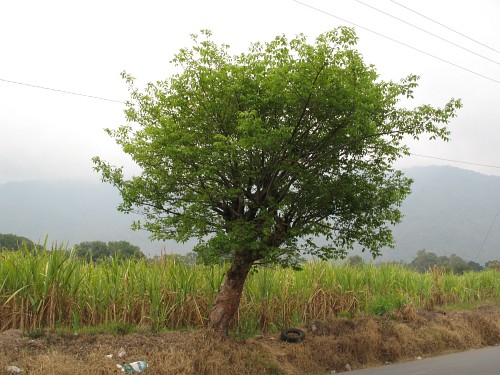 Shortly after we had started to walk, a gentle rain started to fall. I was afraid that we had to cancel our walk, but lucky for us it stopped after a short time. After some time walking, we reached a soccer field.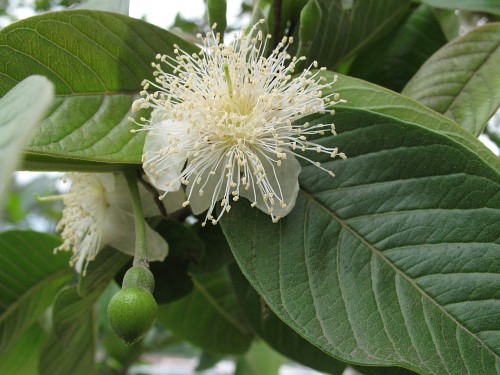 On the edge of the field Esme spotted a guava tree, so I took a few photos of the flowers. I like the guava fruit a lot. When we have several in the house, the smell of the ripe fruit is clearly noticable. While I was taking photos, Esme asked some information about the surroundings, especially if there was a large river nearby, because she had the feeling there should be one.
Shortly after we did cross a river - probably Rio Manzinga. But we didn't see a path to go down to the river and follow it, so we continued in the same direction. After the river, more houses showed up, and after a while we entered a town. Back then thought that we reentered Rafael Delgado, but at the time of writing this blog entry, and after having consulted a map, I think that we got off the bus shortly after Jalapilla and walked to Rafael Delgado. We passed the church, and after some time we decided to follow a dirt road going to the right.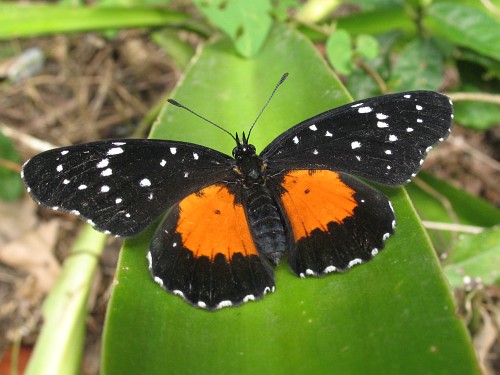 The houses were more apart here, surrounded with a lot of green like banana plants, and trees. We kept following the dirt road to the left. The road got smaller. We saw butterflies, and after some time I was able to make a nice close-up photo of a Crimson Patch (Chlosyne janais) resting on a leaf.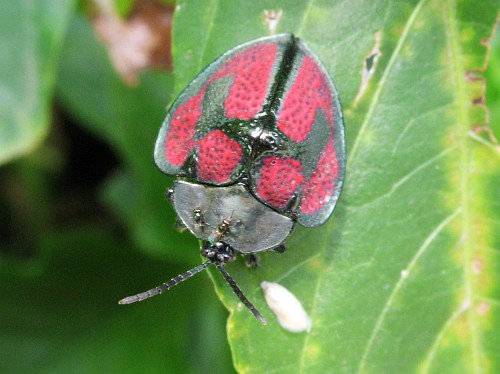 Shortly after I had taken the photo of the Crimson Patch, I noticed a beetle. After I had made a photo of it I spotted two tiny flies resting on the beetle, close to its head, so I took another photo, hoping to get a better result. But somehow I didn't manage to make a good, sharp photo.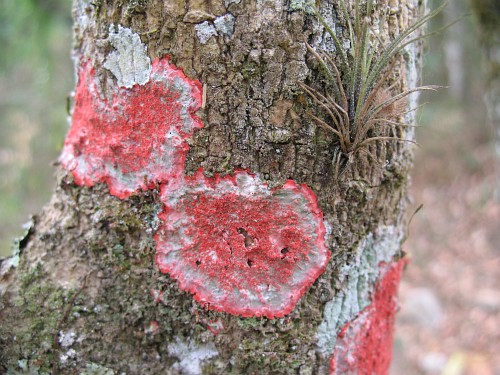 We soon left the houses behind us, and were walking in a forest, following a small track. I started to look under stones and fallen logs, hoping to find some interesting animals to take photos of. As always I took great care to move each stone and log back into its original position, leaving as little traces as possible. After some time we decided to have a little break, also because Alice got tired of being carried.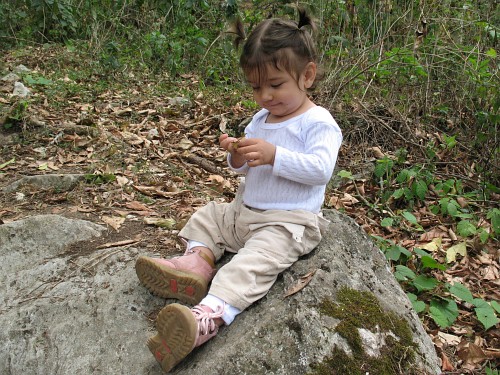 Since Alice hadn't eaten all her fruit at our breakfast at the "Trueba" hotel, we had asked the kind people of the hotel if we could have it wrapped in plastic. And hence we had now some nice fruit to share amongst us. Alice enjoyed the break a lot, playing with leaves, twigs, small stones and nut shells.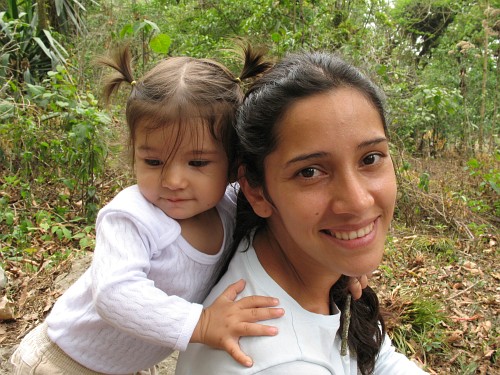 Shortly after our break, Esme spotted a blue morpho - a large, beautiful blue butterfly we now and then encounter in places with dense vegetation and high levels of humidity, for example in a canyon. I just missed the butterfly, but a minute or so later, another blue morpho was coming from my right, and crossed the road we were following.
Read the final part of our hike in Creepy Crawlies time.
Also today