Hiking near Acultzingo (South)
Read the previous part of this blog entry in Hiking near Acultzingo (North)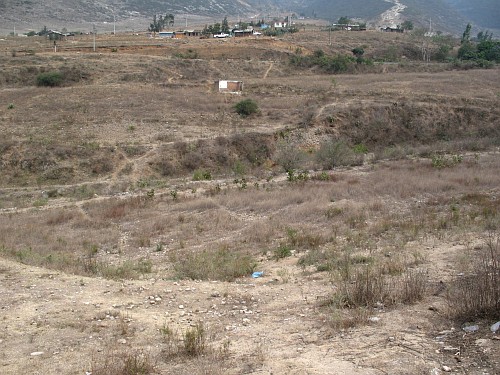 After a walk of about 10 minutes we saw a hollow, a lower part of the landscape with barren fields with many, many stones. Esme said: "Why aren't you going to look there?" So we both walked down the slope. Esme halted, and moved with Alice into the shadow and had a break, while I started to explore.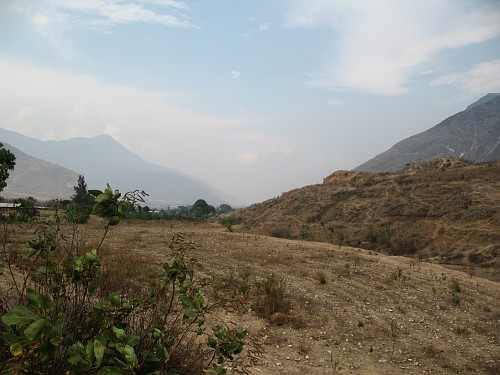 But I couldn't find any scorpion. So after about 15 minutes we followed a dirt track on the slope, parallel to the road we were following before. We climbed another slope, after we had crossed a dry river bed. I looked under several stones, while Esme was having another break together with Alice. Nearby was maize growing; all matched the habitat description of Centruroides orizaba as translated by Esme: "terrain with a lot of stones, cultivated fields with maize" (Armas & Martín-Frías, 2003), but I didn't find a single scorpion.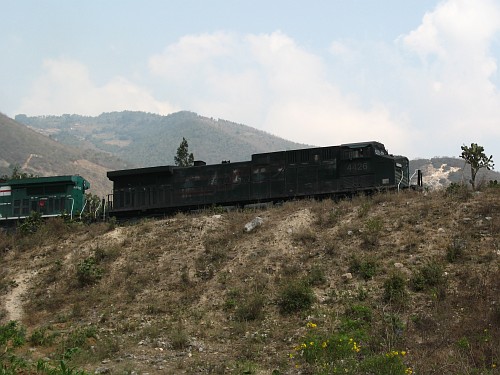 We walked back to the dirt road we were following before, and then Esme noticed a train coming from the left of us. Since Alice loves to wave at people, Esme let Alice wave goodbye at the train. The train driver noticed this, and sounded the train horn, which made an impressive loud and sad noise between the hills. We are somewhat used to this sound, because one can often hear it in Xalapa, but today it was special, because it was made to say hello to our little daughter, Alice.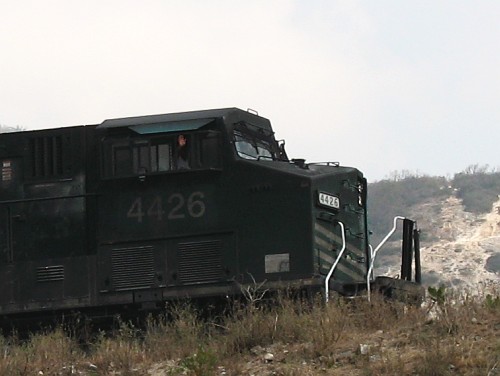 The train passed in front of us, on top of an earthen wall which cut the hollow we walked in, in two. Trough the wall were two man-made tunnels, and to our left was what looked like a dry river bed, going towards the two tunnels. I said to Esme that we could walk through the left most tunnel, to see what was on the other side, and so we did. Since I had my homebrew portable UV light source with me, and a flash light, I looked under several stones that where on the tunnel floor, but again no scorpions.
When we arrived at the other side, we noticed that we couldn't walk further because their was barbed wire fencing in front of us. So we walked back through the other tunnel, followed the dry riverbed for a little, and climbed up to a dirt track, which we followed up the slope, back to the road we had been following before we went down into the hollow.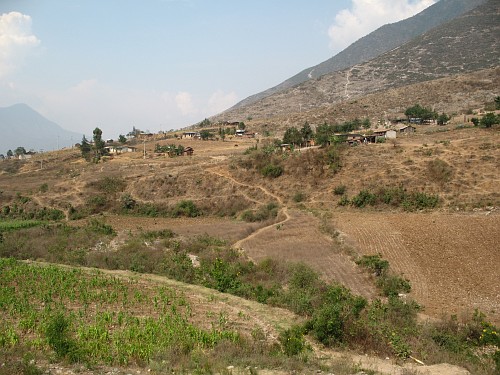 We crossed the rail road, and kept following the road. After a short while we had an excellent view of the hollow to the right of the earthen wall. More fields, some with young maize growing, and more stones. On the far side of the hollow we could see a lot of stones at the start of the slope upwards. Stones that had been moved out of the fields. There was a clearly visible dirt track crossing the field to the far side, up the slope, leading to houses we could see in the distance.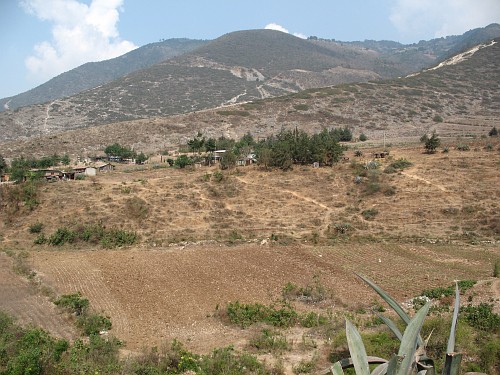 We kept walking on the road, parallel to the hollow. I looked under several large stones near the road, but still no sight of scorpions, not even a cast-off exoskeleton (exuvia). In front of us we could see a building with orange painted walls. Esme told to me that it was probably a party center. Since we all could use a break we decided to have one in the shadow of the building.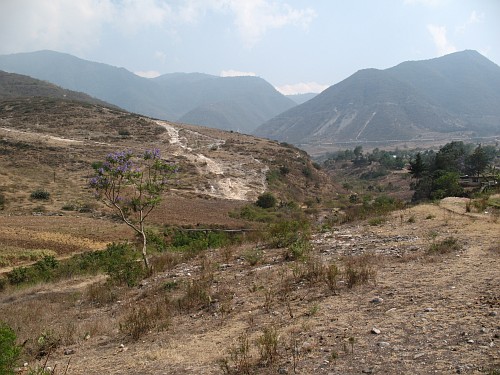 To the side of the building was a large pile of large stones. I didn't want to look under those, because the boulders looked too heavy, and I also had the feeling I wouldn't find a single scorpion underneath them. I moved two small stones so Esme and I could both sit on one, a bit more comfortable compared to sitting on the dirt.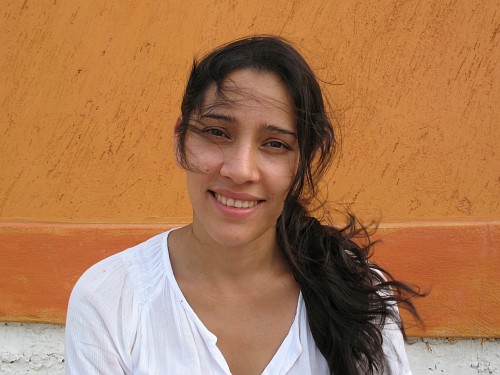 We let Alice play with a bottle and several of the small stones that could be find everywhere near to where we were resting. At home we have been practicing this game with Alice for some time now, using the hard-coated seeds of the tamarind tree, which are smaller compared to some of the stones Alice tried to fit into the bottle.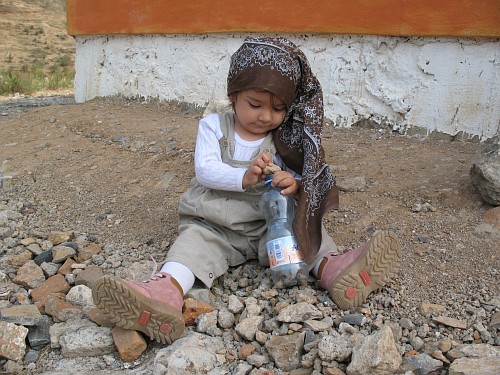 After some resting, we decided to go down into the hollow. I wanted to check underneath the stones on the other side, and so we crossed the dry riverbed, and followed a small dirt road. To the left of the road where several piles of stones, and I rolled some over to look underneath. When we arrived at the opposite slope, we walked to the right, and I kept looking under stones, but still no scorpions.
We reached the end of the field, and while Esme and Alice were having a break, I looked under a few more stones and found a large spider. In the past I thought that this kind of spider was a small tarantula, but somehow when I saw it again today, I was doubting it. At the time of writing I had learned that I was somewhat right, the spider belongs to the Dipluridae spider family, which are commonly called funnel-web tarantulas, a name which this species certainly deserves. A thread I started at Arachnoboards pinned the genus of this mygalomorph spider down to Euagrus.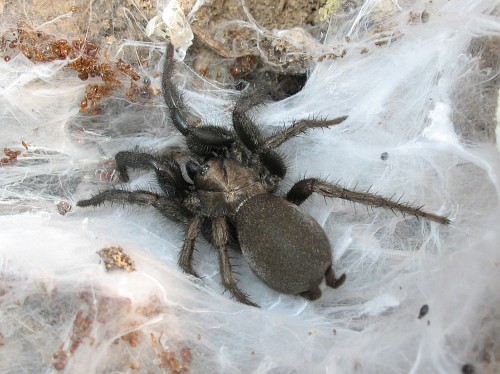 While I was taking photos, Esme warned me that I had to get up, because an older woman was coming our way, with a machete in her hand. I was not really worried, because so far - with one exception - all local people we had encountered during our previous hikes were extremely friendly to us. On the other hand, there is always a first.
The older lady asked Esme what we were doing, and Esme explained that we were looking for insects [sic]. The lady asked why, so Esme told her that we wanted to take photos of them. Again the lady asked why, so Esme told her that the photos were going to be published in a book, which was true; some of my scorpion photos and scorpion habitat photos will be published in an upcoming book on Centruroides species, and it was one reason why I wanted to find Centruroides orizaba, because this species is limited (as far as I know) to a small region of Veracruz.
Esme continued that I had just made a photo of a small tarantula, and asked if there were scorpions to be found here. The lady told us that she had seen one that morning, but couldn't recall where exactly. Anyway, she was convinced that we were harmless and after some small talk we wished each other a nice day, and she left. We decided to go back the way we had come, up the slope, and then take a different route back to the main road, a route that woud lead near more maize fields.
Read the final part of this blog entry in Centruroides orizaba at last.
Related
Also today