The little scorpion survived!
Yesterday, in the night, just before I went to the bed, I checked on a small scorpion I captured during a hike near Tenextepec. The scorpion had made a nice burrow in the sand in its terrarium some time ago and I expected it to drop off its exoskeleton any day now.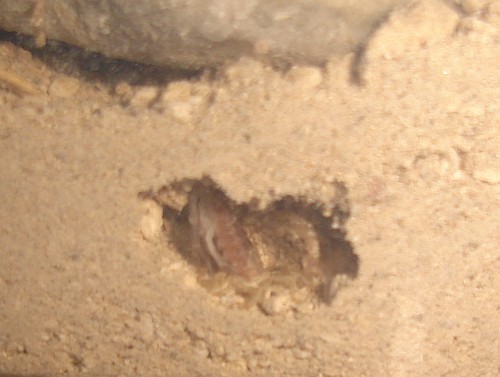 And I was lucky, when I checked on the little scorpion it was just doing that, struggling out of its old exoskeleton (molting). I moved the little plastic container I keep the scorpion in to my desk, and tried to make a few photos.
Because the plastic of the container was not very transparant and quite thick it was very hard to make a photo of the scorpion getting out of its exoskeleton. The above photo is the best out of a series I made. The burrow is clearly visible though.
After the photo session I picked up the small container and, somehow accidentally, almost dropped the container, causing a minor earthquake which caused the burrow to collapse completely. So I opened the container again, and carefully shaked it to move the sand away from the collapsed burrow. With a small brush I removed more of the sand, until I uncovered the tiny scorpion, still struggling to get out of its exoskeleton. Since molting is a very critical process, and a lot can go wrong (including humans collapsing burrows), I was afraid that the little scorpion wouldn't make it. I carefully sprayed a little water on the sand close to the scorpion hoping that it would provide a similar moisture level as the original burrow provided to the scorpion and hoped for the best.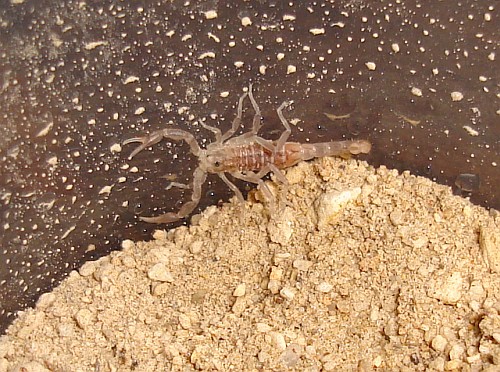 So one of the first things I did this morning was checking the container of the small scorpion, and it survived! I couldn't see any damage to it, and the tiny scorpion looked like nothing had happened to it besides the molting.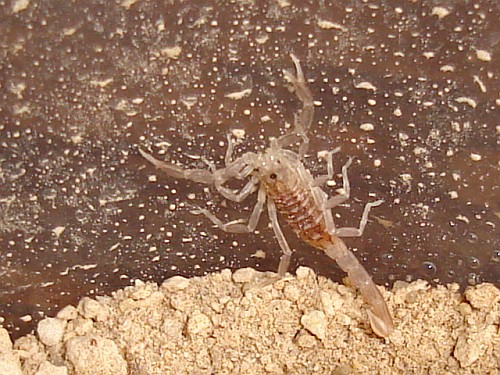 In the above photos the scorpion has a very light color which is a tell-tale sign of a recent molt. Over the next days the new exoskeleton will harden out and get more dark. In the mean time the scorpion is a bit more vunerable, but I have the feeling that if it could survive my clumsy handling of its terrarium, it will survive the next days without any problems.
Related
Also today