Welcome home Alice
This morning my cell phone woke me up. Actually it was the second time. Around 5 AM I had heard it as well, but I guessed that it was someone from the Netherlands having the difference in time mixed up so I ignored it. But it turned out that I was wrong with my guess. When I picked up this time it was Esme calling from the hospital and she told me she had called before. Her mother had been with her the whole night to help her with our baby girl Alice but was extremely tired. So I got up, took a quick shower, and went to the hospital.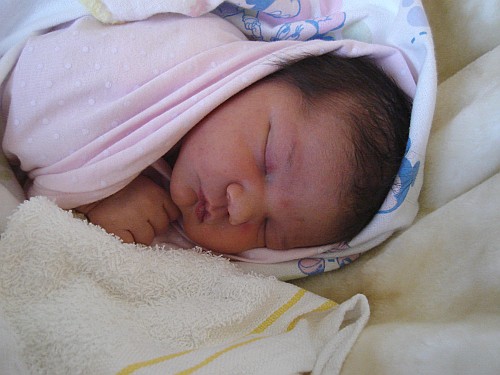 After I had arrived Esme told me that she had already had the necessary anti-D injection (Esme is A- and Alice is A+) to prevent future problems in case we have another baby.
Because our doctor was coming to check Esme around 2 PM, Esme asked me if I could get the money to pay the doctor: 16,000 pesos (about 1454 USD, including the anti-D injection). It had to be paid in cash so I went to the bank to get the money. Because of the high amount (for Mexico) I couldn't use the ATM. Esme's mom accompanied me since my Spanish is still not good enough to speak complete sentences. I can understand what people say most of the time, but making my own sentences is still quite hard.
To illustrate that 16,000 pesos is quite some money in Mexico: 10,000 pesos was paid out in 100 banknotes of 100 pesos each, kept together with a rubber band...
Shortly after I had thanked again our doctor and had paid him I went back to the house to rest a bit more. I would return around 5 o'clock because everything was OK, and Esme was allowed to return to the house less then 36 hours of having had a baby via a Cesarean.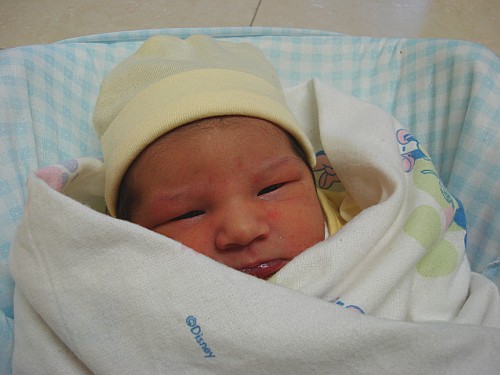 After 5 o'clock I returned back to the hospital and helped Esme and her mother to pack our stuff. I noticed that a room next to ours was empty. Since it was in the side of the building I was able to take some photos of Xalapa with a different view.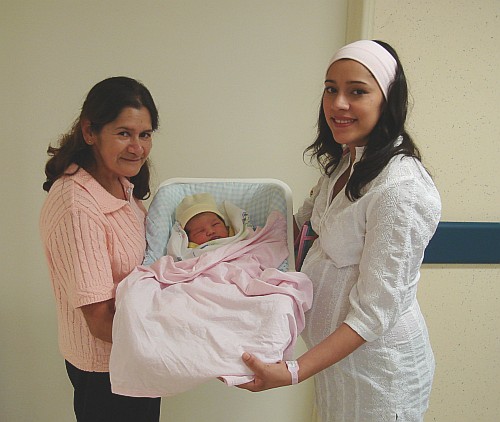 We also took a few photos in front of our room, just before we left the hospital.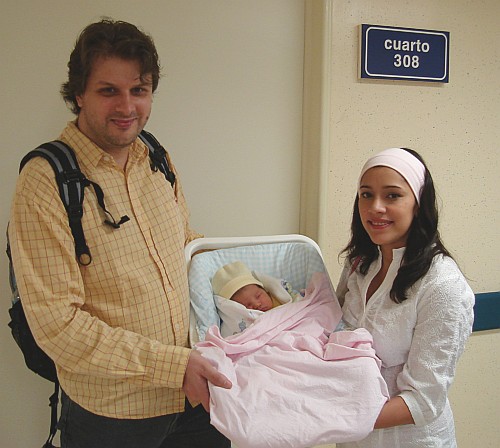 Because it's a short walk from the hospital to our house Esme preferred to walk to the house despite the fact that she had been in surgery less then 36 hours ago. On the other hand, the doctor had recommended her to walk often. So after a long and slow walk we arrived at our house.
Shortly after we had our first visitors, and soon Esme was talking with a cousin's wife in rapid Spanish I couldn't follow, so I used Live Messenger to chat with Els and showed Alice to her using the webcam. Els told me that she had added an entry on Alice to her Locus Meus blog. I asked her if she knew the proper English term for "aanleggen" (Dutch) and she told me it was "latch on" and gave me a link to Help Me!  Image Collection - Latch On a visual step-by-step guide for proper latch on, a guide that would come in very handy later that night.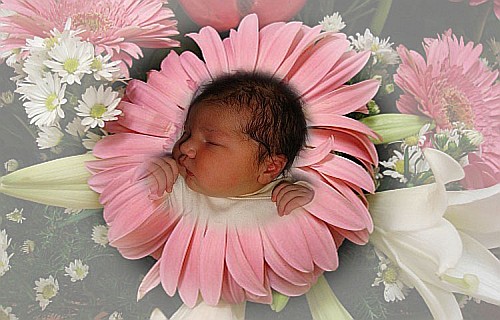 Els also created the above composition with PhotoShop using two photos I had made yesterday in the hospital. I complimented her with the nice work, calling her Els Geddes, a pun on Anne Geddes, a well known award-winning photographer of babies from New Zealand.
I said that besides designing accessible websites she could design birth cards as well. But she told me that she prefers to stick to accessible web design.
Co-sleeping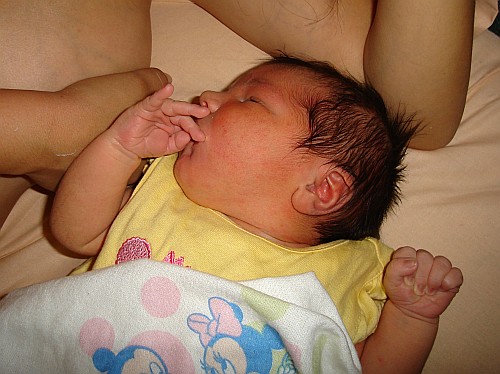 Much later Esme, I and Alice went to bed. Esme and I had decided to give co-sleeping, (also called bed-sharing, sleep-sharing) a serious try. A few days ago I had read a lot of information on the subject and how it protects against sudden infant death syndrome ("SIDS"). Besides being safer for the baby it also makes breastfeeding much easier and in general seems to result in better sleep for parents and baby.
Co-sleeping related
Also today