Scorpion killing a much larger prey
Today I accidentally dropped a way too large house cricket inside the container I keep a tiny scorpion (Vaejovid species) in. I noticed my mistake, but before I could recapture the house cricket, the scorpion had detected the monster cricket (from its point of view) and started to follow it.
What then followed must have been one of the wildest rodeo rides ever witnessed by a human. Somehow the scorpion managed to get hold of the cricket, which started to jump around like crazy. The scorpion however, didn't let go, and kept stinging and stinging its ride. I was afraid the scorpion might get hurt, but it probably knew better, and not before long the venom took its toll and the cricket stopped jumping.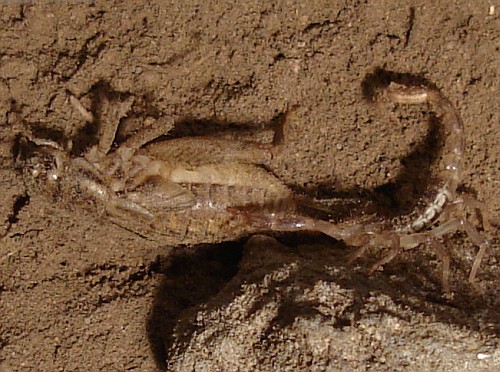 All the time the cricket was jumping around the scorpion hadn't let it slip from its pincer once, and now the cricket was dying and it was still holding the prey in a firm grip. I waited a while before taking some more pictures, allowing the scorpion some time to move around.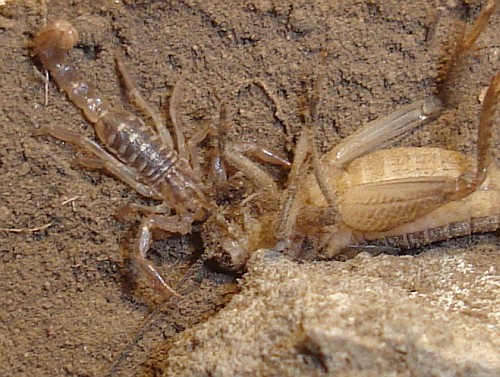 I used some light to be able to take better pictures, which annoyed the little scorpion since it started to drag its meal away from the light source. It moved into the little shadow provided by a small stone, and I took another picture.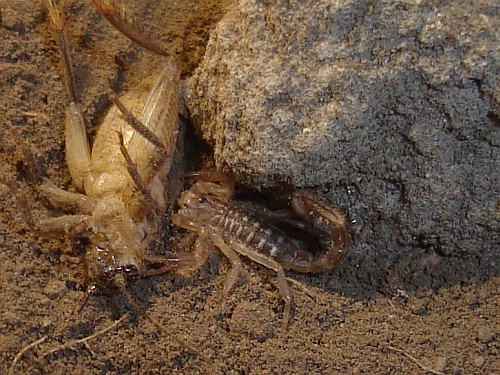 From the above can be concluded that scorpions are able to handle prey that is much bigger quite well, yet I recommend to be careful. Some scorpions have no problem at all with pre-killed feeders, and in this case a house cricket that big should probably have given to the scorpion pre-killed, or at least with its hind legs removed. The latter can be fed to even smaller scorpions with success is my experience.
Also today