A very short visit to Guatemala
Today, around 6 AM we woke up. We were on our way to Tapachula, Chiapas because I had to cross the border with Guatemala in order to get a new tourist visa. From the bus we watched the landscape, which was not that much different from Veracruz. We saw big trees with nice pink flowers, and many nearly dry rivers.
Around 8 AM we arrived at Tapachula in the state Chiapas, Mexico. The trip from Veracruz to Tapachula by bus had taken about 12 hours, a bit shorter then we had expected.
When we got out of the bus station we crossed the street to have breakfast. I had fruit and Esme had some eggs. The price was quite steep, and might have been tourist rates, but I didn't care too much. Before we left we asked a guy if he knew if we could find alacranes (scorpions) nearby, because I wanted to look a bit around after we returned from Guatemala. His answer was a negative, which didn't disappoint me, since some people don't know what lives nearby or even under their beds.
Crossing the border into Guatemala and back again
We took a mini-bus to Hidalgo city, in order to cross the border. We told the driver our plans, and he recommended sneaking into Guatemala by crossing the river, like everybody else did. But we needed stamps and such, so we wanted the "hard" way. The driver explained that there used to be two posts, but one was swept away by the river.
The mini-bus had more chairs compared to the ones we took in Xalapa, in the same space. And the driver had some guy assigning seats in the back. The guy drove us both crazy, and after some time the other passengers as well when he insisted that the people in the back could move up enough for another passenger. Which might have been possible if everybody stopped breathing. He was quite pissed off when he was ignored, and kept throwing tantrums into the back, which luckily didn't take up space.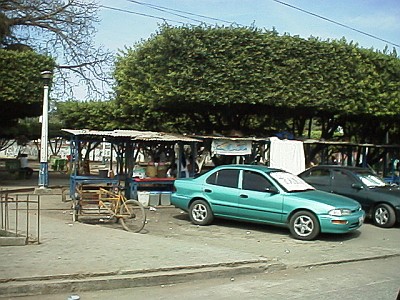 After quite a long, fast and hectic trip we arrived near the border post and got off the mini-bus. We walked to the office and told our story. They told us that we had to stay for 3 days in Guatemala before we could cross back into Mexico again. I told Esme to explain that we had no money to stay that long in Guatemala. Ok, one day was enough. So I said again: we have no money for that, and Esme translated. Ok, then we should go to the next border post, and cross back into Mexico.
So we crossed the border on foot, and walked to the bridge. A lady asked us if we needed her taxi services and we asked how much to the nearest village. She asked 20 quetzal or 30 pesos. I asked Esme if the driver could change money, but Esme thought it was not possible. I told Esme that on previous visits I made to other countries a lot of people close to the border made money by changing money. And I was right, because the driver started to offer to change money for us. So we changed 100 pesos for 70 quetzal, which was quite an ok rate.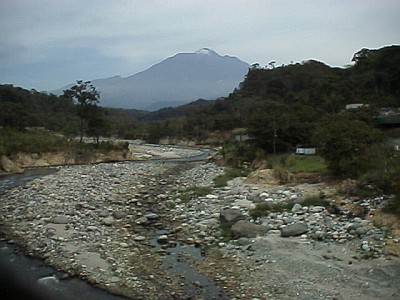 When we arrived in the village we took a mini-bus to the nearest post (not counting the one we just got from). The trip took like 30 minutes and the rate was 8 quetzal for the two of us. On the way we picked up a lady with two big baskets, smelling of tamales. And I got quite hungry.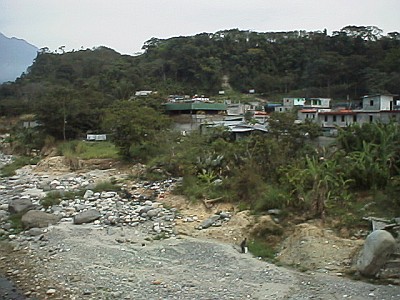 When we arrived at the border post is was immediatly clear that this one was much busier, probably because it was just behind a village. There was a lot of traffic and people crossing on foot. I took a few pictures from the bridge over the river which froms the border between Mexico and Guatemala. In the back we could see a huge volcano: El Tacaná (over 4000 m above sea level).
Again, crossing the border turned out to be a piece of cake. I had to fill in a form, and we got our stamps.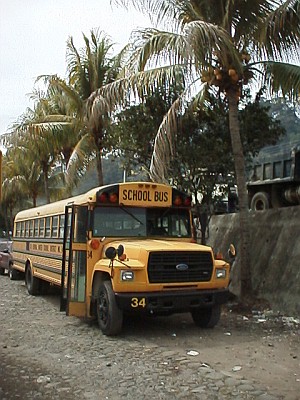 We crossed the border, again, on foot, and walked into the town on the Mexican side. I saw a school bus and since it reminded me of a photo I once made in Sri Lanka, I couldn't resist to take a picture.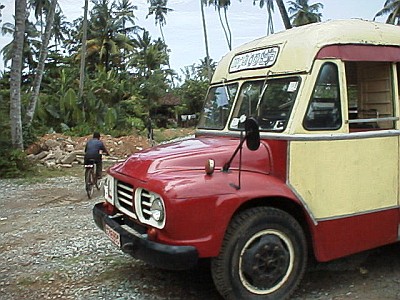 Shortly after that Esme noticed a bug on a leaf. The top was dark blue, and the underside of the animal was a very bright orange. Near its right hindleg was a much smaller version of this bug.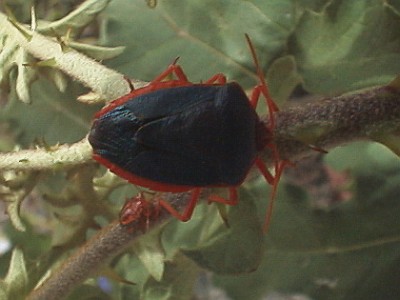 We took a mini-bus back to Tapachula, and bought our return tickets at the bus station around 1 PM. Since we had a little time left, the bus to Veracruz left at 6 PM, we decided to have a short walk nearby.
Also today