Guatemala, here we come
Today we had a very busy day. First, Esme had her presentation of her thesis at noon. We decided to take a taxi to get there on time, but there was a lot of traffic and hence we arrived 10 minutes too late, which was no problem since someone else was still having her presentation.
Esme had made her presentation using Microsoft Powerpoint, and stored it on a USB memory stick (thumb drive). Everything went smooth, and her teachers were very happy with the result. She was even invited to hold her talk again on an upcoming congress.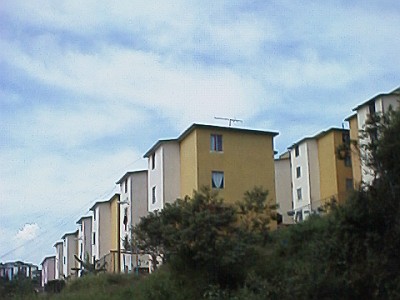 I took several pictures, but the light was very bad. I decided to wait until Esme was finished to take better ones, and during a break took some pictures of the buildings, part of Neuvo Xalapa 2000, through the window.
When Esme was finished she talked a bit with some friends, and then we went back to our house to get ready for the big trip to Guatemala. I needed to cross the border because my tourist visa was expired (to say the least), and this was the only way to get a new one.
Around 4 PM we went to Caxa, the central bus station in Xalapa, and took the bus to Veracruz. At Veracruz we took the bus to Tapachula, Chiapas, which is a city close to the border with Guatemala.