A wizard of Earthsea
Today I finished "A wizard of Earthsea", a book I bought second hand some time ago. I had read this book over 20 years ago, and had good memories about it, so when I found it in the book store, I couldn't resist. I like Ursula Le Guin a lot, and have read several of the books she has written.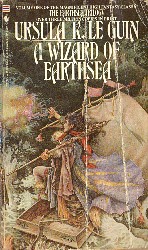 The story is about a boy who turns out to have quite some magical powers. When he becomes a prentice with a local wizard he can't control his curiousity and his feelings to show off, and gets rescued just in time by his master. After the incident he is asked if he wants to go to Roke Island, where all high arts are taught and as expected the answer is yes. On Roke Island, the incident gets a very serious twist, when the young wizard can't control again his urge to show off. And something dark is released in the world of Earthsea. The rest of the story is about how the young wizard, Sparrowhawk, tries to set right what went wrong, and learns a lot about himself.
It might sound like this story has Harry Potter written all over it, but this story was written well before the Harry Potter books, movies and hype. But the book gave me, again, the feeling that it was written for young readers (around 12-14) in mind. Not that the story is childish, but it doesn't have an adult feel to it.
Anyway, I enjoyed the book a lot, and I hope to be able to get the sequels: "The Tombs of Atuan", "The Farthest Shore", etc. as soon as possible.
Ursula K. Le Guin related
Also today