Close up photos of a scorpion and its exuviae
Today, at the end of the day we went out to buy a set of plastic boxes, sand and other stuff, so I could give one of my scorpions a bigger enclosure. I had moved it out of its terrarium made of glass because I needed a place for the tarantula spider I captured yesterday.
When Esme and I returned, I first set up the new terrarium. Then I took some pictures of the scorpion we had captured near the town of Buenavista.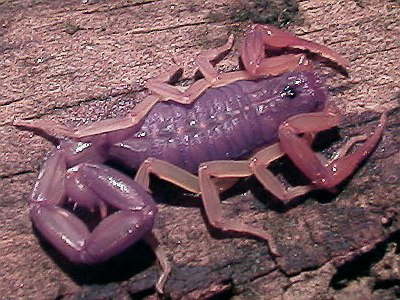 Esme helped me by holding the little plastic enclosure near the light when I took the pictures. My more than outdated digital camera, a Philips ESP60, has quite a good macro mode, but a steady hand is needed, and a lot of tweaking with settings.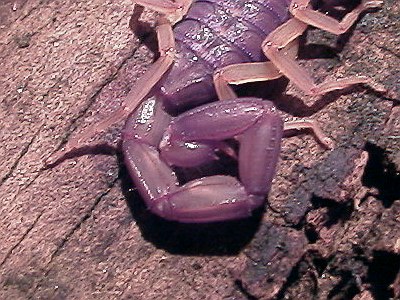 I also bought today black craft foam, which I wanted to use as a background for the cast-off exoskeletons of the scorpion.
Again Esme helped me, holding a book with a piece of black craft foam with the exuviae. We had to be very careful with our breathing because the exuviae weight next to nothing.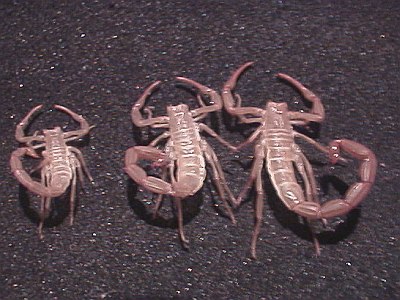 I also took several pictures of the exuviae under UV light (black light) with the UV scorpion detector I made. The exuviae glow green, but in the pictures it looks more like blue. Also, since the camera chip is sensitive to UV I had to play a lot with the settings, and Esme helped me with the lighting.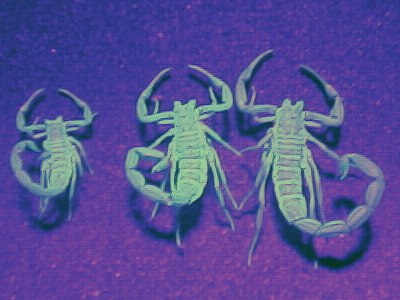 I used IrfanView to edit the colors of the above picture to closer resemble the actual emitted color.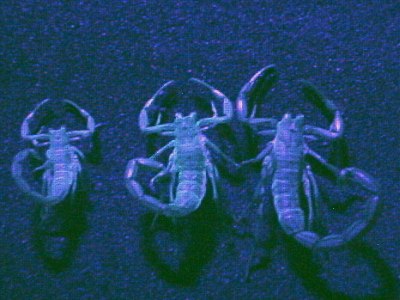 Finally I measured the size of the exuviae, from head to the start of the first tail segment. I did the same with the scorpion found close to the exuviae. Based on the measurement I guessed to what instar each belonged, see table below:
| Instar | Length (cm) | Growth factor |
| --- | --- | --- |
| 3 | 1.0 | - |
| 4 | 1.2 | 1.2 |
| 5 | 1.5 | 1.3 |
| 6 | 1.8 | 1.2 |
Since the scorpion we captured glows under UV light (black light) it has not very recently molted.
Scorpion related
Also today