Birthday in La Antigua, Veracruz
Today was my 38th birthday. Yesterday Esme and I had decided to go to the town of La Antigua. We woke up a bit late but were able to take the bus at Caxa, the central bus station of Xalapa, at twelve. The trip took over 2 hours. Outside of Xalapa the weather got more and more hot. We saw a lot of mango trees, banana plants, during our bus trip.
From the bus stop near La Antigua we took a taxi. We shared it with a mother and her 3 daughters. It was a short trip to the town. On the way Esme thought she spotted the famous house of Hernán Cortés, but it was another very old building. We got out near a big hotel, close to the Antigua river. On our way to the bridge crossing the river we passed several stalls which had various goods on sale. We crossed the bridge and I took a picture of it.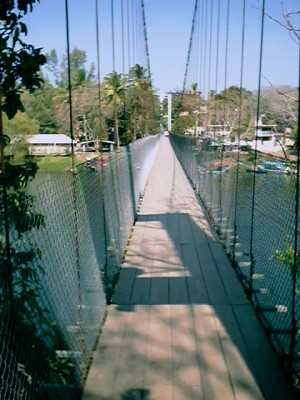 We both bought each a coconut and when we finished drinking the liquid, Esme asked me to go to the lady to have them cut open. So I handed the lady the nuts and she asked if I wanted them with chile. I said in my best Spanish "No" for me. Next she asked if I wanted salt and lemon with it, and I was able to say "just a little". She probably thought my Spanish was good enough to understand her next question but I had no idea what she asked...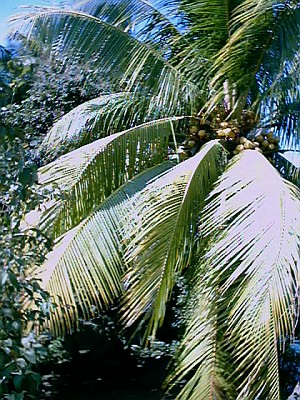 The setting reminded me a lot of Sri Lanka. A beautiful island I visited 6 years ago. A guy asked us if we wanted to make a short boat trip. And after a little thinking I agreed. On the water it was less hot, and when the boat gained some speed it was almost fresh. We saw a big tree in the water with a lot of birds on it. Some I recognised as being cormorants. When the boat came too close most birds flew up. We also saw several, what I considered to be, white herons.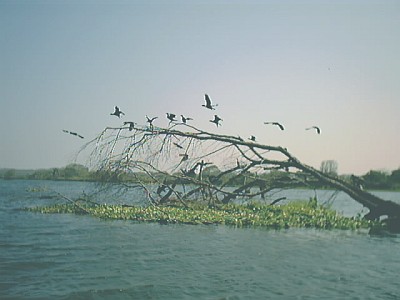 Our guide wanted to show us the big sand dunes. When we neared the shore we saw several cows. When we started to walk we discovered how hot it really was. The boat had a nice roof that kept us in the shadow, and there was even a little wind on the river. On the sand it was dry, and very hot. The guide told us that one can see iguanas, armadillos, rabbits and snakes. But also that it was too hot now for those animals to be out in the open.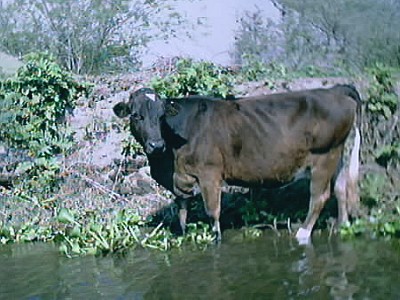 The sand dunes, the heat, and the sparse growth gave an impression of a desert. It was very nice. I hoped to see some of the animals on the list of our guide, but saw none.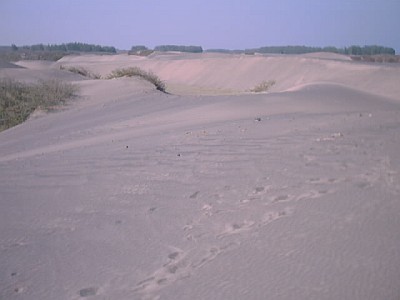 When we were standing on a high dune, our guide told us we should be able to see the sea. Since I am quite tall I was able to see it quite easily. It was so close.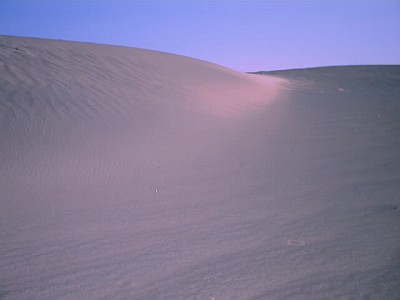 The dunes were wonderful to see but heavy to walk. Here and there we saw tracks of animals. Most often prints the cows made, but also smaller prints made by birds. I saw several prints I could not identify.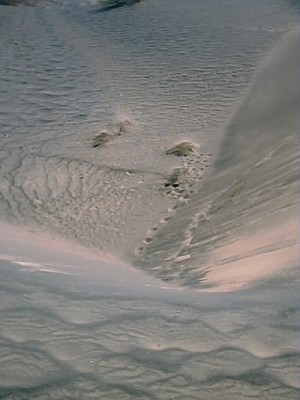 We walked a bit more and climbed another dune and then we could see the sea clearly and also the river. In the photo below the sea is to the far left top in the picture.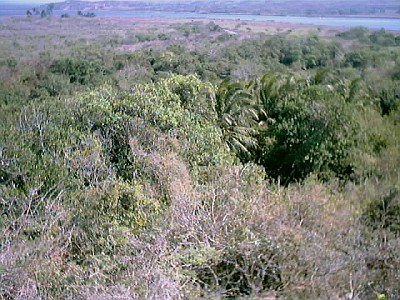 When we were enjoying the view a black vulture was flying above us, so I took a picture. Our guide offered us to bring us to the beach for some extra money, but we decided to do that another day.
We took several more pictures and looked around a bit more. Then we decided to walk back to the boat.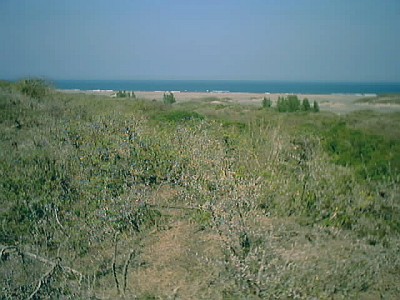 On our way back I looked around for more animal tracks in the hope to be able to spot the animal. A snake, or an armadillo. But our guide was right, it was too hot. But he found us a claw of a crab and handed it to Esme, a nice souvenir. Near the boat I took a picture of the bushes that are most prevalent on the dunes.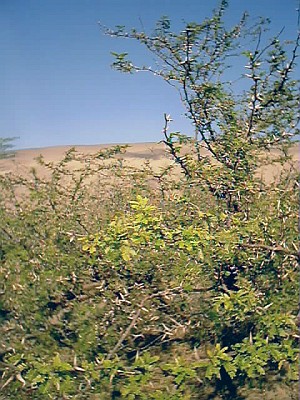 After a short but nice boat trip we arrived back to where we left. We crossed the bridge and went to a restaurant. I ordered prawns in chipotle and Esme wanted fish filet. Before the meals were served we got tortilla chips with a nice dip sauce. Halfway the main course, Esme asked me if we could swap what we ordered and we did. I liked the prawns a bit more, but both meals were really nice.
Next, we decided to have a look at the house of Cortés, just a small walk from the restaurant. On our way we saw the roots of the tree that some people believe was used by Cortés to anchor his ship to. Near the house is an old canon (twelve pounder, 16th century) on display.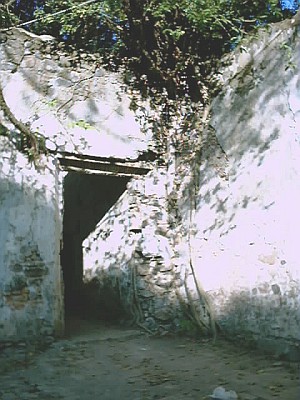 I joked to Esme that Cortés really loved plants but probably didn't expected them to grow that wild since parasitic jungle vine, looking like tree roots, is growing everywhere in the house.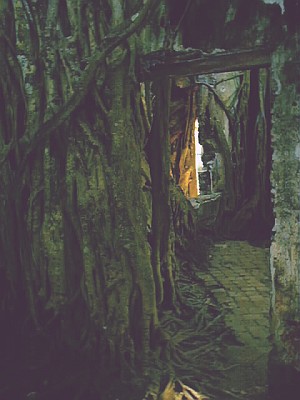 After looking around for some time we decided to walk back to the bus stop. I took a picture of a group of coconut trees along the road.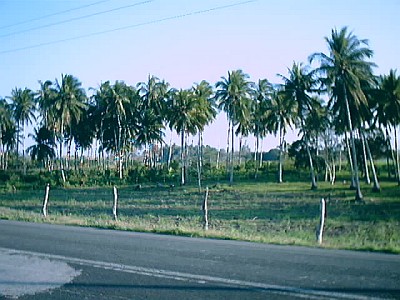 We spotted a few lizards that were not even afraid of us. I tried to find a very small cactus for my scorpion terrarium. But even the smallest I found and took with me was quite big. Most cactus plants near the road grow on top of a cut off part of a bigger plant. So what looks like a small cactus turns out, after some digging, to be a big chunk of a cactus leaf with a small cactus growing out of it.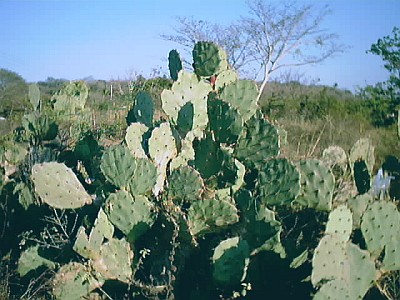 We just had to wait a short while for the bus back to Xalapa to arrive. We both were very tired and slept a bit in the bus. After about half an hour we had arrived home, Esme's mother visited us. She and Esme went out to buy me a birthday cake (actually a Valentine cake). They sung "Las mañanitas" (Happy Birthday) to me, and I had to blow out a few candles.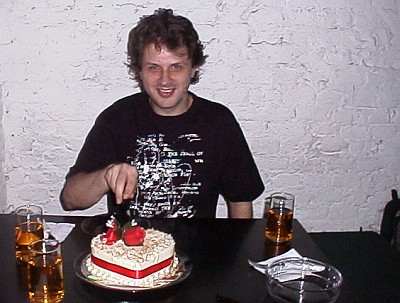 I had changed into the shirt I got almost a week ago from my children, Jim and Laurinda. It had been a very nice day and when Esme's mother left we were both exhausted and went to the bed.
La Antigua related links
Also today