Insects and more
Shorly after we started our walk to the University, I found a dead dragonfly on the street. I took it with me to take pictures of it later. We saw several kinds of butterflies. It is a nice walk from our house to the Faculty of Psychology, and the road crosses a rail road track. Esme told me a few days ago she had seen lizards near the track, and we wanted to check again on the way back.
After she turned in her assignment, we took a more scenic route back. We saw a ditch with dirty water. Several dragonflies were busy catching small insects close to the water surface. When I saw a donkey standing in the shade, about 10 minutes later, I couldn't resist to take a picture. Those animals are still used a lot to carry heavy loads around and for transport, even in a city like Xalapa.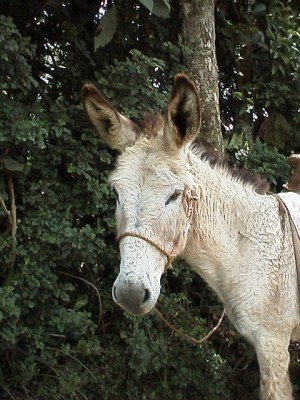 We also had a look at two nice houses for sale. When we looked at the garden of the second house, I saw a hummingbird.
Some time later I saw another butterfly, and I took a picture of the animal resting against a wall.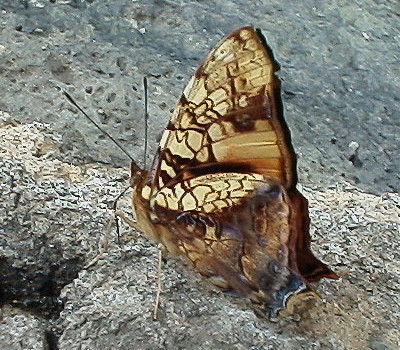 Finally, we reached the railroad track. We followed the track and looked for lizards everywhere. But we found none. We saw many big red ants running around with leaf cuttings. However my camera is not able to take pictures of those fast moving insects. I saw a nice yellow flower, and took a picture.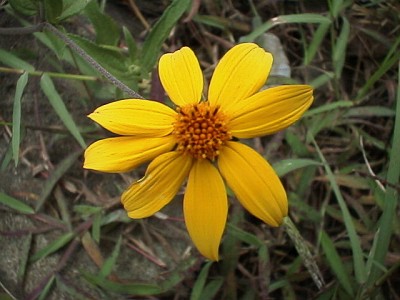 I saw a cricket under a big rock, but was not able to catch it. I want to feed crickets to Tina, the scorpion. It is not really urgent I guess, since the scorpion already ate a small scorpion twelve days ago.
Esme decided to walk back a different route, taking us to the faculty of architecture, where she studied several years ago before she changed to psychology. In the grass I saw many nice pink flowers.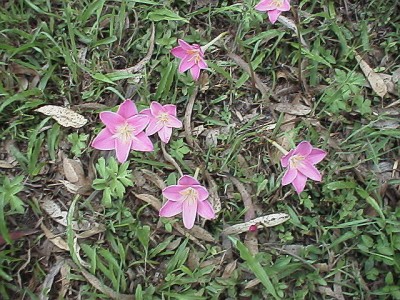 The route we took back had more trees so we could walk in the shadow. It was a nice but very hot day.
Also today