Sound Recorder 60 second limit
When Esmeralda recorded an interview, she discovered that the Sound Recorder application in Windows XP has a 60 second limit. I used Google to check if this was indeed a limit. The top most result I found, confirmed that this is the case: the sound recorder that comes with Windows XP can only record 60 seconds, which in my not so humble opinion makes this program quite useless.
I looked at FreshMeat and Tucows for an alternative, but suddenly remembered CDex, a program that I had been using several times to rip some of the music CDs I own, and used to convert the ripped music tracks into mp3 files.
CDex to the rescue
I started the CDex program, an excellent CD ripper and MP3 converter, and discovered that it indeed can record from analog input. The Tools menu, in the menu bar, showed the option "Record from Analog Input". After I selected it, a dialog window with the same name appeared.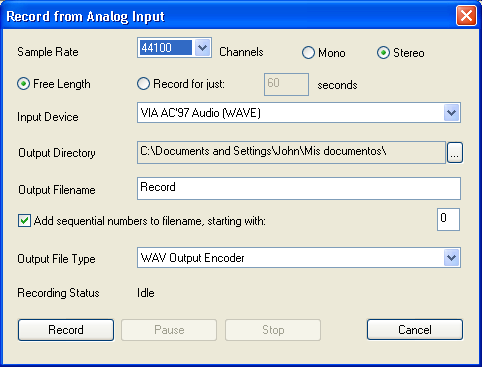 Esme used the program to record her interview as a WAV file. When she was finished I used Nero Burning Rom to edit the interview, because during the recording session, I was doing the dishes and dropped a pan. With the sound editor in Nero I was able to reduce the level of the banging and clanging. After the edit session, I wrote the resulting WAV file as an audio track to a CD recordable using Nero.
I recommended her to record each question with answer of the interview as a separate WAV file so she could create one track for each, with a maximum of 99 tracks, a limit each audio CD has. But Esme preferred one audio track.
While she was having the interview, I got the idea to read a letter I am writing to my children, who are living with their mother in New Zealand, aloud and record it on CD, so they can hear my voice.
Ripping and burning related
CDex - Audio ripping tool
Also today