Cleaning the roof
Today a man came to clean the water storage on the roof. Since he emptied the water from the storage tank onto the roof, Esme decided to give the roof a good cleaning. The roof is flat, with 3 levels, and has a sort of barbecue built into one wall. We already made fish and tortillas on the barbecue, some time ago, and have plans to have a big BBQ with friends one day.
There was a lot of rubbish on the roof: stones, wood, a broken aerial, and even the water storage tank of a toilet. We stacked the stones and wood, and removed all dirt. It was also a good opportunity to check for more scorpions. But I found none. I put some wood lice and a spider I found instead, in a container. Food for Tina, the scorpion. I also found a very tiny tillandsia, which I put inside the terrarium later on.
When we were almost finished cleaning I smelled something that reminded me of burning electric wire insulation. I looked around, and saw a huge column of smoke. It seemed that something was on fire down the street, most likely a house.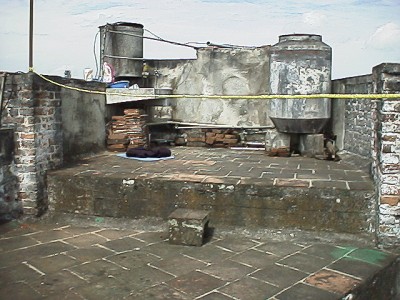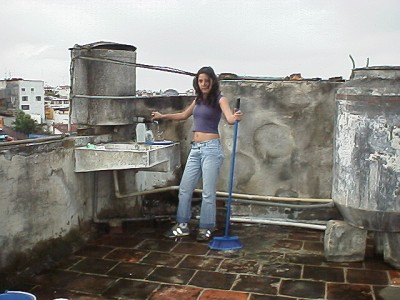 Also today