Books I received in August
Last month I received 15 books from three different people in exchange for Perl programming help I had provided.
C++ programming related books
Since I want to relearn C++ programming; I've been programming in this language back in the 90's but soon got more work in Java and Perl programming, I asked for several C++ programming related books. The reason why I want to pick up C++ again is that I would like to do more GUI related programming work. I've already done some GUI programming with Qt and Python, but I have the feeling that C++ and Qt feel more right to me.
Besides more GUI work, some projects I do either require more speed than Perl can provide and/or the customer prefers to have a compiled program instead of "the source is the program". But don't worry, I am not switching away from Perl. I doubt if C++ can do what Python couldn't do; I love Perl too much.
Based on the above list you can see that I take relearning C++ very serious. The plan is to add a few more books to the above list, books I already have in my possesion, and work through one book a month.
When "Effective C++" arrived, the 18th of August, I read the first 50 pages or so was pleasantly surprised how much I still could remember about C++ programming, despite having not used it for well over 10 years, and how much came back to me while reading. My preliminary conclusion is that "Effective C++" is a fantastic book, well-worth its price and a must have for C++ programmers.
Fiction and non-fiction
I like books on traveling, and since I already had read "Stranger in the Forest: On foot across Borneo" and "The Bird Man and the Lap Dancer: Close Encounters with Strangers", both by Eric Hansen, and both fantastic reads, "Motoring with Mohammed" was an obvious choice. Another book by Hansen I liked a lot, "Orchid Fever: A Horticultural Tale of Love, Lust, and Lunacy" resulted in "The Orchid Thief" ending up on my Amazon wish list.
Many years ago, I read "The Hot Zone", by Richard Preston. I've always had an interest in the working and impact of biological viruses, contrary to computer viruses. And when I read about C.J. Peters' book I had to add it to my wish list.
Earlier this year I had read "Déjà Dead", the first Temperance "Tempe" Brennan book by Kathy Reichs. While I think this book was so-so, it was good enough to read the next one in the series, which was, in my opinion, slightly better. Months later I read "Fatal Voyage", followed by "Grave Secrets" and I was hooked. However, don't mistake Tempe Brennan with the main character in the TV series "Bones"; in the books Tempe is a real person, with real flaws and real problems, very unlikely Tempe the wannabe geek robot of the servies. So, don't avoid this great series (so far) because you hated "Bones".
And last, but not least, in this list: Jack Vance. If asked who my favorite writer is who can write both SF and Fantasy equally well, his name will be mentioned first (second would be Stephen R. Donaldson). However, I've never gotten around to read his mystery writings, even though I had access to "The Man in the Cage" as a teenager; the public library in the town I was living in back then had this book. A lot of books written by Vance are hard to get, so I am very happy that Subterranean Press has taken it upon them to republish Vance's work in nice hardcovers. A must have for a Vance admirer like me.
Hobby
During a field trip with Dr. Oscar F. Francke, last May, I visited two caves. I had been in caves in Mexico before, notable a small cave near Pinoltepec, but this time was the real thing with helmet and head light. And crawling in very narrow spaces. And I got seriously hooked. The day after two other caves were visited. But since on both occasions the entry was a vertical shaft of well over 20 meters deep I couldn't join because I had zero experience with vertical descending into a cave. But I want to learn. Moreover, I want to learn more about caves, and while doing research on Amazon, Arthur N. Palmer's book came up. I have already browsed a bit through the book and read selective parts. So far so good; clear written text and nice photos. The only downside is that all photos inside the book are black and white. I wouldn't have minded to pay a bit more for some full color photos.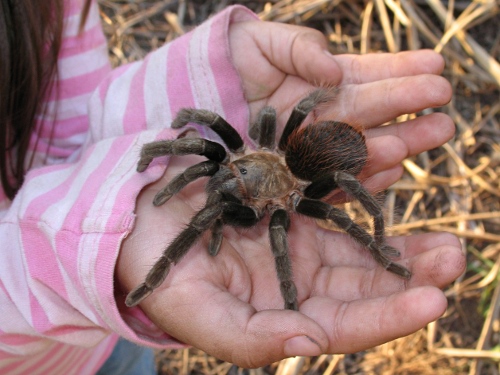 Since Alice has a keen interest in spiders, especially tarantulas, I couldn't resist adding "The Tarantula Keeper's Guide" to my wish list recently. Since the book finally arrived, I've watched it several times, together with Alice and Adam. I've also read several sections in this excellent book and my verdict is; if you own even just a single tarantula, this book is a must have and above all a must read. Highly recommended.
Children's books
Alice is a huge fan of Charlie and Lola, and when I am able I love to read a Charlie and Lola book to both her and her brother Adam just before they go to sleep. And since I've read all the Charlie and Lola books she has countless times I was very happy to ask for two more in exchange for some Perl programming.
Another great series of books for children are the books written by Laura Numeroff and illustrated by Felicia Bond. The drawings are very well done, and provide a lot of opportunity to ask children to find and name items. We own now three "If you give ..." books, one in Spanish, and I am sure we will buy more the coming years; our children love them.
Feedback
If you can suggest me books based on the above, please let me know by posting a comment, thank you.
Also today