A short hike near Cosautlán
For today Esme and I had planned to go hiking near Cosautlán de Carbajal, a town somewhat South of Teocelo. Since Alice, when given the choice yesterday to come with us or visit her grandmother had picked the latter, Esme had dropped her off at her mother's place this morning. In the mean time I had packed my backpack and put charged batteries in my GPS.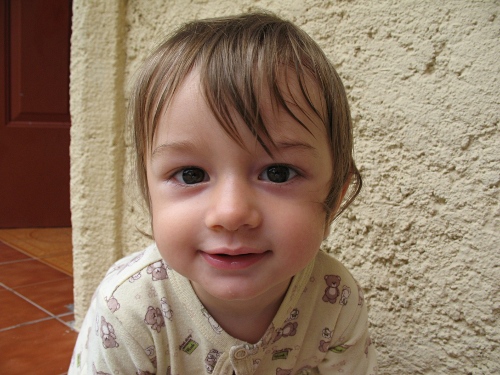 Just before we left to get a taxi I took photos of our son Adam near the front of our house. Adam loves the camera a lot, and as soon as he notices me getting it ready he either starts to smile or even laugh, or crawls towards me and tries to grab the camera; he loves to see the little photos on the LCD display.
After I had taken the second photo Esme was ready and we walked to the nearby bus stop to get a taxi to "La Rotonda", both a bus terminal and a market, where we could take a bus to Cosautlán. When Esme informed what time the bus left she learned that we had just missed one, but the next one would go in about 20 minutes.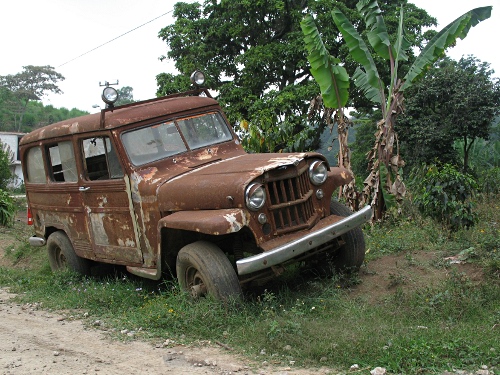 Since we both were a little hungry we decided to eat something. Esme ordered tacos for herself, and a plasic cup filled with fresh melon chunks for me. We both kept a close eye on the busses, but still somehow mangaged to miss our ride. When a little over 20 minutes had passed, Esme asked how many more minutes it would take for the bus would arrive and was told that it had just left.
Since there was a bus going to Teocelo, a town in the same direction, we decided to take it and from there either take a bus to Cosautlán or a taxi if we had to wait too long for a connection.
On our way to Teocelo, near San Marcos de León the bus had to take an alternative route. Getting out of Xalapa had taken quite some time; for one reason or another the driver took his time. And now the bus was driving even more slow. But eventually we ended up in Teocelo. We were lucky; the bus to Cosautlán was about to leave. And soon we were on the final leg of our journey.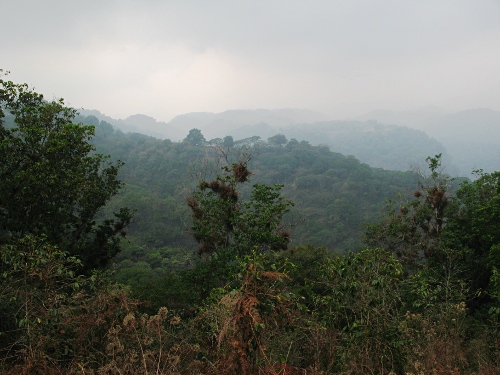 The trip to Cosautlán showed us very green canyons (barrancas) with a lot of humidity. Closer to the town there was quite some fog and the clouds were dark and heavy with rain. I had assumed that we would enter the town form the West. But when I saw a sign for Ixhuacán de los Reyes, a town we had visited nearly 5 years ago I was in doubt. We had planned to hike to the North-East of Cosautlán so were we close to the point we wanted to get off or not?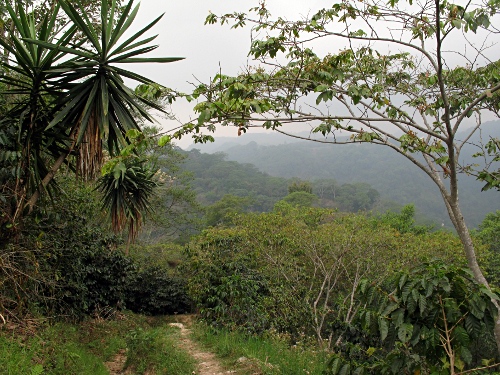 Since we were both not sure, we decided to get off in the town itself as originally planned and ask a taxi to drop us off near the track we had found using Google Earth. When we talked to a taxi driver it became clear that we indeed had arrived from the East. In the taxi I used the black and white print out I had made of the area to give instructions to the driver, who had no idea of where we wanted to go and why. Eventually Esme and I recognized the curve ahead of us and we asked the taxi to stop, which he did a bit further down the road for saftey reasons. We paid the somewhat steep fare of 20 pesos and walked back for a short while in the direction of the town and to the start of the track.
We started to follow the track and shortly after we passed a very rusty car to our left. Esme guessed that one time it might have functioned as an ambulance. Soon we were walking between trees and coffee plants were growing to the left and the right of the dirt road we were walking on. When I found a rotting log I checked it for scorpions belonging to the genus Megacormus, since the habitat looked suitable to me. Last year I had found a new species in this genus in a similar habitat. And the beginning of this month a different Megacormus species, underneath the bark of a tree log. A species which according to Oscar F. Francke (pers. comm.) also might be new.
But no scorpions this time so we kept following the track in North-Western direction, which I was expecting to lead us more down into the canyon and into a more moist habitat. On our way we encountered twice a promising looking side track, leading down the slope and to the left of us. But we kept following the main track. To the left and the right we could look down into the canyon; splendid and often pristine views. The sunlight, filtered by the cloud cover, and the fog embracing the slopes and hills in the distant gave us the impression that we where walking in an earlier age, far away from civilization.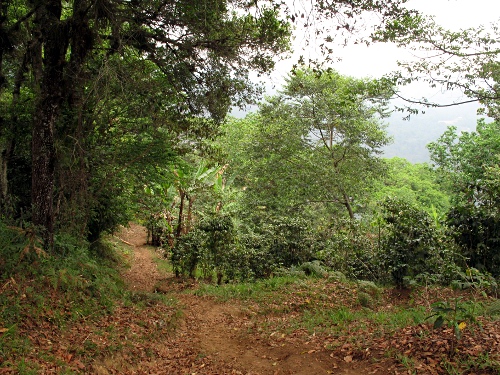 We kept following the main track which went more and more down. We encountered some people returning from their work. One man, leading a mule, asked if we were going up or down. We told him down. I considered the question somewhat odd, but we kept following the track. Shortly after, when I was examining a dead tree stump another worker asked Esme where we were going. When Esme told him we wanted to follow the track down he told us that the owner doesn't like people walking on his property. We've hiked a lot in Mexico the past 7 years and our my experience most of the time it's not a problem if one follows tracks on private property. Only one time, several years back, when we had been following a river for a while and wanted to return to the main road by crossing between coffee plants we were told to go back even though the main road was just 5 meters away from where we were standing. Anyway, we decided to go back and try one of the side tracks leading to the right (now left) we had seen earlier on.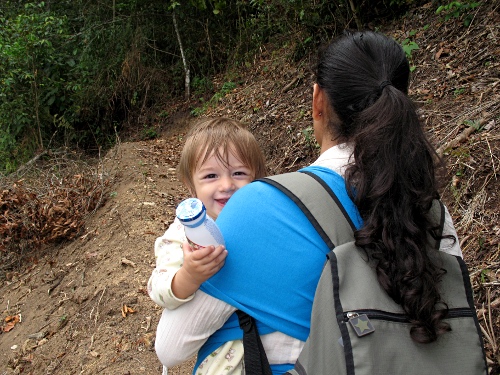 I walked a bit ahead of Esme and suddenly I heard the voice of a humming bird; a hard, chipping chik-chik-chik sound. And soon I spotted the small, blueish green colored bird resting on a branch. When Esme caught up I showed her where the bird was perching. Then it suddenly flew up and was gone.
We continued our walk back, following the main track and when we came upon the first side track, which looked recently made, we followed it down. But it soon ended upon a coffee field on a slope. And while it was possible to go more down by walking to the side of the coffee field, the slope looked quite steep. Down would be doable but back up would be hard. So we decided to return back to the main track.
After a few minutes we came upon another side track, a track with coffee plants to the left and right, see the photo "Side track leading between coffee plants." above. Esme decided to rest a little and sat down on a boulder at the start of the track and I started to explored the track.
A bit more down I heard the voice of another humming bird but this time was not able to spot it. After looking around for a little longer, enjoying the scenery, I continued to follow the track down. But soon enough this one ended abruptly as well. So I decided to return back to Esme and Adam and rest a little too.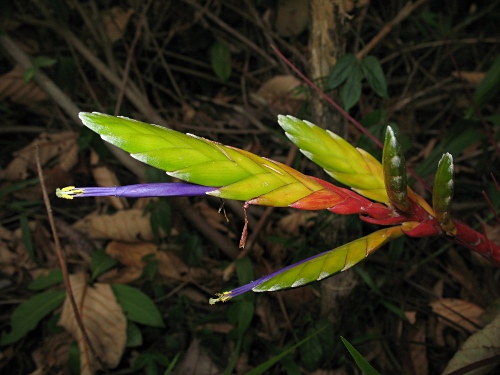 During the break it suddenly started to rain. Not very strong, at first but when we started to walk back towards the main road drops started to fall more seriously. At first I thought we could follow a small track going to the left and the green cover provided by the trees would protect us enough. But that track also ended in a dense coffee field. Since I had the feeling that the rain wouldn't stop soon I thought it best to go back to the main road and take a bus back to Xalapa. And just when we had arrived at the main road and had taken shelter under the roof of an what seemed abandoned building the bus to Xalapa, "La Rotonda" showed up.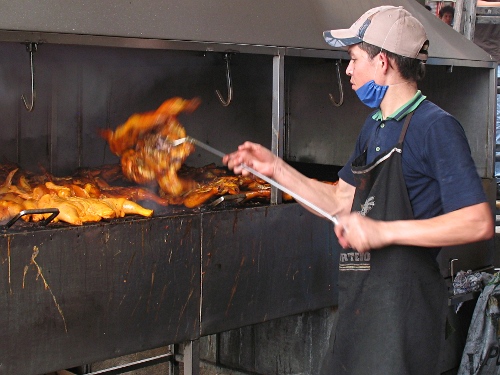 And after a long bus trip of nearly 2 hours we were back in Xalapa. Since one can buy excellent "Pollo Asado" at "La Rotonda" we lined up, there was actually a long line, and waited for our turn. After we had received our grilled chicken we took a taxi, picked up Alice at the shop where her grandmother works, and were on our way back to our house.
Also today