The Little Bookworm
In the evening we wanted to watch a movie in our basement. The basement has 2 sections: one part is my office and the other part has a couch and a monitor. The latter is used to watch movies on by connecting it to Esme's laptop, a Dell Inspiron 1525. A Muscle Rack, functioning as a bookcase, is used to separate work from pleasure.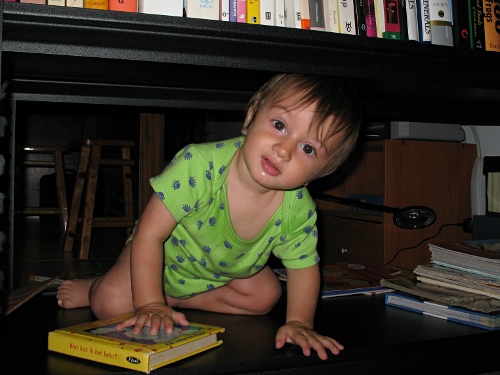 Esme had taken Adam with her; he normally stays awake until past nine PM. While she connected her laptop to the 22" Dell monitor, Adam was crawling around, something he has been getting better and better at the past months.
And in no time he was on the bottom shelve of the Muscle Rack I've turned into a bookcase, moving through the children's books we've stacked at that shelf. Of course I couldn't resist to take a photo or two.
Adam, like her older sister Alice, loves books. When I am reading to him he really listens to me and watches the pages with great patience. He loves "Koetje wil naar buiten" (Little cow wants to go outside), maybe also because he doesn't hear me talk Dutch very often.
Also today