Hailstorm in Xalapa, Veracruz
At the end of the day it started to rain, stronger and stronger. I took Alice up to our bedroom to look at the rain. A little later, when I was back behind the computer, and Esme and Alice were up, in the bedroom, there was a very loud thunderclap.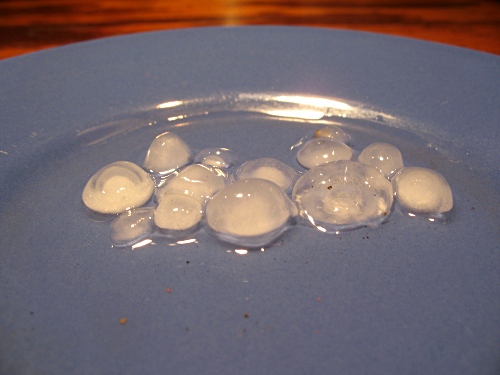 I went up to our bedroom, and joined the girls, watching the rain, and now and then some lightning. I was happy it was raining, because the past days had been quite warm, 30 degree Celcius, or more. After I had watched nature washing the city of Xalapa, went back down again.
Suddenly the noise outside increased, it was hailing. Again I went up. I opened the bedroom, and was able to pick up a hailstone, and give it to Alice. She was holding her very first piece of natural ice, and liking it a lot.
I went up to the roof, and picked up some hailstones to make a photo of them. The largest one had a diameter of about 5 mm, see the above photo.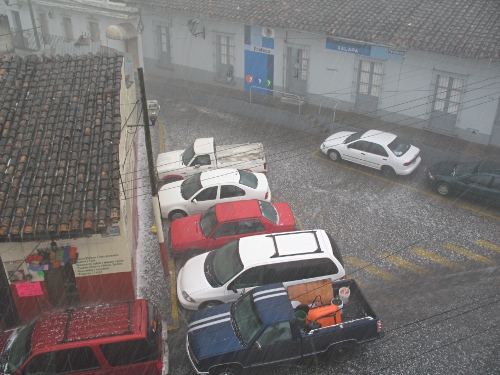 In the above photo, taken from our roof, you can see the parking space in front of Profeco, Xalapa. The picture looks a bit unclear due to all the hail falling in a very short time.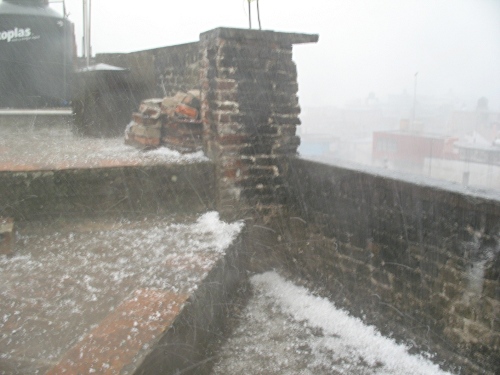 The above photo shows hail falling non-stop on the roof of our apartment. I had to move a little outside of the staircase to make that photo, and was hit several times by very painful hailstones. Notice that you can't almost see the nearby buildings.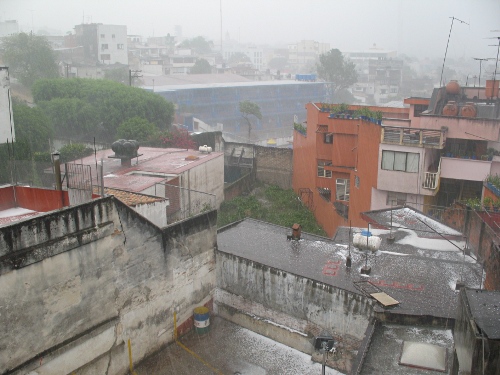 I joined the girls in our bedroom again, and opened the window to take a few photos. In the above photo you can see the hail on the parking lot, and the roof of a nearby house. In the background you can hardly see the blue building, a nearby school, due to the hail and rain that's still falling.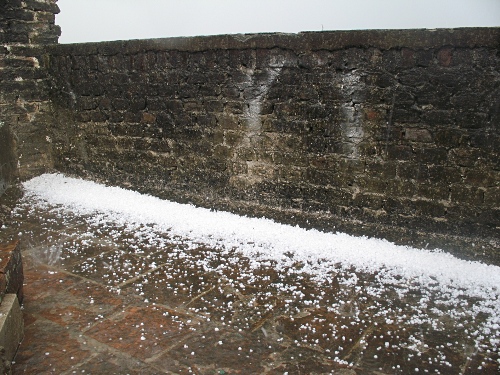 I went back up, to the roof again, to take several more photos. It was hailing less strong, and most of the water was already drained away. In the above photo you can see the hail in front of the wall that surrounds our roof. It piled up there due to the angle it fell.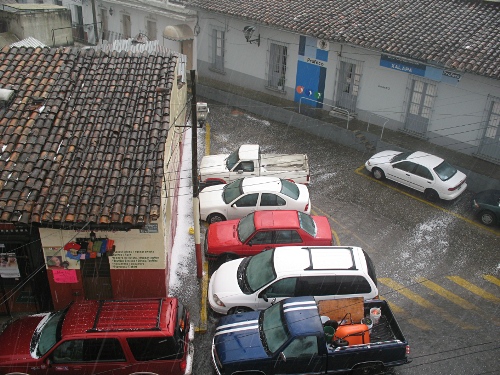 I also took another photo of the parking lot in front of Profeco, the building with the blue colors. It was hailing less strong, as you can see. Also, note that the hail is mostly resting against the building on the left, a small shop, due to the angle it fell.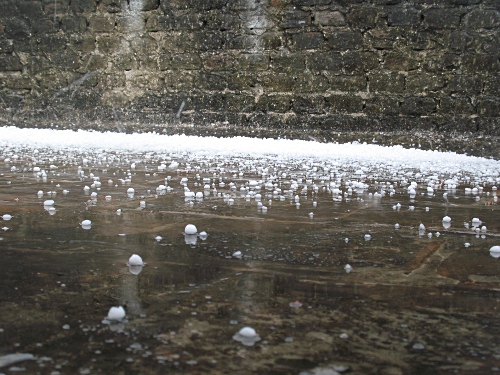 After a short while the hail got less and less.
I've also made several short videos, which I will upload to YouTube.
Also today