Recycling an old calendar
In the early evening, while working on my blog, I needed to know on which day a certain date fell. Normally I use the calendar on my Dell Axim X51v in such circumstances, but I hadn't reconnected the cradle since the return from our trip to Tehuacán.
So I decided to look up the day on an online calendar, and entered just calendar in Google. The first entry looked promising. So I clicked on the link to visit "time and date.com", which is coincidentally the same site I use a lot to look up the time in other countries, or to provide others with an easy way to lookup the time in Mexico.
After I had clicked on the link the calendar page showed me a calendar for year 2008. Since I live in Mexico, I changed the country to Mexico and clicked on the Show button. Next I selected in the basic customization options, underneath the calendar, Spanish as secondary language. This way I can also learn the official names of the Mexican holidays.
While looking at the customization options, I noticed the "Printer-friendly format" link, and decided to print the calendar. Then I remembered that we have an old calendar hanging on a nail. So I decided to glue the print out of the up to date calendar over the old one, and recycle it.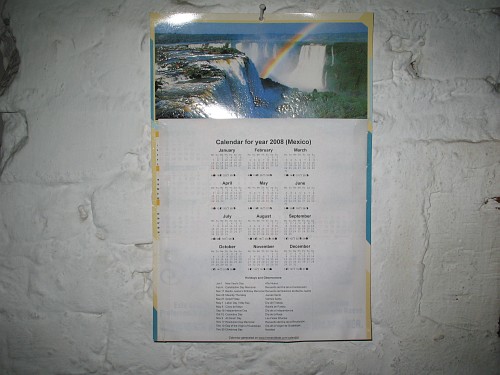 I cut a part off the top and the bottom of the print out so it would fit neatly over the old calendar, leaving room for the "waterfall with rainbow" photo on top. Then I used two pieces of adhesive tape to keep the print out in place.
Calendar related
Also today