Three Tolkien Treasures
Today, in the morning, a big surprise was delivered at our door. I heard the doorbell, and when I looked out of the window to check who was at the door, it was the postman. I went down to receive the package. Sice four days ago it was my birthday, I assumed it was a birthday present.
But it turned out to be 3 books sent by Laura, a regular visitor of this website. About a year ago, Laura emailed me to thank me for the photos of Xalapa, Veracruz, on this web site. She wrote that she's a Xalapeña, living in the United States, and visits my site when she's feeling homesick.
Furthermore she wrote that she wanted to sent me some books, and asked if my wish list was still up to date, if there was a book that might be a priority, and how she could get the books to me.
I replied to her that "The Hobbit" in English would be wonderful, and thanked her in advance. And today, not only "The Hobbit" arrived, but 2 more books! Accompanying the books was a card in which Laura explained that due to the excessive costs of sending books from the USA to Mexico, she had waited until someone travelled to Mexico and was able to ship the books to Xalapa, Veracruz. Since I have ordered books in the USA myself, via Amazon, I know what she's talking about, and it's beyond me why it's so outrageously expensive for a book to cross the border, let alone that it takes over 6 weeks, if ever. In my experience about 20% or so of the books Amazon ships to Mexico, get lost.
The Hobbit by J.R.R. Tolkien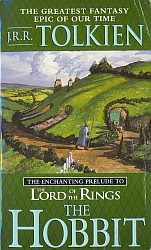 The first time I read "The Hobbit", I guess I was about 14 years old. Our Dutch teacher tried to stimulate us kids to read more, stimulation I didn't need at all because I was already reading two or even three books a week. She let us pick a book out of a big box at the start of the class, and read the book during class. Browsing through the books I noticed one called "De Hobbit" (The Hobbit).
Back then, probably like most kids, I had no idea what a Hobbit was, so I read the back of the book (translated from English to Dutch), which didn't really provided an answer but did tempt me enough to take the book back to my desk and start reading.
I enjoyed the Dutch translation of "The Hobbit" a lot, to say the least. Enough to ask my teacher if there was a sequel or more books on Hobbits. And so she borrowed me "In de ban van de Ring", the Dutch translation of "Lord of the Rings" as a single, very think book with a hard cover and many, many pages. The pages where printed on very thin paper. I enjoyed "In the ban van de Ring" even more than the Hobbit, and have since then read both the Hobbit and Lord of the Rings many, many times, both in Dutch as well as in English.
Hence, I am very happy with this copy of "The Hobbit" given as a present to me by Laura, and will start reading from it to Alice very soon.
The Silmarillion - J.R.R. Tolkien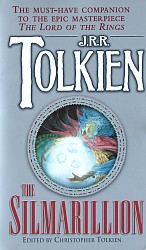 I think I was about 17 years old or so, when I picked up "The Silmarillion" by J.R.R. Tolkien. By then I had already read both "Lord of the Rings" and "The Hobbit" several times and wanted to read more about Middle-earth. But somehow I never got beyond the first ten pages or so of the Silmarillion. I tried again, probably a few times even, years later. But each time I got stuck in the very beginning of the book. I can't remember exactly why.
And today, with a big thank you to Laura, I finally have a copy of the Silmarillion here with me, in Mexico. So I've decided to give the Silmarillion another try soon, and finally read the entire book after so many years.
One thing that I always loved very much about "Lord of the Rings", and still love, is how the world of Middle-earth feels so real - in a way of course - thanks to the details provided by its author: J.R.R. Tolkien. I've read quite some fantasy books besides Lord of the Rings, but most of the authors I've read so far fail to add the magic Tolkien added to his writings. Sadly, a lot of them also are "inspired" a bit too much by the works of Tolkien, and consider it a recipe to "write" books. Anyway, I have the feeling that the Silmarillion will provide me with a lot of additional magic, if only I can get beyond those first pages...
Unfinished tales of Númenor and Middle-earth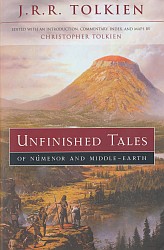 Finally, the third book sent to me by Laura was "Unfinished Tales of Númenor and Middle-earth", a collection of stories and essays by J. R. R. Tolkien that were never completed during his lifetime, edited by his son Christopher Tolkien.
The book contains two maps, one of the west of Middle-earth at the end of the third age, a map that's very dear to me and I am quite familiar with since I've read Lord of the Rings and the Hobbit so many times, and a map of Númenor. Regarding the latter, the book contains a chapter named "A description of the Island of Númenor".
Even though the book sounds to me a bit harder to read compared to the Silmarillion I am looking forward to read it. I probably will read first the Silmarillion, followed by the Lord of the Rings in order to appreciate "Unfinished Tales".
Thanks Laura!
Laura, thank you very much for those three wonderful books!
Also today