Three books arrived today
The 28th of July I ordered 10 books via Amazon, and today the first 3 books (2 shipments), arrived: one book in a bubble lite envelope - which I opened first - and two books in a small carton box with "Amazon.com - and you're done" printed on the side.
The Smoke Ring by Larry Niven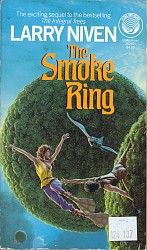 Earlier this year I read "Pandora's Star", and "Judas Unchained", both books written by Peter F. Hamilton. My friend Simon had sent both books from the Netherlands as a gift (thanks again). A part of the story reminded me of "The Integral Trees", and its sequel "The Smoke Ring", both written by Larry Niven.
In my opinion Hamilton did some more borrowing from work of Niven, the main story line reminded me a lot of "The Mote in God's Eye" by Larry Niven and Jerry Pournelle. Yet I did enjoy both books a lot. Anyway, so when I was ordering books on Amazon's website I made sure that both "The Integral Trees" as well as "The Smoke Ring" got added to my order thanks to Hamilton reminding me of those two excellent books by Niven.
When I was a child I always somewhat avoided to read "The Integral Trees" despite being written by Niven. I was afraid that the book was about mathematics... When I finally did read the book it became instantly one of my favorite Niven books.
And today the sequel, "The Smoke Ring", arrived first. I had bought the book via Amazon from "3's A Charm - Used Books" (0.01 USD, 12.49 USD shipping to Mexico). Despite being second hand the book is in excellent condition with just a few small crease marks and no spine crease, hence I am very happy with this book. And hopefully "The Integral Trees" will arrive next week, so I can reread this excellent story.
Doolittle by Ben Sisario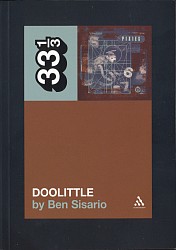 If asked what my most favorite band is, the answer is the Pixies, and it has been the Pixies for many, many years. I the first time I heard the Pixies was back in the late eighties, probably 1987, when I heard "Isla de Encanta" [sic] for the very first time. Back then I knew the name of the song, but missed the name of the band (I recorded the song from the radio).
A few years later I heard a few songs I really liked and learned that the band was called Pixies. When I rented two of their CDs I was in for a big surprise, because there was "Isla de Encanta".
When I was browing Amazon the 28th of July I noticed "Fool the World: The Oral History of a Band Called Pixies", and decided to order the book together with "The Pixies' Doolittle (33 1/3)" by Ben Sisario. I was originally looking if more DVDs had been released; I already own five DVDs (note to self: I have to post a review for each Pixies DVD soon).
And today "Doolittle" arrived, an in-depth examination of the Doolittle album by the Pixies, which (also) in my opinion is their best. The book looks small, and maybe a bit thin (121 pages), but to me it looks like a nice book and an excellent read (9.95 USD, handling and shipping to Mexico: 11.98 USD, together with the Planet of Adventure).
Planet of Adventure by Jack Vance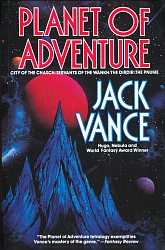 Like the Pixies are my most favorite band, Jack Vance is my most favorite writer of science-fiction and fantasy. In my opinion Jack Vance is one of those very rare writers who is able to write both SF and fantasy equally well (another writer who can do this, again in my opinion, is Stephen R. Donaldson).
Vance has written several excellent series, and one I love a lot consists of the following four books:
City of Chasch
Servants of the Wankh
The Dirdir
The Pnume
Orb Books has bundled those four books as "Planet of Adventure", over 500 pages of Jack Vance goodness which I couldn't resist to buy, also because I have only read the series translated to Dutch (12.21 USD, handling and shipping to Mexico: 11.98 USD, together with Doolittle).
Also today