Butterflies, spiders, and more near El Chico
Read the first part of this blog entry in Butterflies, wasps, and other insects near El Chico.
After we had had a short break, and Esme had breastfed Alice, we continued our walk. During our break I had looked under several large stones, hoping to find some scorpions, but no luck. However, shortly after we had continued our walk, I saw a large dragonfly resting. Carefully I moved as close as possible, and I was able to take several photos without scaring the animal away from its resting spot.
Shortly after I had taken the above photo I saw a Gulf Fritillary (Agraulis vanillae incarnata) fluttering between some plants and small bushes. I waited a bit and was able to take a few photos of this beautiful orange colored butterfly, which I first mistook for a Mexican Silverspot.
After some walking we came upon a shelter made of branches and covered with dry banana leaves. When I looked inside I saw that it was a nursery for coffee plants.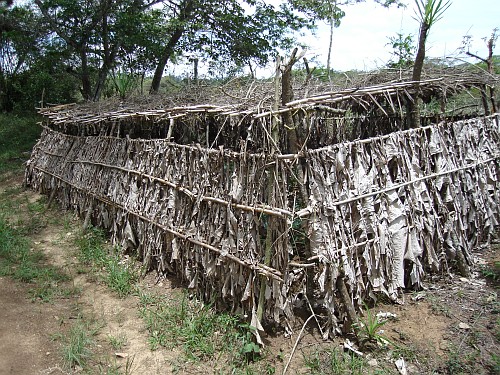 We continued our walk and suddenly I saw a Thoas swallowtail fluttering towards a wet spot on the dirt road we were following. The butterfly had damaged wings and hence couldn't fly well. It was easy to get close and take a photo of this butterfly while it was taking water from the mud near a small puddle.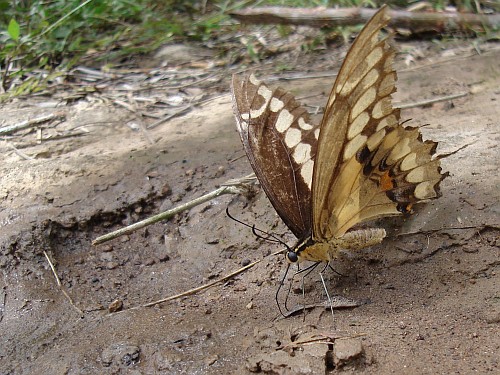 After a few more photos of the swallowtail Esme and I walked a bit more. I kept looking for other butterfly species resting, but each time I got a bit more close, the butterfly flew away. Then I saw a small spider, belonging to the Argiope genus, resting in its web. I used focus lock to take a sharp photo of the small spider.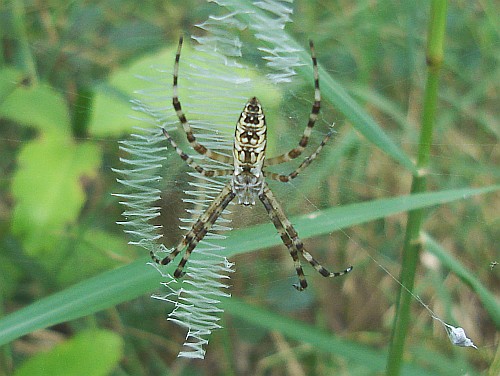 In the above photo you can clearly see the "writing" which gives some members of the Argiope genus the common name of "writing spiders". After a bit more walking we decided to return back to the town of El Chico. On our way back Esme saw a dying cicada on the side of the road.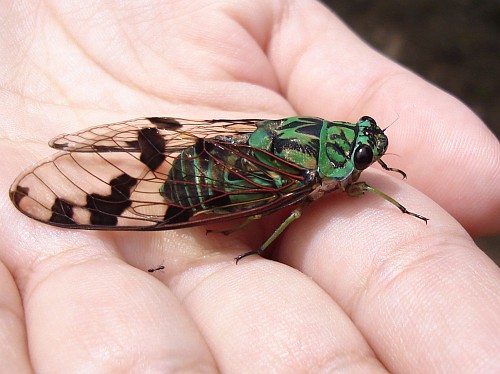 Esme had no problem holding the cicada on her hand so I could take a few close-up photos. The cicada had already several tiny ants near and on its body when Esme found it. In the above photo you can see one small ant on Esme's finger.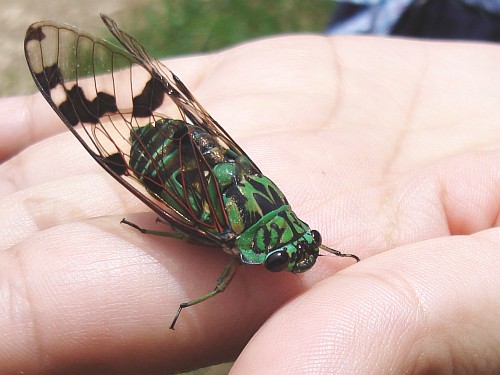 After I had taken some photos of the cicada I put it back on the ground. We continued our walk back to El Chico. When I saw a black-and-yellow Argiope (Argiope aurantia) in its web, I took a few photos. In the photo below you can see this spider with its meal. The latter looks to me like a large grasshopper.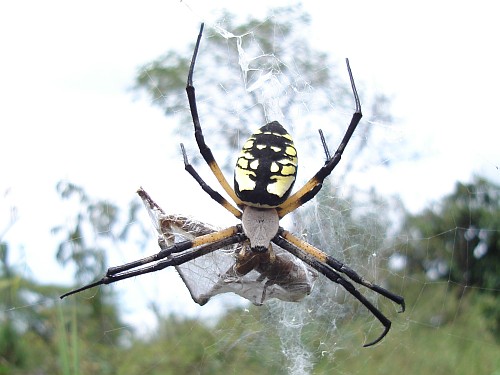 When the road forked, Esme asked if we could try to use a different road to get back to El Chico. So we took the dirt road that led to the left. After some walking I noticed several large stones to the side of the road, and some on the road itself. I looked under a large stone, and saw an orange-brown colored toad hop away. Another larger toad, with a much darker color, was resting on the uncovered wet sand
After I had taken several photos of the smaller toad, we continued our walk. We saw several butterfly species, but again no butterfly rested long enough for me to get close enough to take a good photo. But then I spotted a Red Rim (Biblis hyperia aganisa) fluttering between the bushes to the left of the road. While Esme continued to walk, it came closer and closer to the side of the road, and then it landed on a leaf. As careful as possible I moved towards the butterfly and took a few photos.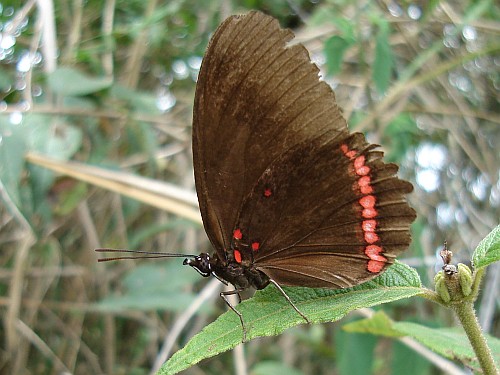 I joined Esme and Alice, and the three of us continued our walk. The landscape got more open, and hence it got more hot. After some more walking I saw several boulders to the left of the road. Under one I spotted a tiny tarantula spider, a Mexican Red-rump (Brachypelma vagans), too small to take a good photo of it with my Sony camera. The road forked again, and we decided to follow the dirt track up a hill. The landscape was now very dry, and looked to me like an excellent habitat for the Florida bark scorpion (Centruroides gracilis), and the Mexican Red-rump tarantula.
And indeed, the first large boulder I turned over showed a juvenile Brachypelma vagans resting in its burrow. I looked under several more boulders, but I wasn't able to find scorpions or more tarantulas. We continued our walk, and after we were send into the right direction by a friendly man, we arrived finally back in El Chico.
Also today