Safari now on Microsoft Windows too
Today I discovered via the website Digg that Apple has released the Safari 3 public beta: The world's best browser - according to Apple - now on Windows, too. So I downloaded the Windows version of this browser and decided to give it a try on my Compaq Presario running Microsoft Windows XP.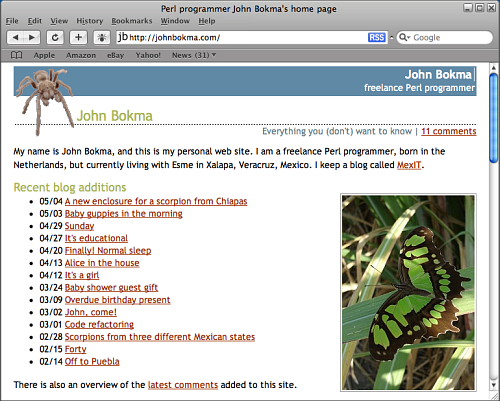 The download - about 8 MB, I chose the version without Apple's QuickTime - took little time, and the installation was lightning fast. I decided to turn off Bonjour and leave the automatic updates on in the installation wizard. I had no problem executing SafariSetup.exe via Run as..., which I prefer over switching to an account with Administrator rights.
The Safari installation created a short cut on the desktop without asking, something I don't like. I hope Apple will make this an option that can be turned off in the next version of the Safari installation wizard.
Starting Safari the first time on Windows XP took some time (several seconds). After I took the above screenshot of my site I closed Safari and opened the program again and now the main window almost appeared instantenously. I have no idea if it keeps a part of the program in memory to accomplish this, but it starts up significantly faster compared to Mozilla Firefox on my Compaq computer.
After browsing a bit I am still not sure if Safari is faster compared to Firefox. The Apple look on Windows looks a bit out of place but doesn't bother me too much. However, I still have to get used to the anti-aliased font rendering of Safari. I already set the Font smoothing in the Appearance tab of the Preference window (Ctrl+,) to Light, but it's still to heavy for me on my Compaq 7550 CRT monitor.
I doubt I will switch away from my main workhorse, Mozilla Firefox, in the near future, but all in all I am very happy with this development, not only because it gives me an option to test web pages with Safari, but also because I think more competition on the Windows platform is good.
Safari Web Browser Related
Also today