Photos of a scorpion from Chiapas
Today I moved a scorpion to a larger enclosure. The scorpion belongs to the genus Centruroides, and my best guess is that it's a Centruroides gracilis. The scorpion was wild collected as a juvenile in the state of Chiapas, close to the city of Tapachula the 4th of February 2006.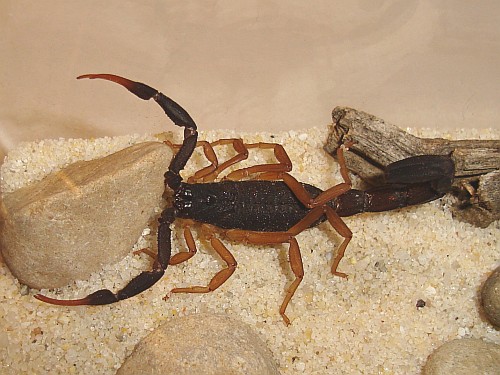 The above photo shows how beautiful the juvenile scorpion is colored. I am afraid that as soon as the scorpion becomes an adult the colors will be less prominent. Originally I kept this scorpion on gray colored sand but since I didn't have enough left I decided to go with white sand, which is probably less natural but the animal is easier to see now.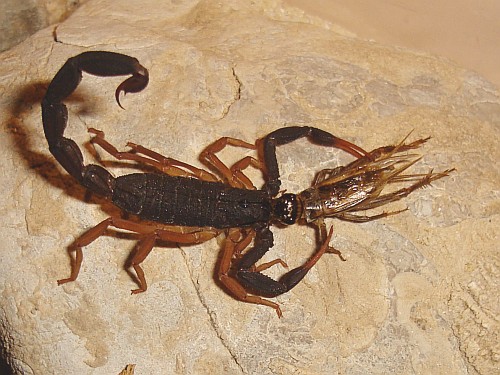 Later in the evening I gave the scorpion an adult male house cricket. As soon as the scorpion discovered the nice threat it got a hold on the house cricket and stung it. In the above photo you can see the stinger (aculeus) as well as the for this genus typical subaculear tubercle (SAT) which looks like a mini stinger. As far as I know the function of this tubercle is unkown.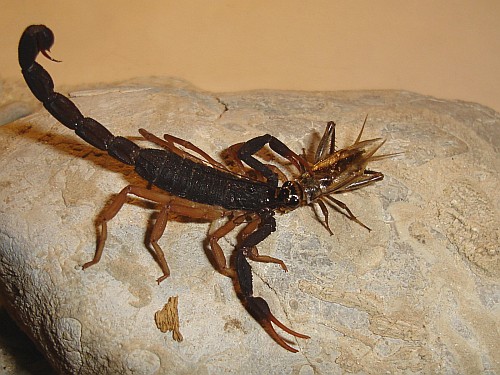 The scorpion was not bothered much by the bright light of the halogen desk lamp I used to provide some additional light. However, it was bothered by the small brush I used to move it into a better position.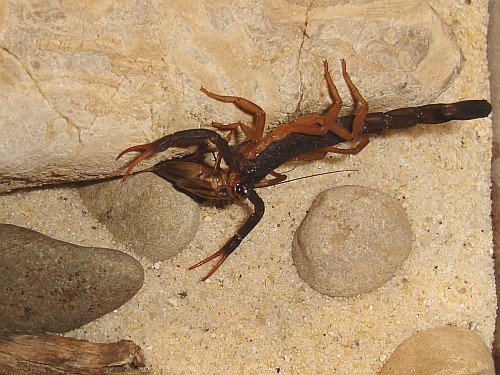 And after a few more pushes with the brush it started to walk away from the flat top of the stone that provides its hiding place, carrying the dead house cricket with it. Shortly after it found the entry to its hiding place - see above photo - and was gone from view.
Also today